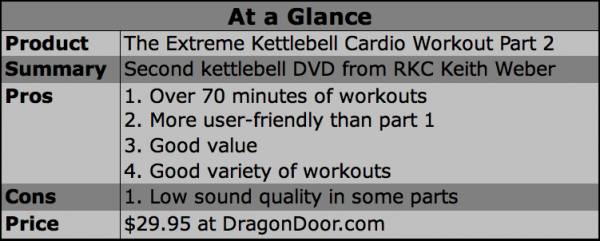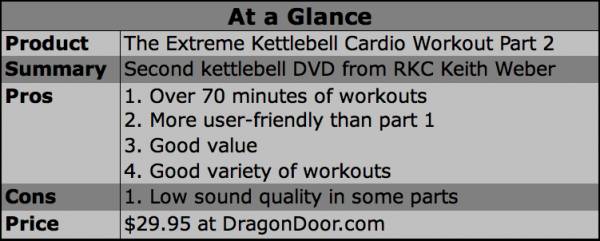 The guiding theme for Keith Weber's first kettlebell DVD, The Extreme Kettlebell Cardio Workout is "Discover the athlete within." In the second installment of his series, Weber takes things to a new level, which is well-articulated in the tagline: "Exceed your limits."
Well, this DVD exceeded both my limits and my expectations. After doing the first series of workouts and enjoying it so much, I really didn't expect the second to be even better, but it really is. Part 2 not only provides more workouts at a higher intensity, but it also includes some features you won't find in Part 1.
For example, in our review last week it was noted that the first DVD doesn't have a warmup. Part 2 has one of the best warm-ups I've ever done. It starts with fast spinning (my toddler loved that one), followed by four exercises that Keith explains are taken from Tibetan yoga, followed by some stretches from Pavel's Super Joints. I love to do this routine in the morning – it's so refreshing and revitalizing.
The second DVD also provides some helpful tips to help users make the most out of the workouts. Keith offers some recommendations for combining the workouts to meet different fitness goals, like endurance, strength, or cardiovascular training. For example, he suggests doing the DVD all the way through with a light kettlebell for endurance, and also provides some suggestions for measuring your progress. This feature makes the second installment a bit more user friendly than the first, particularly for those who don't have experience with workout programming.
Besides the warm up, the DVD has 8 kettlebell workouts, as well as 2 core routines. You can really mix and match, and most of the workouts are relatively short. Here's a brief summary of each workout:
The Flow: A quick kettlebell routine that includes swings, squats, good mornings, presses, tactical lunges, and more. I like to do this routine on its own with a heavy kettlebell for a quick but effective workout.
Cardiovascular Workout: This is a high-intensity workout that includes snatches, high pulls, swings, and clean and presses. It's fast-paced with no breaks, and you will definitely break a sweat.
Squat Series: I like to combine this workout, which targets the lower body, with the cardio workout. It's not as fast-paced and emphasizes the lower body, with a lot of squats and windmills to provide some active rest between exercises.
Lunge Series: This workout is really challenging for me. It's basically a grueling sequence of different lunge variations (thrusters, overhead lunges, tactical lunges, and slingshots for "rest.") My legs are on fire just talking about it.
The Ladder: I think this workout is the most demanding in terms of endurance. It's a fast sequence of snatches, overhead squats, windmills, thrusters, and presses, finishing off with kettlebell swings. I like to combine this workout with the warmup and one of the core routines to get a 30 minute workout.
The Grind: Similar to the Ladder, but in my opinion less demanding. The Grind combines windmills, overhead squats, thrusters, squat kicks, and clean and presses for a great total body workout.
The Test: This workout is a lot of fun. It's-fast paced and includes a lot of thrusters, windmills, squat kicks, overhead squats, and clean and presses. In between sides Keith does hot potatoes for active rest.
The two core workouts provide a nice way to wind down and get in some core work. The first routine uses kettlebells and the second is done with bodyweight exercises.
Keith has a real talent for mixing up basic kettlebell exercises to work the entire body. A lot of the routines use the same exercises, but mix up the reps and sequencing to provide a fun challenge. Like Part 1, the Extreme Kettlebell Cardio Workout 2 is filmed on the beach and the film quality isn't flashy. At one point in the squat series it sounds like the camera man is being attacked by a seagull. Aside from those little quirks, this DVD exceeded my expectations, and certainly pushed my limits as well.
The Extreme Kettlebell Cardio Workout is available for $29.95 at DragonDoor.com.