You want to grow muscle, become stronger, and look better. Obviously, hitting the weights is the plan, along with proper food intake. Great, but what should you do? You want to spend your training time wisely, so it's easy to freak out about the entire workout design process. There are just so many questions to answer:
What exercises should you use?
Free weights, machines, or both?
What set and repetition schemes are the best?
How many days per week should you train?
A Simple System to Program Your Training
No need to get in a tizzy and overcomplicate the matter. I'm here to make it simple for you. Using total body resistance training workouts as the norm, I have constructed four templates for you to easily set up a variety of workouts. You choose the exercises, the sets, the reps, the work time scripts, and the training days per week. Two or three non-consecutive days per week will both work, depending on your schedule.
Perform your self-designed workouts in the category order listed for each template.
Template 1:
Upper body push
Interval
Upper body pull
Interval
Lower body
Abs/finisher
Template 2:
Upper body
Lower body
Interval
Abs/finisher
Template 3:
Interval
Lower body
Upper body pull
Interval
Upper body push
Abs/finisher
Template 4:
Lower body
Upper body
Interval
Lower body
Upper body
Abs/finisher
Free weights and machines both provide resistance to the muscle structures. One set or three sets? Work hard on each one, and you won't have to perform endless sets to achieve good results. Lower body before upper body? Upper body pushing alternated with pulling? An interval at the beginning, midpoint, or end of the workout? Those choices are all relative to the specific template you choose.
How to Use These Templates
There are numerous ways to construct a sensible training plan. Variety is good, so mix and match as in the following examples: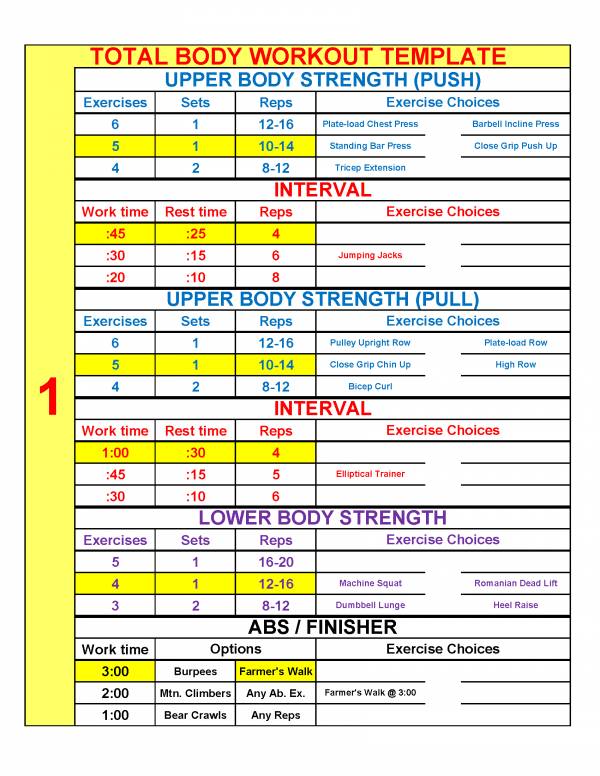 Workout Template Example 1 (click to see example):
1 set of 10-14 repetitions of each:
Plate-load chest press
Barbell incline press
Standing barbell press
Close grip push up
Tricep extension
Interval:
Jumping Jacks: 4 sets of :45 work time/:25 rest time
1 set of 10-14 repetitions:
Pulley upright row
Plate-load row
Close grip chin up
High row
Bicep curl
Interval:
Elliptical trainer: four sets of 1:00 work time/:30 rest time
One set of 12-16 repetitions:
Machine squat
Romanian dead lift
Dumbbell lunge
Heel raise
Finisher:
Farmer's walk for three minutes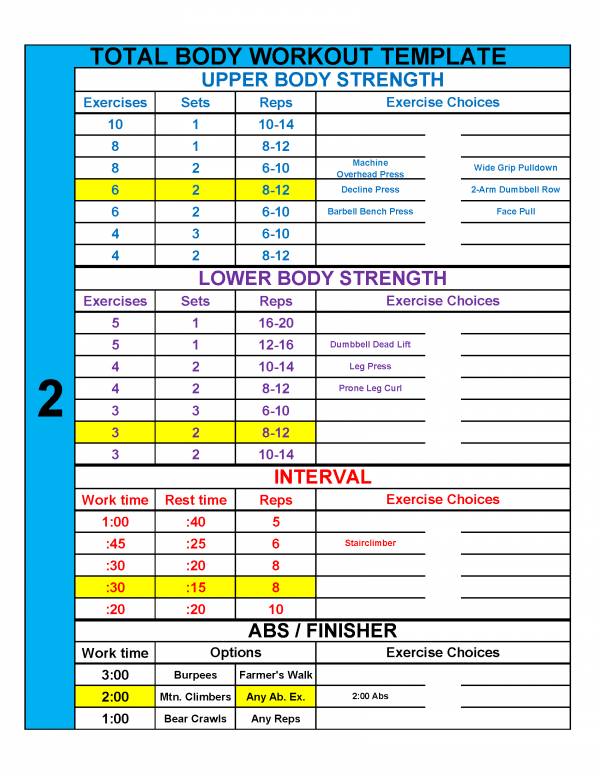 Workout Template Example 2 (click to see example):
2 sets of 8-12 repetitions:
Machine overhead press
Wide grip pulldown
Decline press
2-Arm dumbbell row
Barbell bench press
Face pull
2 sets of 8-12 repetitions:
Interval:
Stairclimber: six sets of :45 work time/:25 rest time
Abs:
Any abdominal exercise for two minutes
The Results Come From the Work
Train hard, rest adequately between sessions, train progressively, and you'll get results by using these simple-to-use workout templates. Whatever you choose will work, provided you work.