We receive free products and receive commissions through our links. See
disclosures page
.
Concept2 created the original rowing ergometer in 1981 as a training tool for competitive athletes. It quickly became one of the best rowing machines for the athletic population, and thanks to CrossFit, it is an even more popular training device than ever.
During my years as a personal trainer, I used the Concept2 rower myself and for dozens of clients. Collectively, the Breaking Muscle staff also has decades of experience using this rower in their home gyms, CrossFit boxes, and other commercial gyms. We're well-equipped to provide this in-depth Concept2 rower review and speak to its key features, pros, cons, specifications, and how it compares to other popular rowing machines.
Key Takeaways
The Concept2 rower, now called the RowErg, is the same machine as the Model D (the rower with a 14-inch seat height) and Model E (the rower with a 20-inch seat height). Concept2 changed the machine's name in May 2021. The Model E rower has been discontinued. However, the RowErg is available with either a 14-inch seat height or a 20-inch seat height.
With a clean and effective design, the Concept2 Rower is engineered for smooth operation, easy maintenance, and long-lasting performance. This commercial-grade rowing machine features a nickel-plated steel chain, aluminum front legs, and steel rear legs to ensure a durable, long-lasting build.
The Concept2 Rower comes with a PM5 performance monitor that tracks stats such as pace, strokes per minute, estimated calories burned, and watts (power output). The monitor also connects via Bluetooth to various apps, including ErgData.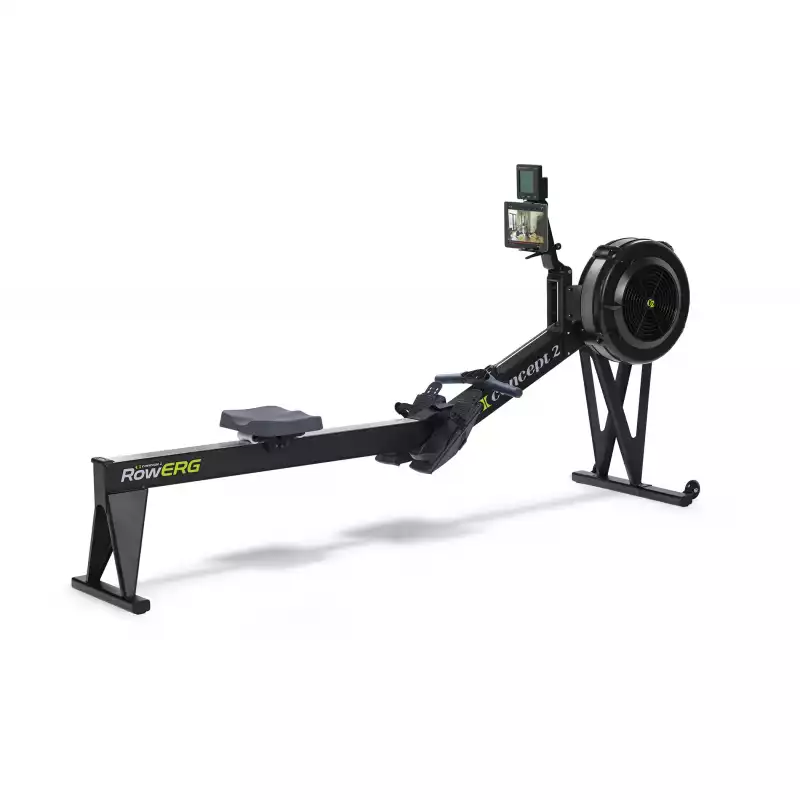 Concept2 RowErg
Frame is made of heavy-duty aluminum
Ergonomic handlebar and seat
PM5 monitor comes with Bluetooth capabilities
Accomodates users up to 6'6 and 500 pounds
Comes with a limited five-year warranty
Check Price
Concept2 Rower Pros
The Concept2 Rower uses air resistance, which adjusts to your stroke rate and power. Air resistance also provides smoother action compared to magnetic and water-based rowers. I can attest to this, as I have used both air and magnetic rowers.
The Concept2 can hold users up to 500 pounds. Other brands like NordicTrack, Peloton, and Hydrow can only accommodate users up to 250 to 375 pounds.
You can quickly break down the rower using the quick-release feature or even mount it to the wall. Concept2 doesn't sell a mounting tool for the rower, but the Rogue Fitness wall hanger is available for around $32.50. However, the rower is also easy to store upright without a wall mount if you need to keep it out of the way when you're not using it.
Concept2 Rower Cons
Because it is an air rower, it can be loud. The harder you row, the louder the machine becomes. It might deter those who use it in their home gym and do not want to disrupt their family members or roommates.
The Concept2 RowErg costs around $990 before taxes and shipping. While cheaper than other rowers on the market with lots of high-end tech features (like touchscreen monitors and on-screen workout classes, which Concept2 doesn't offer), it still might not be ideal for those looking for an ultra-budget-friendly machine.
The Concept2 rower is very long, reaching a total length of 96 inches (eight feet) when assembled. Those with limited workout space at home may need to look at more compact rowing machines.
Concept2 Rower Rating
The Breaking Muscle staff members have tested over 20 rowing machines. We put each one through an in-depth scoring system to rank its construction, delivery and assembly, tech features, and more. The table below shows how the Concept2 rower fared.
| | |
| --- | --- |
| Factor | Rating (out of 5) |
| Price | 4.8 |
| Materials, build, and construction quality | 4.9 |
| Delivery and assembly | 5 |
| Performance | 5 |
| Subscription options | 3 |
| Ergonomics | 4.5 |
| Foot pedals | 4.5 |
| Heart rate monitoring | 4 |
| PM5 monitor | 4.7 |
| Display | 4 |
| Included workouts | 4.8 |
| Bluetooth connectivity | 5 |
Concept2 Rower Overview
The Concept2 rower is arguably the most popular rowing machine currently available that's suitable for both home and commercial use. In 1981, Concept2 became the first brand to create an indoor rowing machine. Since then, it has become an iconic brand in the fitness industry. As a personal trainer who has worked in different commercial gyms such as Life Time Fitness and Anytime Fitness, I can attest to the ubiquitousness of the Concept2 Rower.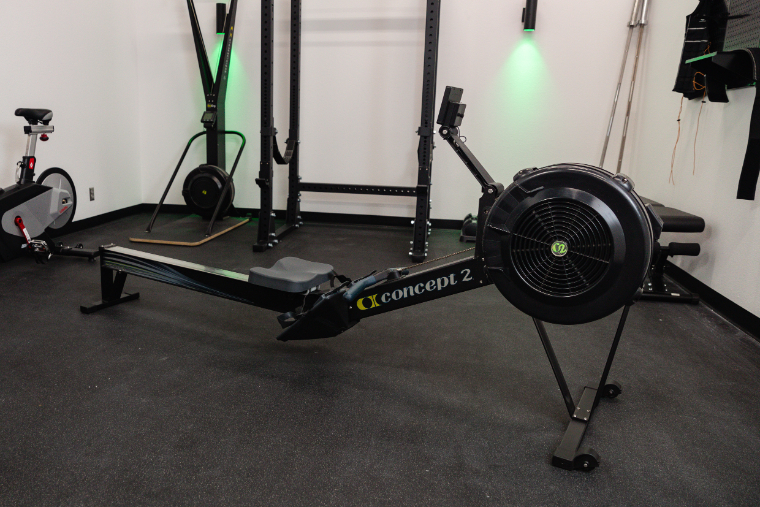 In CrossFit, the Concept2 rower is one of the preferred cardio machines for both casual and competitive athletes. CrossFit values the Concept2 rower because it offers a complete full-body workout, making it an effective tool for assessing overall fitness levels. It accommodates users up to 500 pounds, so it can be suitable for individuals of varying sizes and fitness levels. Plus, its sturdy construction and minimal maintenance requirements mean it can withstand heavy use in CrossFit boxes.
The Concept2 rowing machine features a nickel-plated steel chain, aluminum front legs, and steel rear legs. While its price of just under $1,000 places it in the mid-range of rowing machine options, it offers exceptional value for its performance and durability. It operates on air resistance, so it replicates the feel of open-water rowing and matches your intensity as you row.
Who Should Buy a Concept2 Rower
This indoor rower could be good for those who want a full-body workout to test both muscular and cardiovascular endurance.
The functionality of the Concept2 rower is great for those who are especially into CrossFit-style training. Concept2 is the preferred brand for rowing machines in the CrossFit community.
The Concept2 RowErg could be an excellent low-impact cardio machine for those who suffer from joint pain. Unlike running, rowing doesn't place a huge amount of stress on the knees, hips, and ankles.
Who Should Not Buy a Concept2 Rower
The Concept2 rower might not be ideal for those who are worried about noise. This is an air resistance rower. The harder you row, the more air moves around the flywheel, which makes the machine louder.
Even though the Concept2 RowErg offers a 20-inch-high seat, individuals with severe mobility restrictions may still find it too low.
Using this rower could be tough for those with limited space. When fully assembled, the Concept2 rower machine is 96 inches long. Depending on your setup, you might not have enough room to fit the erg comfortably and work out safely.
RELATED: Best Home Gym Equipment
Concept2 Rower In-Depth Review
The review below is based on insights I've gathered through my own use of the Concept2 RowErg and feedback I've received from the Breaking Muscle staff, which comprises CrossFitters, certified personal trainers, and strength and conditioning coaches. We then used a proprietary scoring system to rank the machine on a scale of one to five in various categories, such as cost, the quality of the materials, tracking capabilities, and assembly.
Price
The Concept2 RowErg with the 14-inch seat height costs around $990 before taxes and shipping. If you opt for the 20-inch seat height, it will cost around $1,155. While the price could be a drawback for anyone on a super strict budget, we still gave it 4.8 stars. The overall value is high due to the machine's commercial-quality construction and durability. Also, this rower machine is much cheaper than other options, like the Peloton or Hydrow rowers, which are double the price (or more).
Materials, Build, and Construction Quality
The Concept2 rower consists of aluminum front legs, steel rear legs, a nickel-plated steel chain, an aluminum monorail, and a stainless steel seat track.
Due to this heavy-duty construction, we rated the build a 4.9 out of 5. Based on my experience with the Concept2 rower, it can take on heavy abuse. Even in commercial gym settings, it is so strong it may never have to be replaced.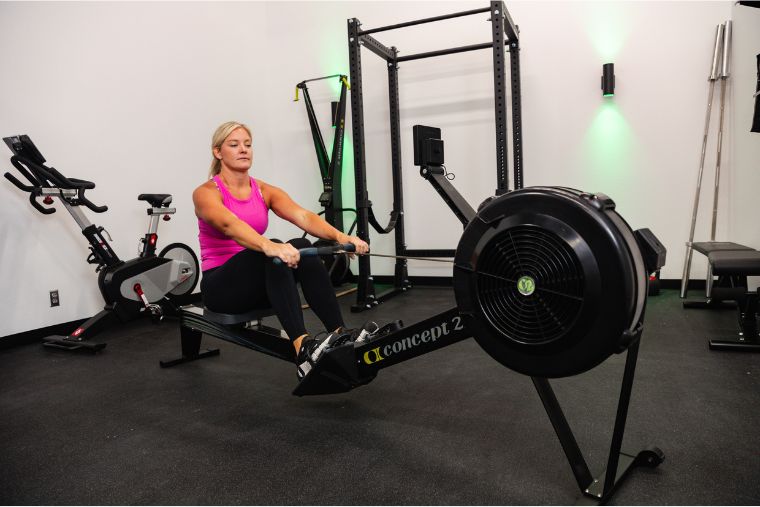 Amanda Dvorak, Breaking Muscle's Reviews Editor who started CrossFit in 2015 and now uses a Concept2 rower in her garage gym, can attest to its durability. She mentioned that even after banging it on her squat rack accidentally (on multiple occasions) while moving it around her garage, she's never noticed a difference in how it looks or performs. The CrossFit gyms she's trained at previously also never had any major issues with these rowers, despite them being used six to seven times a day for years.
Delivery and Assembly
After the erg arrived at our testing facility, our team ranked the delivery and assembly process a 5 out of 5. There was no damage upon delivery. The RowErg comes with screws and a screwdriver, so there's no need to run to your local hardware store or pull out your toolbox to put it together.
I have built many pieces of home gym equipment, including the Stamina Elite rower I use at home. I can honestly say that one of the biggest issues with all of my purchases is that it takes forever to build them. The Concept2 rower, however, only required a few minutes of light effort from our testing staff before they were able to hop on and start rowing.
Amanda Dvorak, an editor on the Breaking Muscle team, agrees with the product testing staff's assessment. There was also no damage to her machine when she received it at home, and she and her husband were able to put the erg together in around 10 minutes.
Performance
The Concept2 rower's performance is exactly what you'd expect from a commercial-grade piece of equipment. The seat slides over the monorail effortlessly, and the chain doesn't snag if you maintain it properly by oiling it after every 50 hours of use.
Subscription Options
It's hard to give the Concept2 rower a rating on subscription options because it does not provide any. This is one of the drawbacks to this device, as other products like the Peloton or Hydrow rower provide subscriptions for access to live and on-demand classes. All the Concept2 offers is a PM5 monitor. As I'll discuss below, it tracks a lot of information, but it's not as fancy as a high-tech monitor that lets you stream classes.
One good thing about the lack of subscription options is that it can save you money. The subscriptions you'll find on Hydrow, Peloton, or NordicTrack rowers, for example, can cost $30 or more per month. It's an added cost you have to consider when buying a rowing machine.
To make up for the lack of subscription options, the Concept2 row erg includes a device holder that can hold your smart device. You can then stream workouts from an app of your choice — but keep in mind that this may be an extra monthly cost.
Ergonomics
Our team rated the ergonomics a 4.5 out of 5. The handle features a 10-degree bend to allow for a natural grip, and it's covered with molded rubber to help absorb sweat. However, it can cause skin discomfort, especially for new rowers.
Amanda Dvorak, Breaking Muscle Reviews Editor, hadn't used a rower in over a year before she bought a Concept2 erg for her home gym. Despite already having calluses on her palms from lifting weights, her hands blistered frequently once she started rowing again.
Amanda also recounts how uncomfortable she found the seat when she began rowing again. However, now that she has been using the rower at least once a week, her tailbone discomfort has lessened, and her hands no longer blister. If you have similar experiences when you first start rowing, we think it's safe to say that you'll adjust to the rower after a couple of months of consistent use. If not, you can wear workout gloves or buy a padded seat cushion online to make your rowing experience more pleasant.
Foot Pedals
The pedals accommodate a wide range of foot sizes. We've seen users with size 13 feet be able to use the rower comfortably. The pedals don't pivot like they do on other rowers, such as the NordicTrack RW600. However, they are designed to help you achieve a vertical shin angle for the catch phase of the row (when your knees are bent, your arms are straight, and the seat is closer to the front of the machine). This is especially beneficial for rowers with poor ankle mobility.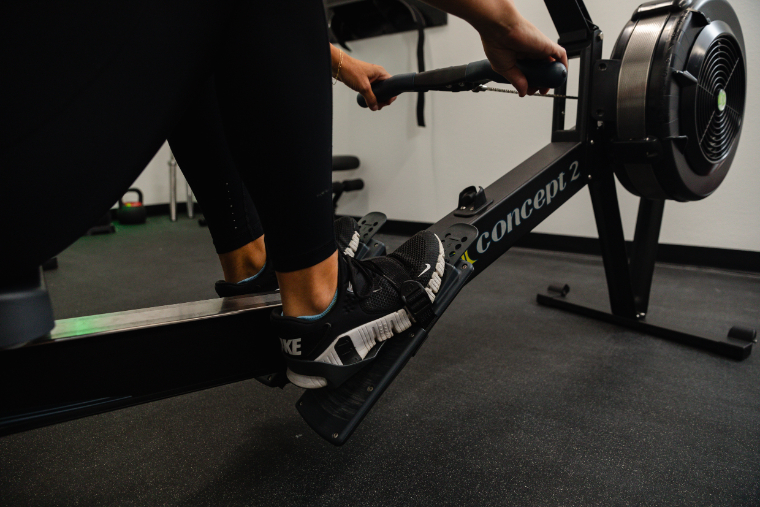 Heart Rate Monitoring
I would rate the heart rate monitoring capabilities of this rowing machine a 4 out of 5, as it doesn't offer a direct way of monitoring heart rate. The only way to do so is to have a compatible device to sync with using ANT+ and Bluetooth, such as an Apple watch (via the ErgData app) or a digital chest strap.
PM5 Monitor, Display, and Stats Tracking
While the monitor may appear simple, it provides a ton of data tracking capabilities. Compared to the older monitor (the PM4), the PM5 provides Bluetooth connection capabilities to track your workouts. Overall, we rated the monitor itself 4.7 out of 5 stars and the display 4 out of 5.
The PM5 monitor tracks a range of metrics, including time, pace, distance, strokes per minute (SPM), watts, calories burned, and heart rate (with a compatible device).
We love its ability to save all of our workout history, so we can see how we're progressing and improving over time. And, as mentioned, it can connect to potentially 30 different compatible apps. ErgData is a favorite amongst the Breaking Muscle staff because it allows us to create custom workouts, program the Concept2 Workout of the Day into the machine, and more. However, you can also use other apps like Regatta, RowHero, and Fiit.
Despite the impressive amount of information the monitor can show, the actual display is pretty basic. The monitor is also quite small, measuring just seven inches diagonally. The size pales in comparison to the NordicTrack RW900, for example, which has a 22-inch monitor.
One of the redeeming qualities, though, is the backlit display, which didn't exist on previous iterations of the monitor. Breaking Muscle Editor Amanda Dvorak says it's one of her favorite things about the PM5 monitor. She trains early in the morning and hates turning on bright lights during her workouts. The backlit display makes it easier for her to read the screen when she's working out before sunrise.
Included Workouts
For the included workouts, we rank this feature a 4.8 out of 5. The Concept2 rower comes with multiple preset workouts, such as distance training for 2,000 meters or interval training modes with 500 meters of work and one minute of rest. The preset options are great for beginner rowers who may not know how to get started or advanced athletes who want to follow structured programs.
Bluetooth Connectivity
The Concept2 rower's PM5 monitor supports Bluetooth connectivity to compatible heart rate monitors. You can also sync workout data to Concept2's ErgData app or dozens of other apps to track your workout history.
RELATED: Best Treadmills for Home
Concept2 Rower Specs
When considering the Concept2 rower, it's important to understand the specifications and features that make it stand out. From the basic dimensions to the electrical requirements, we'll break down the key details that define it and set it apart in the world of rowing machines.
Rower Type
The Concept2 rower is an air rower. The air resistance works through the use of the handles and the machine's fanwheel. When you pull the handle, the flywheel traps air inside to provide resistance. The resistance then adjusts to your stroke rate and power output.
Based on our experience, air rowers emulate the feeling of rowing on open water more authentically than magnetic rowers. This is one of the many reasons why professional rowers often complete their indoor training on a Concept2 erg.
Overall Dimensions
The Concept2 rower is 96 inches long, 24 inches wide, and either 14 or 20 inches high. The height depends on whether you buy the standard model or the one with taller legs.
Track Length
The track length, also known as the monorail length, is 54 inches. This length helps to accommodate athletes up to 6'6.
Seat Height
The RowErg comes with a 14-inch seat height. If you think this will be too low for you, you have the option of purchasing an erg with taller legs that elevate the seat to 20 inches. However, the taller rower changes the cost from about $990 to about $1,155.
Weight Capacity
The weight capacity of the Concept2 rower is 500 pounds, which is well above other rowing machines like the ones from NordicTrack and Peloton. All three rower models from NordicTrack have a weight capacity of 250 pounds, while the Peloton rower has a weight limit of 300 pounds.
Resistance Levels
The Concept2 rower offers variable resistance. The resistance is dependent on the forcefulness of each row. This is different from magnetic rowers, which provide fixed resistance levels, and water rowers, whose resistance levels change based on how much water is in a water tank attached to the machine.
Concept2 rowers also utilize a damper setting. The damper is an adjustment that allows you to provide "more" or "less" resistance based on the availability of airflow. The damper ranges from one to 10 — one means the flywheel is completely closed, and 10 means it is fully open. When you increase the damper setting, you open the damper and allow more air into the flywheel. A higher damper setting results in a faster deceleration of the flywheel, making the rowing motion harder to perform.
Electrical Requirements
This rower machine takes two D-cell batteries, which are included with your purchase. There's no need to situate the rower near an outlet, so you can move it around any room in your house or take it outdoors (something the Breaking Muscle staff members love to do when the weather permits).
Noise Level
The Concept2 rower can be loud because it is an air resistance rower. The rower recruits air from the fan flywheel, and the more air it recruits, the louder the sound becomes. An online review indicates that the Concept2 rower has a decibel level between 67 and 74, slightly quieter than a vacuum cleaner.
Amanda Dvorak, one of Breaking Muscle's editors, often brings her rower indoors when her garage gets too cold in the winter. Her husband, who's a light sleeper and usually still in bed when Amanda works out in the morning, has claimed that the noise doesn't bother him at all. However, Amanda keeps the rower on the first level of her home, while her husband sleeps in their bedroom on the second level. If you live in a one-story home or a small apartment, the noise may be more bothersome to other people.
Portability
The Concept2 RowErg features two roller wheels at the front for portability. There is no handle on the back, but since the machine weighs just 57 to 68 pounds (depending on whether you get the standard height or the tall legs), it's easy to place your hand under the monorail to lift it. If needed, you can tilt the monorail up to store the rower vertically.
The rower also breaks down into two pieces if you don't have enough room to leave it fully assembled all the time. The home gym owners on the Breaking Muscle staff do this frequently and note that it takes just a few seconds to disassemble the rail from the flywheel piece and reconnect them again when needed.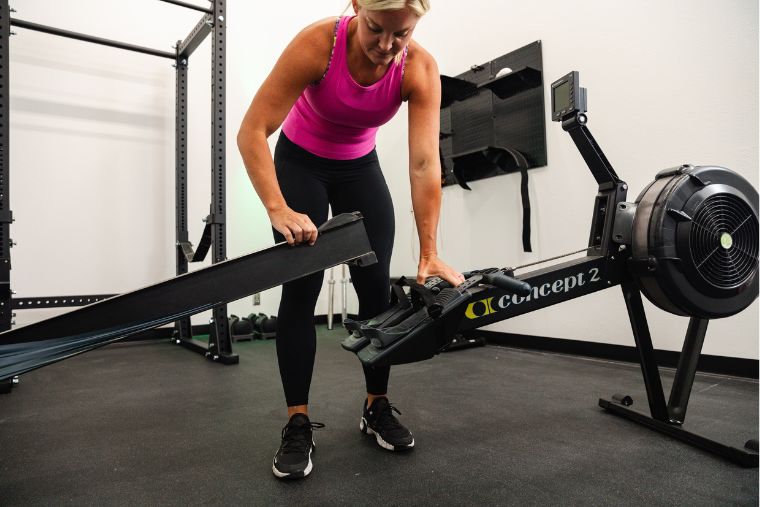 Warranty
Every Concept2 rower includes a five-year warranty for the frame and a two-year warranty for all other components, which we consider pretty standard for the industry. Some rowers we've tested, like the Echelon Row-S, only have a 12-month warranty. However, other rowing machines, like the CITYROW GoMax, offer a five-year frame warranty like Concept2 does.
Concept2 Rower vs. NordicTrack Rower
When comparing the Concept2 rower and the NordicTrack rowers, several key differences stand out. While the Concept2 RowErg has a simple display with no video classes, NordicTrack rowers come with interactive monitors. These monitors range from 10 to 22 inches and offer instructor-led live and on-demand classes. These programs can be engaging and motivating for users who enjoy structured workouts and following along with an instructor.
To access this library of workouts, you will need an iFit subscription for about $39 a month. You don't necessarily need the subscription to use NordicTrack rowers, but you will be very limited in using all the features of your interactive screen.
Both brands' rowers also use air resistance, which provides a smooth and dynamic rowing experience. However, NordicTrack rowers add an extra layer of versatility with 26 digital resistance levels. Concept2 doesn't have traditional resistance levels; the resistance depends on how much air you allow into the flywheel based on your damper setting and how hard you row.
In terms of size, the Concept2 rower is 94 inches long, while NordicTrack rowers range from 82 to 87 inches long. The Concept2 rower excels in strength, as it supports users of up to 500 pounds. This is twice the weight capacity of the NordicTrack rowers.
The Concept2 rower also comes at a more affordable price than the NordicTrack RW700 and RW900, which cost around $1,499 and $1,999, respectively. However, as of this writing, the NordicTrack RW600 is on sale for around $900, about $90 cheaper than the Concept2 rower.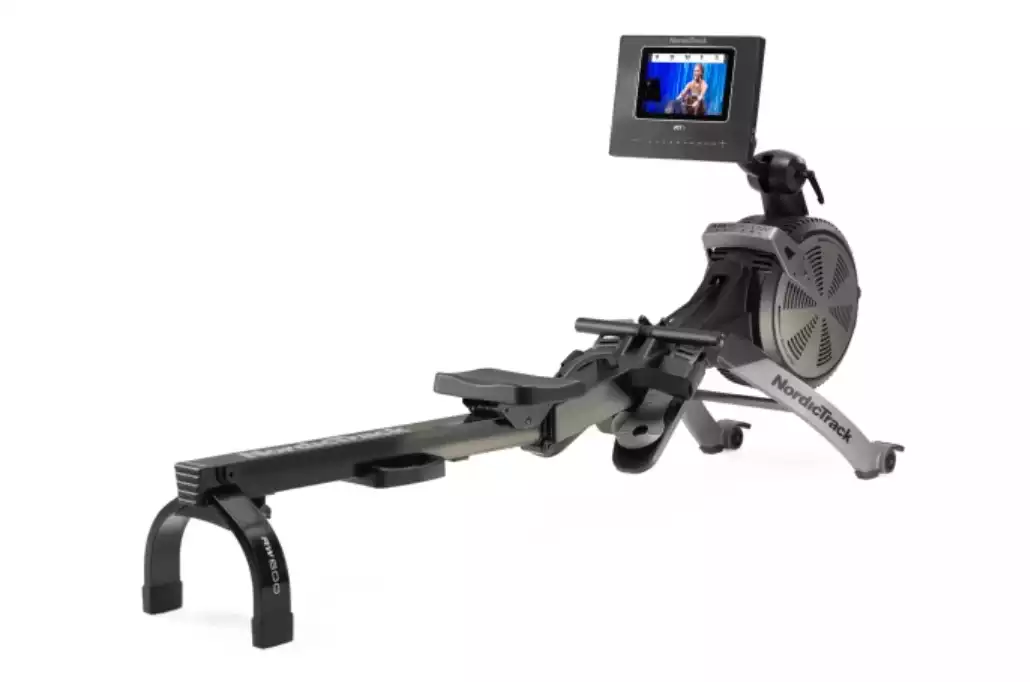 NordicTrack RW600
Dimensions: 87.02" L x 22.0" W x 47.24" H
Storage: Folds in half for vertical storage
Resistance: Air and magnetic
Weight capacity: 250 pounds
Display: 10-inch smart HD touchscreen
Available programming: Live and on-demand workouts, scenic rows
Check Price
Concept2 Rower vs. Peloton
One of the first noticeable differences between the Concept2 rower and the Peloton is the interactive monitor screen. Peloton's rowers feature a sizable 23.8-inch swivel interactive monitor, which allows you to engage in video-led sessions. However, accessing these classes requires a monthly subscription fee of around $44.
This is very different from the PM5 monitor provided by Concept2, which doesn't have video-led sessions or subscription requirements. If interactive workouts and access to a vast library of training content are your priorities, the Peloton rowers might be more appealing.
Both rowers share similar dimensions, ensuring a consistent rowing experience in terms of space requirements and overall setup. However, the Concept2 rower has a remarkable weight capacity of up to 500 pounds. The Peloton rower, in contrast, has a lower weight capacity of 300 pounds, which could limit its suitability for individuals with greater body weight.
In terms of price, Concept2 is the more budget-friendly option. The Peloton rower costs around $2,995, nearly three times the cost of the Concept2 erg.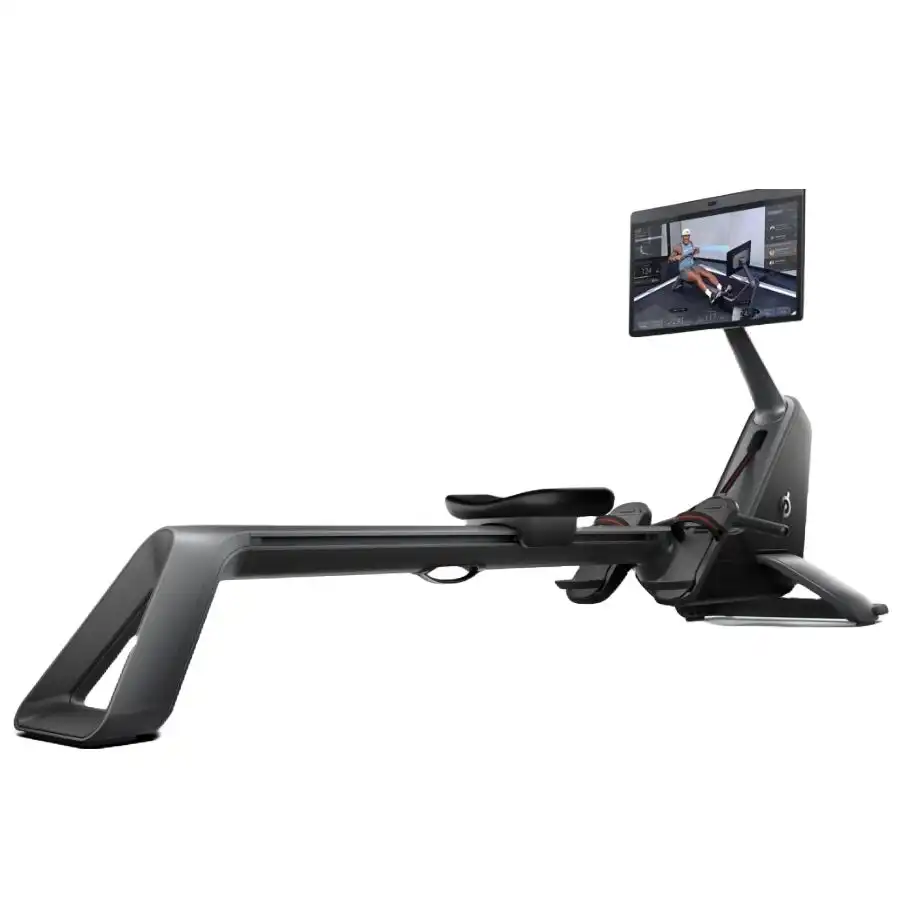 Peloton Rower
Dimensions: 7'10" L x 24" W
Storage: Stores upright with the Upright Wall Anchor (included with purchase)
Resistance: Electronically controlled
Weight capacity: 300 pounds
Display: 23.8-inch 1080p HD touchscreen
Available programming: Live and on-demand workouts, scenic rows
Check Price
Concept2 Rower vs. Hydrow
Another great brand of rowing machines is Hydrow. Hydrow's original rower and the more compact Wave rower offer an enjoyable ride due to their use of magnetic resistance. Like Peloton, Hydrow rowers have built-in monitors for streaming engaging, motivating workout classes.
Hydrow's advanced technology and immersive experience come with a higher price tag. Their rowers start at just under $1,900. The Concept2 rower offers a more budget-friendly option starting at about $990. In order to access Hydrow's library of workouts, you also need to pay a monthly subscription of around $42.
Like Concept2, Hydrow's rowers offer Bluetooth connectivity, allowing you to connect to heart rate monitors and sync with fitness apps. In terms of dimensions, the Hydrow rower measures 86 inches in length, 25 inches in width, and 47 inches in height, making it slightly more compact than the Concept2 rower. It also has a lighter weight capacity of 375 pounds. This doesn't come near the strength of the Concept2 rower, which has a weight capacity of 500 pounds.
RELATED: Hydrow Wave Review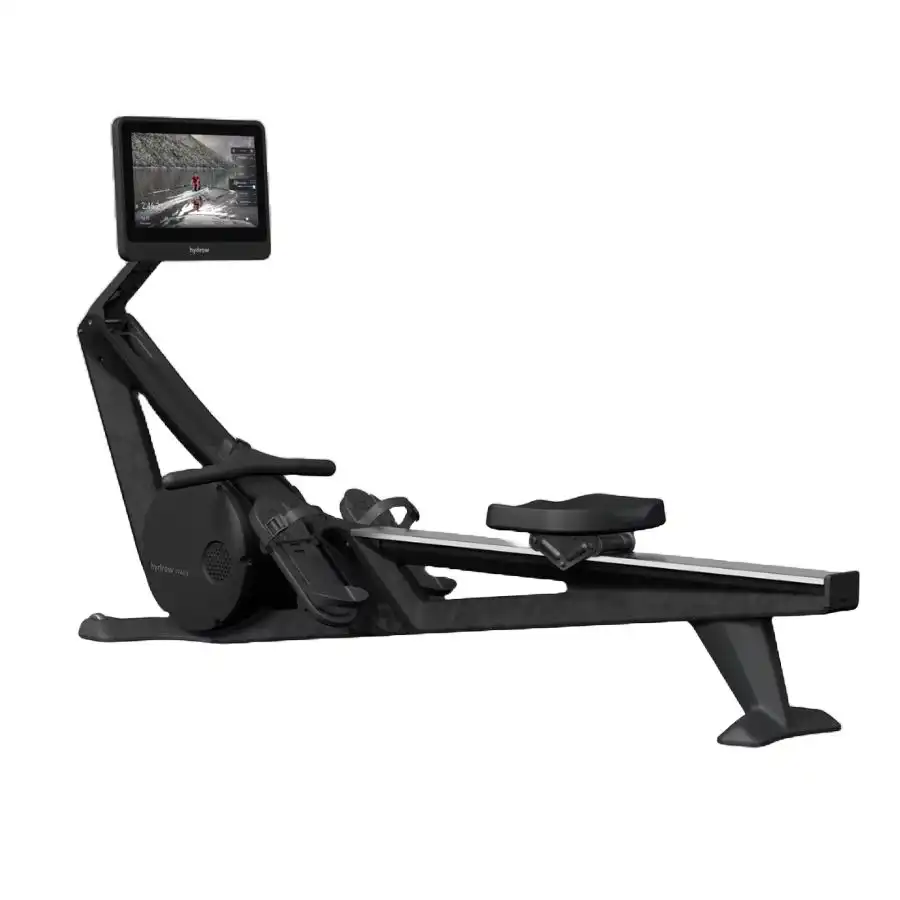 Hydrow Wave Rower
Dimensions: 80″ L x 19″ W x 43″ H
Storage: Stores upright
Resistance: Magnetic
Weight capacity: 375 pounds
Display: 16-inch HD touchscreen
Available programming: Live and on-demand workouts, scenic rows
Check Price
Concept2 Rower Customer Reviews
On four sites, including Amazon, the average rating for the Concept2 rower is 4.8 out of 5 stars. Many people praised it for its durability, quick setup, and storage capabilities.
Despite all of the praise, some customers did note a few drawbacks. A few customers found the noise level concerning for at-home workouts. Others also noted the limitation of the PM5 screen and would prefer to have a larger monitor that provided instructional videos instead.
Final Verdict: Is the Concept2 Rower Worth It?
When you consider all the features of a top-tier rower, the Concept2 rower is one of the best. Concept2 has built a solid reputation of quality and dependability with competitive rowers, the CrossFit community, and home gym users who want equipment that won't stop working after a few months.
Through an extensive analysis by our expert team, it's clear that the Concept2 rower can be well worth the investment. It provides a smooth, realistic rowing experience. It is easy to build and should last for years, especially in a home gym. Knowing that this product exists in many homes and multiple commercial gyms, it's hard to find another rower that can push the Concept2 rower off the top of the podium.
FAQs
Is the Concept2 rowing machine worth the money?
The Concept2 rowing machine is worth the money, as this piece of fitness equipment provides a smooth, authentic rowing experience. Maintenance is easy, and the machine is built to last for years. This will likely be the only time you will have to purchase a rowing machine.
Why are Concept2 rowers so expensive?
The Concept2 rower is expensive due to its tough and durable design. It includes a nickel-plated steel chain, aluminum front legs, and steel rear legs to ensure a sturdy and long-lasting build.
Is Concept2 rowing any good?
The Concept2 rower is arguably the best rowing machine available. This brand pioneered the first RowErg that was built by rowers, for rowers, to provide a full-body, low-impact workout. It's been used by casual gym-goers, CrossFitters, Olympians, and elite-level athletes. It is definitely a good product that many consider the gold standard.
Can you lose weight with a Concept2 rower?
Using a rowing machine like the Concept2 rower is a great way to lose weight. Because it offers a full-body workout, it has the ability to expend more calories than other forms of cardiovascular training. Keep in mind, though, that weight loss will also depend on your diet, your activity levels outside of the gym, and other lifestyle factors.