We receive free products and receive commissions through our links. See
disclosures page
.
For those of us who spend entire days at the gym, whether we are training others or getting our own training in, preventing our clothing from creating biohazard zones is not only a courtesy, it's a basic display of professionalism. My solution had always been to bring several changes of clothes for the day—one set for my own training, one set for coaching, and one set for when I was engaged with administrative work that had me behind a desk with my colleagues.
When I was sent Fresh to the Roots sportswear freshener for review, I was skeptical. Could a simple spray made with essential oils really keep a crew of hard working CrossFit coaches smelling fresh throughout long shifts? Would it ruin clothing by causing colors to run or bleach out?
Our gym staff tried the Sportswear Freshener and Natural Disinfectant in Lemongrass, Citrus Explosion, and Fresh Mint, and the Athletic Shoe Deodorizer in Mint Walking Shield.
Sportswear Freshener + Natural Disinfectant
We tried these on our workout wear, our coaching uniforms, and in our gym bags.
The Fresh to the Roots Lemongrass was a staff favorite, with many returning to it several times over our test period for their shoes in particular. A bright and verdant scent, if you like lemongrass, this will please you.
Citrus Explosion was enjoyed as well. A spicy orange scent, this was the most complex fragrance of them all. A great choice for extra sweaty, stinky athletes.
Wild Mint was used the least by our crew. A very simple fragrance, fresh and sweet, but not quite as effective as the other two.
Effectiveness: 4.5 out of 5
Scents: 5 out of 5
Length of Effectiveness: 4 out of 5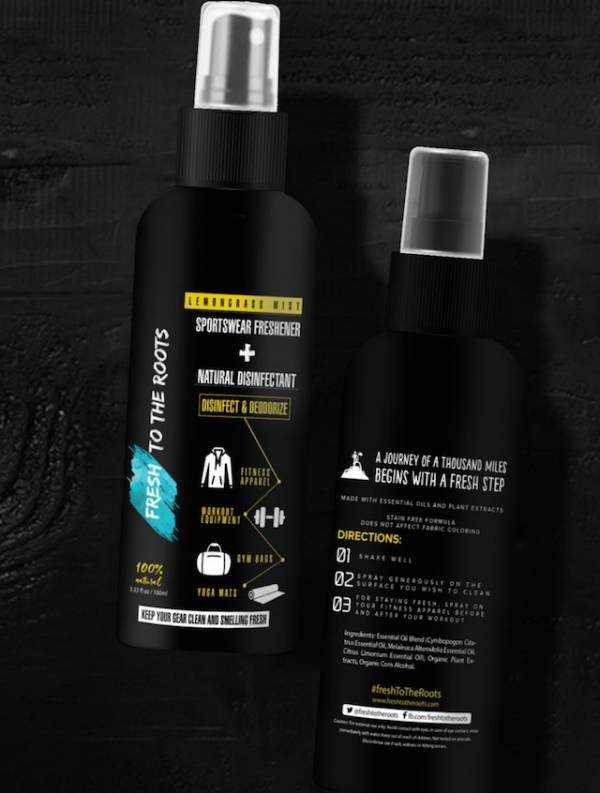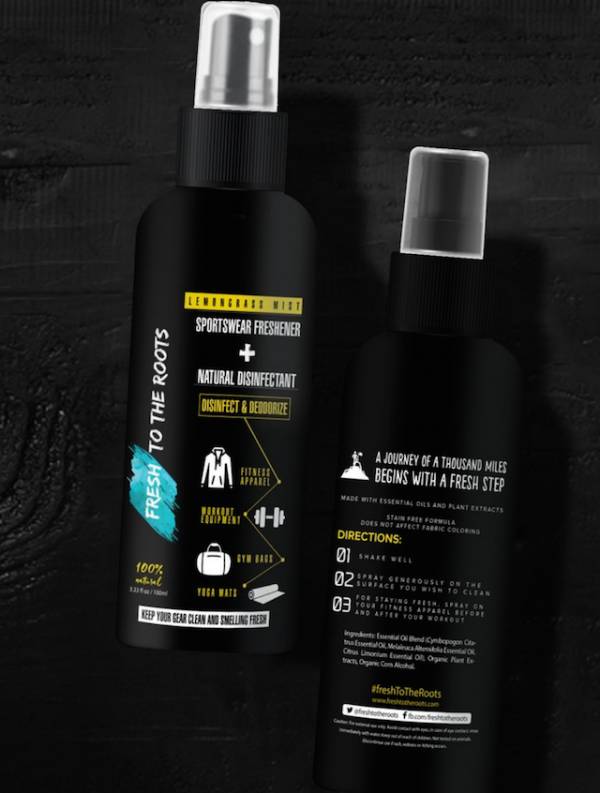 Athletic Shoe Deodorizer
A very true and inoffensive mint scent upon spraying, but once the spray had dried, we found that it didn't mask the odor of our shoes. It only added a minty smell to them.
Effectiveness: 2 out of 5
Scent: 5 out of 5
Length of Effectiveness: 2 out of 5
Big Thumbs Up
I started as a skeptical reviewer but was completely wowed by this product. Normally, my coaching uniform lasts for one shift and then needs to be cleaned, especially in the summertime, but Fresh to the Roots extends the life of each washing by about three extra days, meaning my uniforms will retain their shape and colors for far longer. I can't imagine going back to not using it. And, every item I sprayed it on retained their colors, as promised on their packaging.
It freshened shoes, gym bags, and clothing, and the whole crew found the scents pleasant, if not delightful. Having many fragrances to choose from was a bonus. We would suggest skipping the shoe-specific spray and just purchasing the Sportswear Freshener, as it was more effective at keeping our shoes fresh.
Fresh to the Roots has a team of diehard fans in this CrossFit gym. If this spray can keep our staff smelling fresh all day long, it can keep everyone smelling great pre- and post-workout.
Fresh to the Roots At a Glance
Features
Eliminates bacteria

Contains natural ingredients and essential oils

Works on any material

Stain-free

For use with wrist wraps, weightlifting belts, knee sleeves etc.

Easy to take along 4oz bottle (1500+ sprays)

Price
$20