Trying to describe what it's like to compete at the International Brazilian Jiu Jitsu Federation (IBJJF) World Jiu Jitsu Championship is kind of like trying to share the details of a dream. You can explain the rudiments (e.g., "I dreamed I had dinner with a giant polka-dotted alpaca. I don't know how I knew it was an alpaca. It could walk upright and it talked trash about the other patrons in the restaurant. It was also a cartoon. We ate deep dish pizza."), but it would take far more time, effort, and language to get all the specifics exactly right. Kind of how I suspect working with a sketch artist to identify a "perp" would be.
Recall the last time you went to any huge sporting event or concert that you had been excitedly anticipating. Now recall the last time you had a huge presentation or project to report on for work, where something important hung in the balance, such as a promotion, new clients, or the like. Further, imagine the athletes or musicians you were excited to see were from not one, but dozens of your favorite bands or teams, AND you were going to be mingling with them. Imagine your presentation was going to be in front of hundreds of people, though you didn't know how many of them were actually paying attention. Finally, imagine the venue for this was a big blue pyramid on a university campus in Southern California, inside of which is a huge arena covered with eight or ten competition spaces and audience seating accommodating enough people to make anyone highly agitated.
Mix it all together and you have a general sense of what awaits competitors at Worlds/Mundials. Oh, and don't forget to add water, as there will be physical exertion and sweating. And dry mouth brought on by nerves.
Over four days, from May 31 – June 3, 2012, hundreds of BJJ practitioners will attend Worlds and throw their hats on the mats to vie for the title of world champion. Black belt practitioners will demonstrate how intergalactically good it is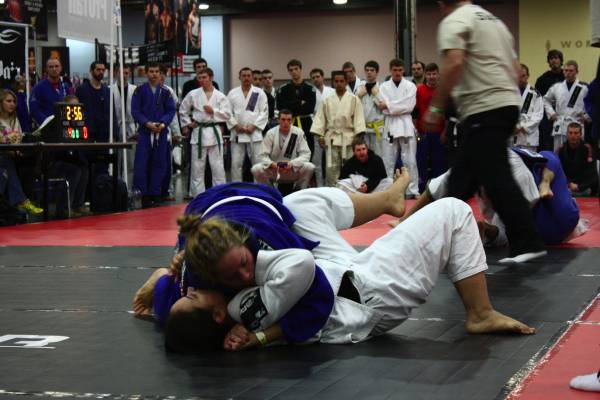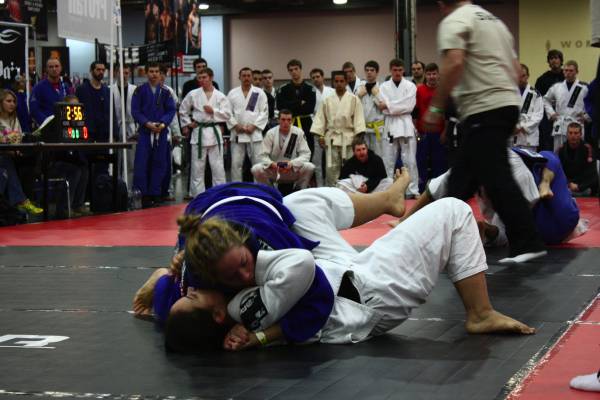 possible to be at BJJ, though few of us will make it to that level. White belt practitioners will demonstrate that the future of BJJ is in eager hands. And all the belts in between will put on a good show as well.
For many competitors, this is the be-all end-all of jiu jitsu tournaments, the one that confers ultimate bragging rights on the victors. Months of build-up, preparation, visualization, and travel culminate for some in competus interruptus, and for others in the realization they have accomplished the ultimate, accompanied by roars, tears, hugs, and Brandi Chastain-type strip teases.
And then, after four days of celebrity sightings, coaching, arena food, flop sweat, and grappling, Worlds will feel like it has ended before it had a chance to begin. Everyone will slowly wend their way home to all corners of the globe, and back to the academy, where they will get back on the mat to work on what they have learned. Because ultimately, win or lose, we will always have more work to do. As in jiu jitsu, so in life.
I'll let you know how it goes!