At first glance Jaala Thibault and I have a lot in common. We are both swimmers, in fact we even had the same coach at different points in life and didn't know it until about a month ago; we both love CrossFit and experienced life-changing events from CrossFit. But Jaala's experience is one I secretly envy and one that, as you will see, has a near perfect fairy tale ending.
As of now Jaala has lived in Afghanistan on three separate occasions, but it was in 2010 that Jaala first moved to Afghanistan as one of only two U.S. sponsored language fellows. Her job was to teach English to teachers. Jaala lived in Kabul, the capital of Afghanistan, in an area of the city called Shar-e-now or "New City."
When Jaala started her work she found getting around the city being a woman challenging. She explained to me that in Afghanistan there is no "walking around as a single woman. During the day women walk with other women or, if with men, usually family members." Jaala could count several pretend "cousins," brothers and husbands who accompanied her on some of her adventures through the city. Of course always in full Afghan clothing, which included a headscarf. The younger generation no longer wears the burka in the city but that is still the attire worn by older females and women in the province, approximately sixty-five percent of the female population.
For the first four months of Jaala's stay in Afghanistan her workouts were confined to a space in the basement of her apartment complex in Kabul. She had available to her old Russian kettlebells, one barbell with no rotating sleeves, which made practicing Olympic lifting very challenging, and a C2 rower devoid of battery. While batteries are quite abundant in the Western world, in Afghanistan finding batteries can be quite the challenge.
Jaala's coach, Colin Jenkins, programmed workouts around her equipment limitations. Rowing was usually limited to interval training using a kitchen timer or by counting the number of strokes. She also found a treadmill where she could run (since running outside was not an option as a single female). Since the gym in the basement was open to all residents Jaala had to don full Afghan attire to workout – usually a dress, pants, and headscarf. As she got comfortable she started replacing the headscarf for a hooded sweatshirt that she could quickly place the hood to cover her head in case someone entered the basement.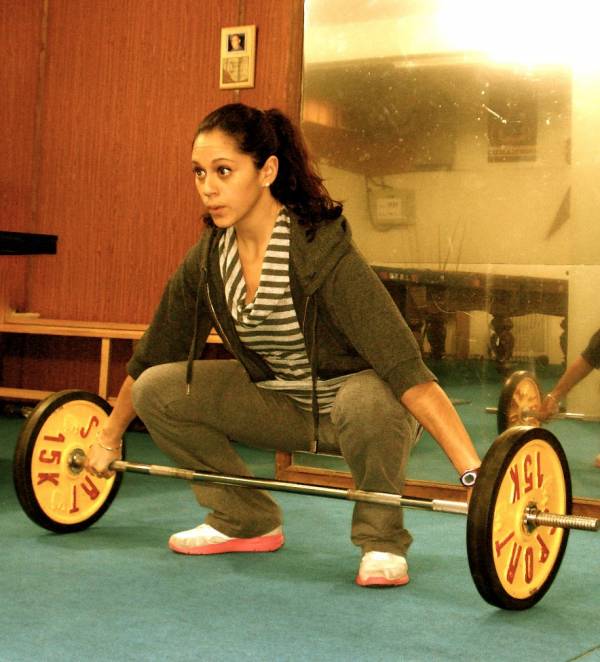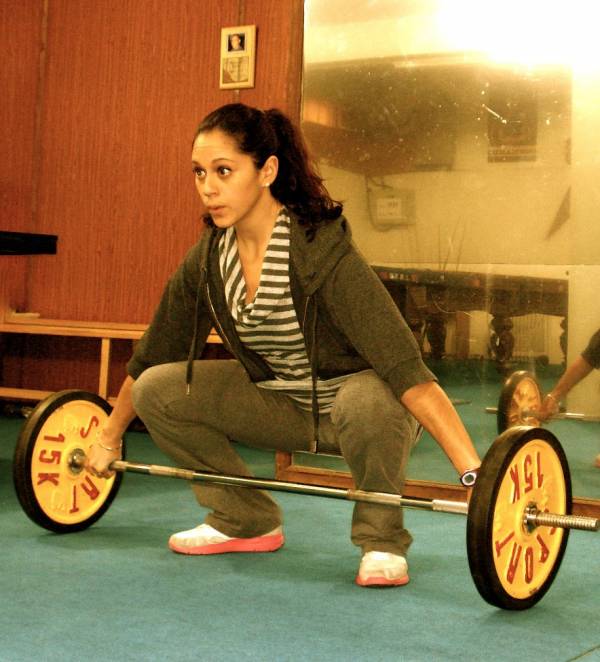 Jaala shared with me that she hated the clothing. "It got really hot, double-unders were very hard, and every time I would snatch or clean the bar would get caught on my dress. But lifting with a headscarf or hood also affected my head position, sense of hearing, and peripheral vision. I also could no longer hear myself breath!" Wearing so much clothing to workout also brought other issues that Jaala did not expect. "I developed the worst skin rash from working out and sweating with so many clothes. Some in rather uncomfortable areas, but even just in everyday life wearing a head scarf caused a very bothersome rash under my chin."
Despite working out twice a day in her basement, the limitations of her training were evident and combined with the delicious non-paleo Afghan food Jaala found herself weighing an extra twenty pounds. She needed something more. After four months of training alone Jaala started making trips to Camp Eggers to workout with the American troops. She made that part of her routine and would try to train with the troops at the compound once a week. She would stay there up to six hours, covering all the skills she couldn't perform while at home in her basement. On base she was able to wear more freeing attire to workout (sports bra and shorts) and was not required to wear a headscarf.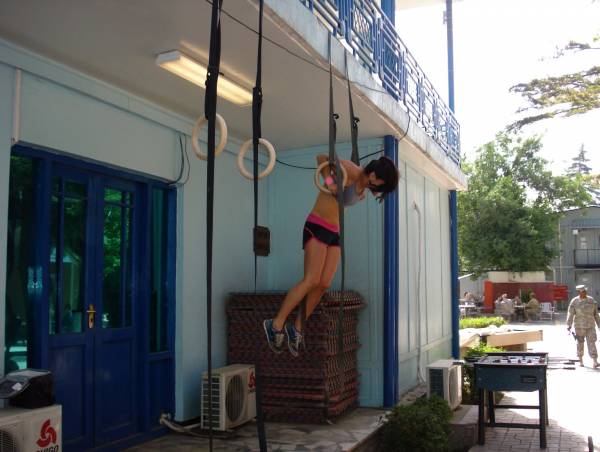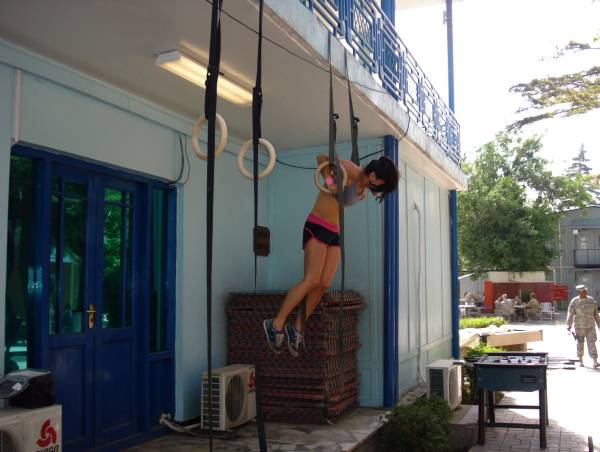 Although more equipment was available to her on base, some things were still rudimentary, but that is the beauty of CrossFit. To practice muscle ups Jaala and the troops would hang the rings from the balcony above the base coffee shop. She reminisced, "It was really funny to be hanging from the balcony in sports bra and shorts while people were below having coffee or just walking by. Although Afghan men were used to seeing Western women it was funny that they were now seeing one in little clothing hanging from the balcony!"
Getting to Camp Eggers for training could sometimes prove to be a challenge. Afghans are usually not allowed in unless they have an assignment, and a passport is required. Jaala would be dropped off in the city and would walk alone into the green zone, about a half-mile away. She never felt unsafe, except for that half-mile walk alone. She remembered, "One day, walking into Eggers, the Ministry of Defense got bombed. I could hear the fighting going on, the smoke in the air while walking only about four hundred meters away. The Afghan National Army challenged me while I was on foot. I look like I could be Afghan, wearing Afghan clothes, but I had my American passport. That day I had to stay on base the whole day."
Working out at Camp Eggers stepped up Jaala's game and she felt confident enough in her skills that she entered the 2012 Crossfit Open. Her workouts were validated by the affiliate at Eggers and she ended up qualifying for the Asia Regionals in Okinawa, Japan. She traveled three days to get to Okinawa – from Afghanistan to Dubai, then on to New Delhi, and finally Japan. "It was a bittersweet trip," she said. Jaala placed third on the first workout, but an unfortunate event disqualified her from the thruster ladder. "The judge next to me gave the signal 'down' to their athlete and I thought it was my judge telling me 'down.' I didn't want to appeal and question the judge's decision. It was bittersweet." After getting back to Afghanistan Jaala repeated all the events at Camp Eggers, and she would likely have qualified to compete at the CrossFit Games that year had it not been for that unfortunate event.
But my biggest curiosity was, why isn't Jaala swimming? She explained to me, "Afghan women don't really swim, for obvious reasons. The only pool was located at the Embassy. To swim in that side of the world they have the burqini, which is a full rashguard with a hood. I stuck to CrossFit."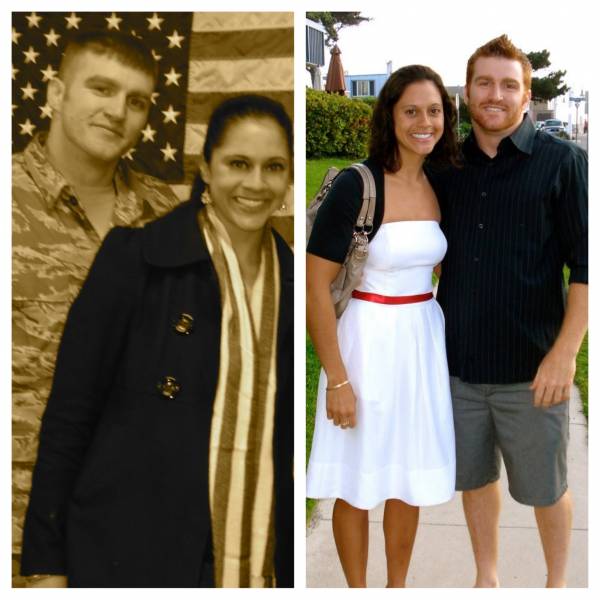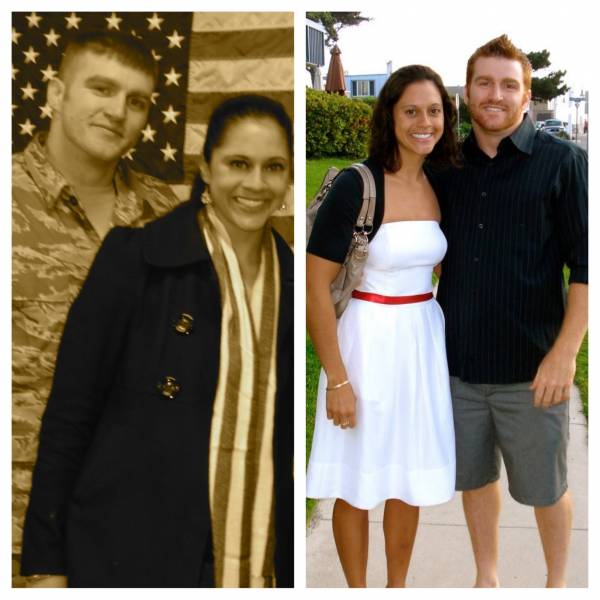 But where is the fairytale here you may ask? When Jaala started training at Camp Eggers, she met Sergeant Christopher Ball from the U.S. Air Force, one of the CrossFit coaches at Camp Eggers. Chris helped Jaala train, and he made the long trip to Okinawa to support her at Asian Regionals. Can you predict where the story is going? Jaala and Chris started dating, Chris finished his contract with the Air Force and moved to California, and he now lives with Jaala in Santa Barbara. They are both coaches at CrossFit Ventura and, I might add, a very happy couple.
Jaala Thibault – an American athlete who overcame training in adversity and found love in the process. Now that is a story to envy! To learn more about Jaala you can follow her blog or read her pieces in the New York Times.