EDITOR'S NOTE: Welcome to the Athlete Journal of world champion powerlifter Chris Duffin. Follow Chris as he trains and competes in various events over the coming year. Chris's journal will be posted every Tuesday. You can also read about Chris on his personal website Kabuki Warrior.
Athlete Journal, Entry 50 -Friendly Competition
There's a little friendly competition going on in the gym. When I walked in Saturday morning 805lbs was sitting on the deadlift bar. For the longest time I couldn't figure out why all that weight was sitting there and hadn't been put away. Then I saw the sign on the wall behind it, left by one of the gym members chasing my numbers who had trained the night before:
Speaking of EPC gym members, this is a video I put up this week of EPC co-owner Rudy Kadlub:
Rudy Pulls 315x23 @ 64yrs
MONDAY
Still sick, no training.
WEDNESDAY
Starting to feel a little better:
Warmup: 15min mobility and muscle firing patterns
Dynamic Squats to foam box – No belt or wraps
165×10
165+120 x5
275+120 x5
385+120bands x3,3,3,3,3,3,3 w/30 sec start to start
Leg Press – Wide all Adductor
400×12
500×16
650×12,12
Ukrainian Stallions
#3+200×20,20,20,12
FRIDAY
On lunch break: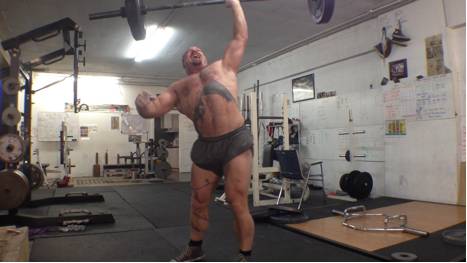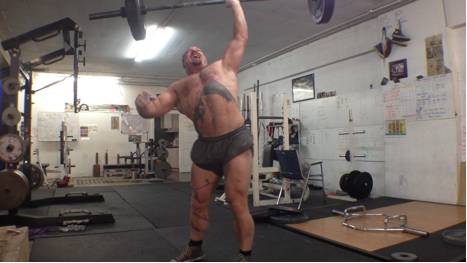 One-arm Snatch each side
45×3
95×3
135×1
155×1 – First time doing these since bicep detachment!
53×2
70×3
88×2
100×1
45×16,16,16
Mace Swings
3 sets x10 each way
Bottoms Up Kettlebell Press – Walking and no rest at bottom
26×10,10
SATURDAY AM
Warmup: 15min mobility and muscle firing patterns
Deadlift – 1" deficit
135×5
225×3
315+100×1
405+100×1
495+100×1
605+100×1 w/10 second hold
725+100×0
Bent Over Rows
405×12,12,10,6
Neutral Grip Pull Ups
Bodyweight x12,12,12,12
Remainder of SATURDAY and SUNDAY
I spent the weekend hauling wet 4x6x16' pressure treated lumber in the hot sun building a giant playground set for my kiddo. I'm beat!