Read our other CrossFit Athlete Journals:
Travis Holley and Michael Winchester
Ingrid Kantola – Athlete Journal 7/14/12
(Read Ingrid's Bio here)
Photos provided by Brian Sullivan.
Read our other CrossFit Athlete Journals:
Travis Holley and Michael Winchester
Ingrid Kantola – Athlete Journal 7/14/12
(Read Ingrid's Bio here)
Photos provided by Brian Sullivan.
I won't make you wait for the biggest news of this post: I am not competing at the 2012 CrossFit Games. I know I told you all that I was on the team last week, but we had a few surprises this week that led to a change in the line-up. The first change was that the Team Events were announced on Saturday, July 7th, approximately five days earlier than we expected to see them. All but one of the events were revealed and boy were they doozies!! The second surprise was a testing day on Sunday to see how our team handled some of the events. I will go into the training journal now and let you read the day by day progression of the team decision.
120707 Saturday
We took the day off from training to help host the SeeFit: Road to the Cure event at CrossFit Central. "On June 28, 2012 a small group of University of Miami CrossFitters embarked on a cross-country RV trip from Miami to Los Angeles to raise money and awareness for research for visually impaired children. Along the way, these CrossFitters stopped at thirty CrossFit 'Boxes' before reaching their final destination: The CrossFit Games in Los Angeles, CA on July 13th, 2012." Their goal was to raise $50,000 on the tour and we hosted their group and invited all the boxes in Austin to come do the WOD and raise awareness for the event. It was a great action packed day!
As I left, Noah Ohlsen, asked me if I had seen the team WODs. I hadn't and spent the next 15 minutes of my hair appointment reading the WODs on my iPhone. I was extremely excited about the 6x 415m relay, yoke carry, rope-clean WOD, bar muscle-ups, team chipper, and of course- the final WOD- The Girls. I could already imagine myself crushing the 30 snatches in "Isabel" in the final workout and tagging off to Jeremy Thiel to do "Grace." I knew that the front squat was a weak area for me and that the volume of the Team Triplet wasn't the best for me. But I knew that we would be talking it over as a team, so I kept my focus on the team.
120708 Sunday
We gathered at Central at 9AM to get in a testing session at Rudy's orders. We performed a 2-rep max front squat (I PR'd at 190, up from 165), a 400m time trial (I ran 1:06, best since college), max distance yoke carry (I went 452ft), and max reps bar muscle-ups (I got 12). We talked about re-evaluating the line-up and that the discussion was now between putting me or Jessica Estrada on the team, as Karen Pierce had solidified her position with a huge 225lb 2-rep max in the front squat. While we mentioned the idea that we might stick with our initial team line-up as it had been set, but the decision was left up to Rudy to determine who would be best to not only qualify us through the rounds, but to win the final workout.
120709 Monday
We got into the gym to roll out, mobilize, and generally get loose one more time before we flew out on Tuesday. We got on a conference call with Rudy to discuss the team again, and he did not provide a final roster for us at that point. He brought up that the workouts favored Jessica's strengths and that she would be a key part of the success of the team. I understood his perspective and agreed with the need to put the best team on the field. Naturally, I wanted to do whatever I could to get the team to the top of the podium and remained steadfast in my willingness to do whatever it took on or off of the field.
120710 Tuesday
Michael Winchester and I went to Bikram yoga in the morning to stretch out and sweat out some toxins before we headed to California. It was a good session of focused mobility work, thinking about each workout and how it would benefit from the pose I was doing in Bikram. We headed home to finish packing and get on the road. I packed half expecting not to use any of the clothes I put in the bag, thinking that I would be wearing free Reebok gear provided for all the team members. I also packed mostly for my trip to Idaho after the Games. This family trip to Grandma's house is a super relaxing- mountain air, clear lakes, hiking, fishing, and raspberry picking. Just thinking about the trip is soothing.
There was still no decision about the team, though we were expecting to complete registration upon arrival in Southern California. We got into LAX at 6PM, drove (almost) straight to the Marrriott to check-in, but missed it. We would have to wait another night to provide our final roster and complete registration.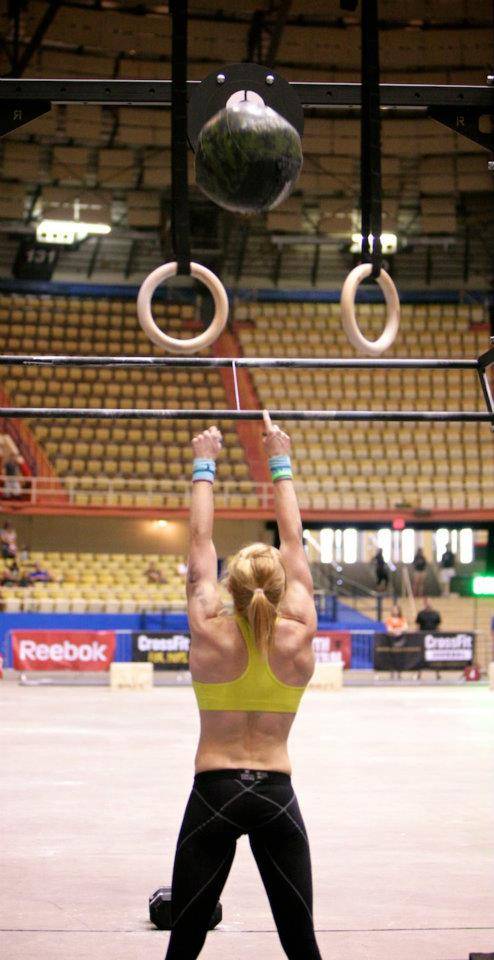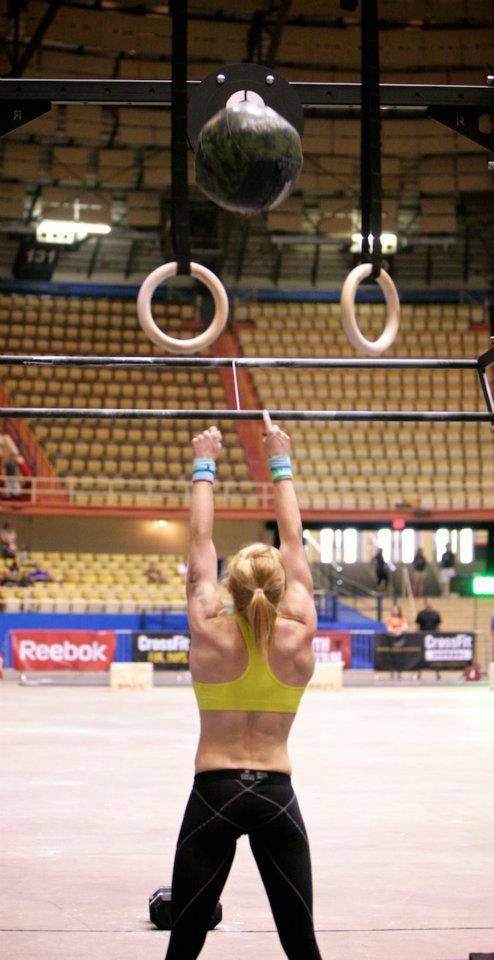 120711 Wednesday
We woke up and got ready to check-in with seven people still on our roster. I asked Michael if he had gotten a decision from Rudy, which he had and would reveal to me if I wanted, but I wanted the team to hear it together. Right before we left the house, Michael announced that Rudy wanted to go with Jessica on the roster, with Karen and Carey Kepler. I would not be competing at the Games. I understood and knew in my heart that it was Jessica's team. She helped the team earn the ticket to the Games at Regionals. She had been devoted to the team from day one. Jessica is an excellent athlete, the best gymnast in our Region, and a mentally strong competitor. She is going to be an essential piece of the success of Team CrossFit Central at the Games.
That being said, of course, I was heartbroken. I wanted nothing more than to be a part of the fun and to help the team win. Like everyone else, I love free stuff and wanted to claim the name: Games Athlete. However, this was not my year and Rudy saw that Jessica would do more for the team under the circumstances. My plan remains as it has always been- to help the team in whatever way I can, be that fetching water, giving unqualified massages, or cheering my lungs out. My personal goal continues to be to qualify for the CrossFit Games as an Individual.
As I snapped iPhone pictures for the CrossFit Central Twitter feed as the team went through processing, gear sizing, and media at the Marriott. We then headed to CrossFit South Bay to meet up with Rudy and get in some strategy brainstorming and transition practice. CFSB is a rad gym, run by really awesome people! Thank you Forrest and Gus! Conner Moore (the male alternate) and I went through the Chipper workout to get knowledge on the time domain and what works/fails for strategy. 30 reps each of GHD sit ups, deadlifts at 155lbs, double unders, overhead squats at 65lbs, and pull ups. I did it in 5:28, with unbroken situps and deadlifts. I expect each team member to do it in 5:15 or less. They are going to CRUSH IT!
That evening we reconvened at the Marriott for a special announcement from HQ. We got to eat great dinner foods, I got to have my first adult beverage in months, and chat with the individuals who had gone through the Camp Pendleton Triathlon and Obstacle Course that morning. It was a beautiful evening in Manhattan Beach and as the sun went down we congregated on the golf course for a video and the big reveal of the new Rogue Equipment creation: The Big Bob. This thing is a 6-man bobsled-like contraption that the teams will push, then pull 200 total meters. It's awesome! But frankly, I was expecting something more obscure and less familiar- everyone has done sled pushes before. Not six people together on The Bob, but at least something we know.
120712 Thursday
Thursday was a low key day for me. I woke up and went for run to the beach. It took me about 15 minutes at a moderate pace, then I put my cap and goggles on for a "swim." I intended to actually do some freestyle, but ended up mostly treading water and floating on my back staring at the sky and avoiding the stand-up paddle boarders. I was even scared by a pair of dolphins, who popped their fins up and made me think, "SHARK!" I relaxed and enjoyed sharing their habitat and eventually caught a wave back to shore.
Later, I drove the team to the hotel, then the Home Depot Center for more practice. They did little samples from each workout and got briefed on The Bob and were given four minutes to practice on it. The HDC looks especially great with CrossFit Games logo EVERYWHERE. Counting the CF logos is like trying to count the X's in the "X-Men" movies.
120713 Friday
Friday is Game Day for the Team. They start out with the 6x 415m relay race, then hit up The Bob. Later they will test their front squat then go into the Team Triplet. It's going to be a very important day for them!! Check out CrossFit Central twitter for more frequent updates! We are going for the gold this weekend and I can't wait to see how it all turns out. The team is focused and ready! #DOorDIE!!