Schedule of CrossFit Athlete Journals:
Mondays – Ingrid Kantola
Wednesdays – Travis Holley
Sundays – Michael Winchester
Michael Winchester – Athlete Journal 5/6/12
(Read Michael's Bio here)
Games-Bound
If you have been following the 2012 CrossFit Games Regionals, you have probably heard that Team CrossFit Central has made it to the Games! While we did not come in first as was our goal, by the end of the weekend we felt our third place finish was hard earned and well deserved.
One thing must be said about the team competition: it is tight! By tight I mean there are a lot of very good teams with very good athletes looking to get to the Games. In years past the case was that there were really only four or five good teams that had any chance of making it to Carson. What I saw this past weekend was a plethora of teams with as much desire and heart as skill and strength.
We knew going in that we were a favorite to win. Sometimes this can be a good thing, but personally, I love being an underdog. I got my wish by day three.
Friday, April 27: Day 1
We stepped into the Freeman Coliseum to find swarms of CrossFitters EVERYWHERE. The athletes had signed in the day before at packet pick up and picked up shirts and swag, and scoped out the game floor and competition. The atmosphere was light, but there was definitely the undertone that game time was here. Friends off the field; competitors on the field.
WOD 1
When it was time for WOD 1, we knew we had to set the tone early. We did just that. We had only practiced the WOD one time in its entirety, but had practiced the start and transitions several times. We knew it would be important to remain calm and stay in rhythm and unison as a team.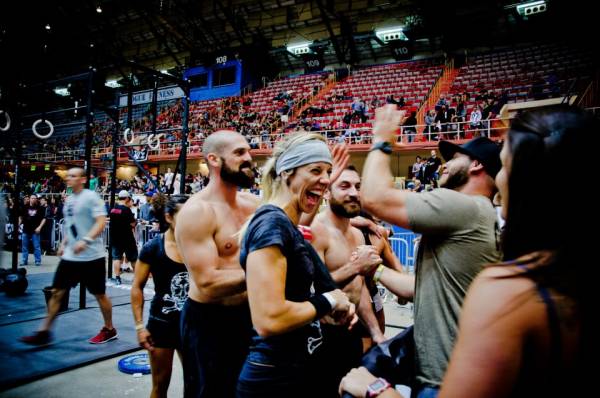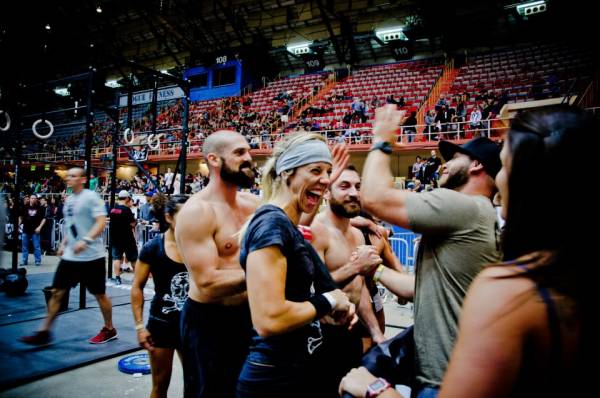 Travis and I did our part and set up our women to take the lead. We moved fast and smooth through our set of partner deadlifts and handstand pushups, and when we got under the wall, the ladies took over. Carey and Jess E. crushed the first round of deads and HSPU, leaving all but a few teams behind. We were in third place when Travis and I finished our second leg, and the women once again scorched the competition on their second leg. We missed out on first place by four seconds to a very strong Bayou City CrossFit (who would go on to place second overall.)
WOD 2
WOD 2 was definitely in our wheelhouse. Everyone on our team can row, pistol, and handle the 225/135 pound hang cleans. We knew this would be a good WOD for us and set us apart from the rest of the field. It was and it did.
Jeremy set the tone early, destroying the row, knocking out pistols, and handling the cleans with ease. In this workout, it was all about the first and last person through. Travis and Jess S. made it through the same way, but by this point a very strong CF Dallas Central Team had made ground on us and it was Carey versus their big man, Toge. Carey did what she had to do, but CFDC was just too fast on the last row for us to catch them. We once again took second. This finish put us in first overall with a total of four points.
Saturday, April 28: Day 2
WOD 3
This WOD was a bit more uncertain for us. The woman we had set for the WOD, Jessica Stephen, had injured her back the week prior and was still not a hundred percent going into the WOD. Not being a hundred percent is one thing (she has crushed many WODs at less than a hundred percent), but the fact she was hurt also kept her from practicing the dumbbell snatch at the prescribed weight of 70lbs. The first time she even touched the 70lb dumbbell was in the warm-up area, several minutes before the WOD. That being said, Jeremy and she went out and finished the workout in a good enough time to claim thirteenth. Not ideal, but enough to keep us in the top three. We were extremely proud of the fact she could even do the WOD, considering she had also done fifteen cleans at 135# just the night before.
WOD 4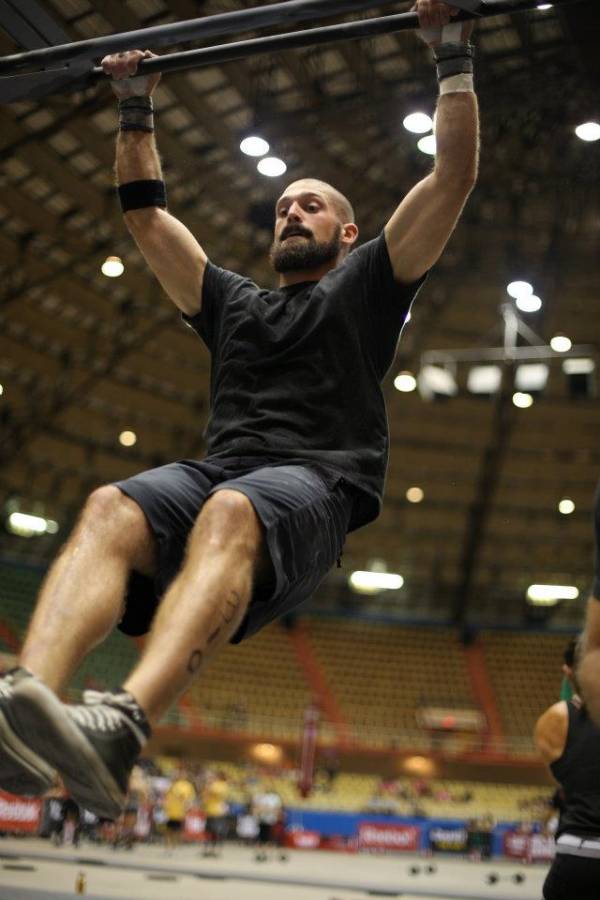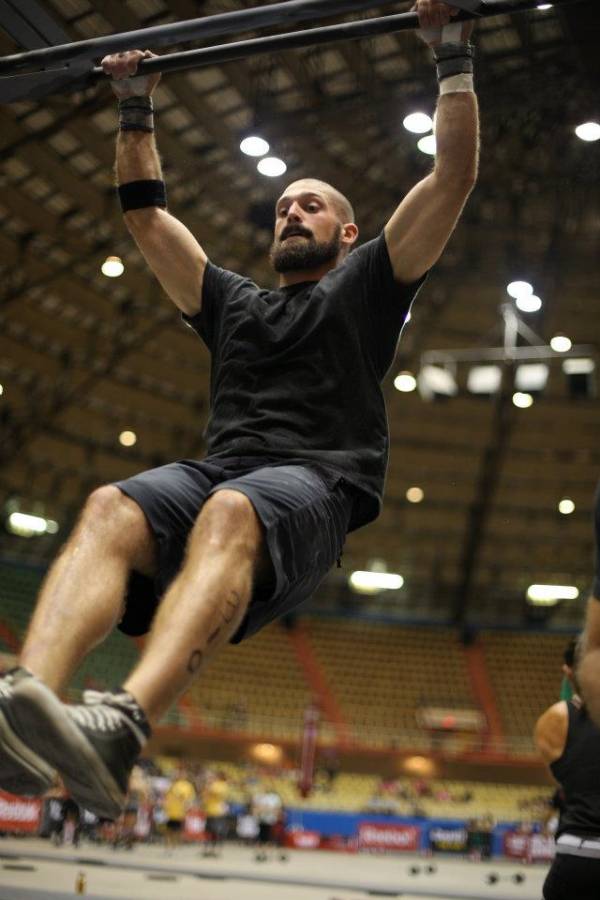 We knew when this workout came out that it would be another top finish for us. With the combination of Carey and Jess E. both knocking out butterfly pull-ups, there aren't many women duos that can keep up. They gave Travis and me an early lead, and when they passed off to us, we were at least 30 reps ahead of the next closest team. But fatigue set in and Travis and I were caught at the last second (literally) by the CF Dallas Central team. They squeaked out two reps at the buzzer and once again, we claimed a second place finish.
At the end of day two, we were in a comfortable spot, but we knew we had our work cut out for us on the third and final day.
Sunday, January 29: Day 3
WOD 5
Snatch: the most technical movement in CrossFit. In this workout, all of our six athletes would have to step up to the plate and perform. As a team, and as a gym, the snatch is not our strength. We are proficient, but not great. We can move heavy loads over long times and distances, but the snatch does not fall into our list of fortes. To make a long story short, we did not lift as much as nine other teams and as a result dropped from third overall to a tie for fourth. This is not where you want to be with one workout left.
WOD 6
Do or die. This has become the mantra for Team CrossFit Central this year, and it was certainly our mantra as we headed out onto the floor for the last WOD and our last shot at the 2012 Games. We knew if we came in first place, we would be going to the Games. End of story. First place = Games. Anything else and our fate would be left in the hands of others.
It has been said before, and it was proven this weekend: "Your team is only as good as your women."
When the ladies took over, it was well…over. They dominated the muscle-up portion of the WOD and it was then that all the fears, doubts, and anxiety left my system. As Carey and Jess E. made their way back towards the finish line, I knew we had it. We were going to the Games. They finished their last muscle-up and our athletes, families, spectators, and supporters erupted! I would be lying if I said I did not have to fight back tears as we celebrated.
A Dream Four Years in the Making
I started CrossFit in October of 2008. Ever since my first WOD, I have wanted to compete at the Games. I have watched many individuals and two teams go to the Games from Central, but I have always been in Carson as a spectator, never an athlete.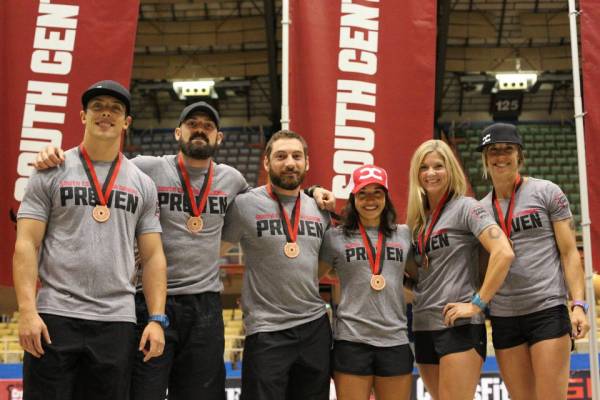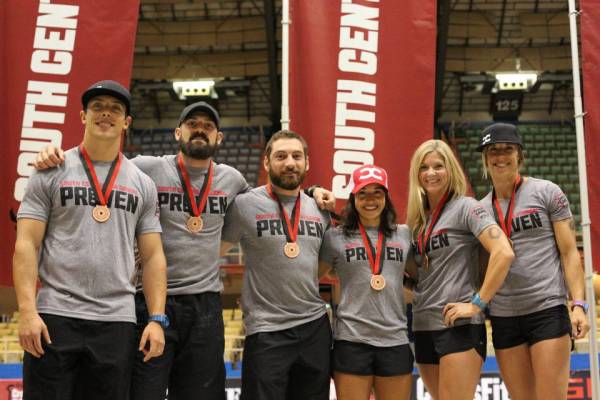 With last year's crushing defeat and fourth place finish at Regionals, we have had almost one full year of training, blood, sweat, tears, and sacrifice to make it to where we are today. I will never forget the feeling as we finished our last workout in 2011 and knew we would not be going to the big show. That memory and feeling has sat in my belly for a year. It is by far one of the low points in my CrossFit career.
Fast forward to this past weekend: Elation. Emotion. Gratitude. Relief. Satisfaction. These are the feelings I had as we stepped onto the podium and received our third place medals, knowing we had punched our ticket to California and stepped into the ranks of the top fifty teams in the world. Our finish of WOD 6 in first place was the single most joyous moment I have had as an athlete, ever. This is one of my greatest athletic accomplishments, and I am truly grateful for everyone who has helped make it possible. Thank you.
PS: I wanted to send a special shout-out to my one and only Ingrid Kantola who finished fifth overall at the South Central Regional. She is the most badass athlete and woman I know, and I could not be more proud of her hard work and dedication over the past year. 2013 is her year. I love you!