EDITOR'S NOTE: Welcome to journal of marathon runner, mother, and busy New Yorker, Narisa Wild. Look for more from Narisa as she trains for and runs in marathons all over the world.
Journal Entry 2 – Making My Own Marathon
For the first time in its forty-two year history, the ING NYC Marathon on Sunday, November 4, 2012 was canceled due to divisive reactions to the hosting of the event in the wake of hurricane Sandy, a superstorm that ravaged the East Coast causing massive flooding, deaths, and power outages, and instigated a fuel and food shortage during its aftermath.
A day earlier, on Saturday around 5pm on November 3, 2012, we learnt through a media release that the New York Marathon was canceled. Finally, the right decision was made! The race had created so much controversy and division both amongst runners and the New York community at large that it was sad to be caught in the middle of it all. The pre-race enthusiasm wasn't there, and the spirit of New Yorkers is understandably elsewhere right now.
I was so relieved and happy that they came to the good decision for the better of New York and all those suffering the impact of Sandy. In my heart, though, I did feel obligated to honor and see through the promise I had made to all of my generous sponsors, to Fred's Team and to Memorial Sloan Kettering: to complete two marathons in three weeks.
So that's what I did. On my own. 
Early Sunday morning, at 6:45am I set out on my 26.2-mile solo run from my house, in my Fred's Team gear, with the intention of running a full marathon. It was cold, sunny, and messy out there. Roads strewn with branches, sea residue, fallen trees, and the dangling power lines, I gingerly made my way along my route feeling out my sensitive hamstring and my disheveled nerves. I wasn't sure how I felt: emotional – yes, sad – no, excited – yes, but I couldn't shake Sandy from my memory for long – her devastation was all around me.
Six miles in and my hamstring felt tight, my heart heavy, and my nose cold. But I kept pushing forward. I wasn't able to charge my Garmin (still no power at our house at that point) so I had charged my iPhone in the car the night before and was relying on the Nike+ app to get me around. Unfortunately this meant I couldn't play any music (the app sucks too much battery life) so it was me and my thoughts. Luckily I have a lot to think about, it seems!
It's tough carrying all of your own supplies, too (Gatorade, gels), but you get by with the bare minimum when you have to. I ran a 19-mile loop that took me past my house for some emotional and psychological refreshment: the sight of my family gave me the strength to run the remaining 7.2 miles.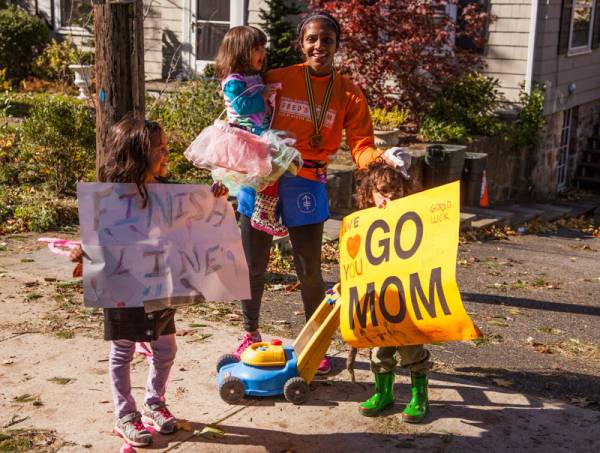 The biggest test of a marathon is the mental capacity to see it through, the rest comes with training but your mind has to be there – or at the finish – right from the word go. If it's not, you're unlikely to succeed.
My finish line was pink, created by my wonderful family, complete with a medal and prize! The emotions were still there and the craving for spicy food, as always.
Now for some rest, protein refuel, and then a few weeks of cross training to really rest these tired legs!