We receive free products and receive commissions through our links. See
disclosures page
.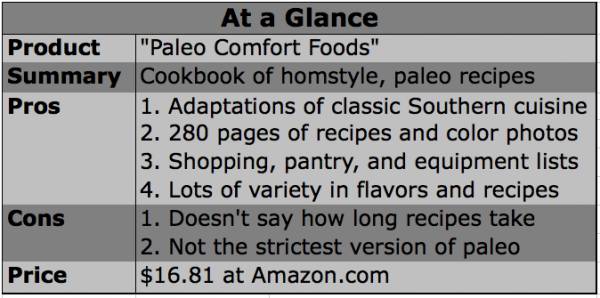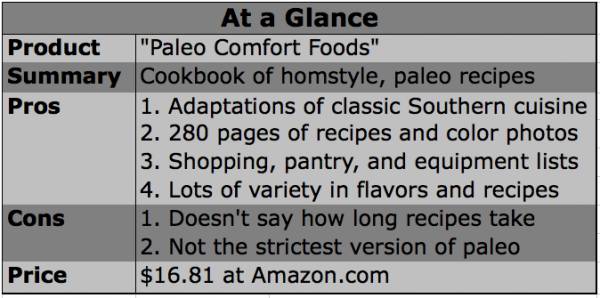 Paleo Comfort Foods: Homestyle Cooking for a Gluten-Free Kitchen is a cookbook for people who have made the choice to forsake gluten, grains, dairy, and legumes, but miss hearty American food. Many of the recipes are updates on classic Southern cuisine – updated to fit the needs of people seeking a paleo diet, whether it be athletes seeking performance or non-athletes seeking to avoid disease.
While some detractors may question the paleo-ness of some of the recipes, one thing I like very much about this book is the honesty of the people behind it. Julie and Charles Mayfield don't claim to be professional chefs, nor do they claim to be nutritionists. They are simply people who follow a paleo nutrition lifestyle who also happen to love food. In their own words, they explain in the preface:
Let it be said that dependent upon your overall goals – whether it's to lose weight, gain muscle mass, or avoid some intestinal inflammation – it may be that not every single recipe in this book is a good idea for you. Some of the recipes in here shouldn't be eaten every single day. Some aren't appropriate for those going super strict, say on a Whole 30 plan. Some aren't wise if you are trying to lean out or bulk up, and some may not appeal to everyone.
So, be warned – this cookbook may not be for you, and you may not cook from it every night if you do purchase it. That being said, my personal experience was that the recipes are quality and worth investigating.
Paleo Comfort Foods begins with sections that seem to be de rigueur in cookbooks, particularly paleo cookbooks: shopping lists, pantry lists, and equipment lists (not to mention the requisite Robb Wolf foreward). While these sections are full of useful information, if this isn't your first paleo cookbook, you may not spend a lot of time here.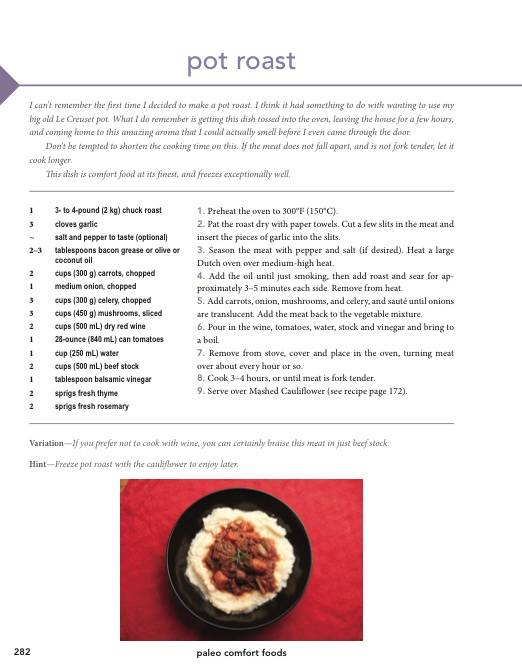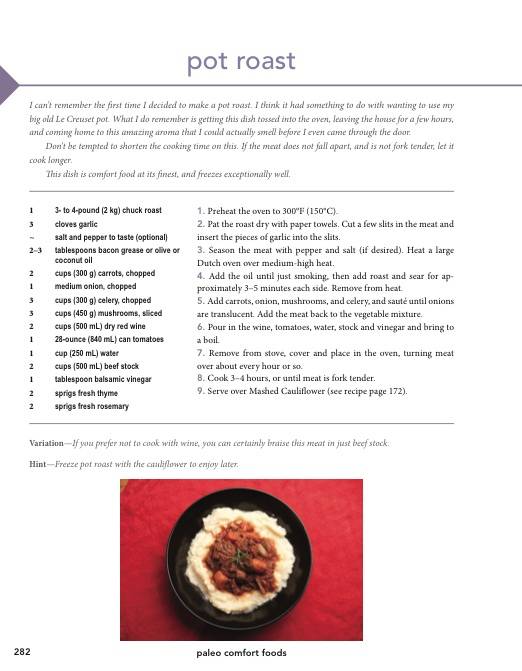 After that, however, the book transitions into 280 colorful pages of equally colorful recipes covering starters and snacks, sauces and staples, soups and salads, side dishes, main dishes, and desserts. While there are incredibly useful everyday recipes, particularly in the sauces and staples section, where this cookbook shines is in its adaptations of classic American meals. Jambalaya, gumbo, okra, fried green tomatoes, grits, pulled pork – it reads like a menu from my favorite barbeque joint, only I could actually eat every one of these items.
I tried out a few of the recipes in my own kitchen, both to test the feasibility of preparing these recipes in conjunction with a busy lifestyle and to see how they tasted. The P, B, & J Pork Tenderloin was a bit foreign for me, but I loved what resulted from the South of the Border Stuffed Acorn Squash and Turkey Loafing recipes. I also gave the Sweet Potato Pie a go, but as mentioned in the recipe notes, I swapped out the sweet potato for pumpkin.
Each recipe comes with ideas for variations, tips on ingredient shopping, and/or tips on planning ahead. I missed having more specific information on the time required for each recipe, but the ingredients and instructions were all very clear for every recipe I tested.
There are some recipes I didn't dive into yet – particularly those that would be breaded foods in "real" life, like fried okra or fried chicken. For those of you fond of fried foods and breads, you will find solace in these gluten-free recipes that instead use almond, coconut and other flours.
Frankly, there are many, many recipes in this book I am looking forward to making. Not having grown up on Southern foods, this cookbook feels exotic to me, which is nice in comparison to many paleo cookbooks that feel a bit boring and make me wonder why I bought it. I don't wonder why I have this book and I think it makes for an excellent source of culinary exploration.
There are those who will look at this cookbook and critique it as not being paleo, but I think you'd be hard-pressed to find someone who thinks the meals aren't tasty. The authors acknowledge that paleo comes in a variety of forms. Undergoing, ironically, a type of evolution. If you are someone who enjoys old-fashioned home cooking, but are committed to a gluten-free lifestyle, this is a cookbook you should definitely look into."
"Paleo Comfort Foods: Homestyle Cooking for a Gluten-Free Kitchen" is available for $16.81 at Amazon.com.