We receive free products and receive commissions through our links. See
disclosures page
.


As a foodie and a mostly-paleo eater, I love that the world of paleo cookbooks is constantly expanding. I might be a geek, but I love to sit down and read a new cookbook. (Okay, I am a geek, but you'd never say "no" if I invited you to dinner, I promise you that.) So, how excited was I to see that one of the newest offerings on the paleo cookbook front was none other than Paleo Happy Hour by Kelly Milton. Really? Paleo happy hour? I'm in!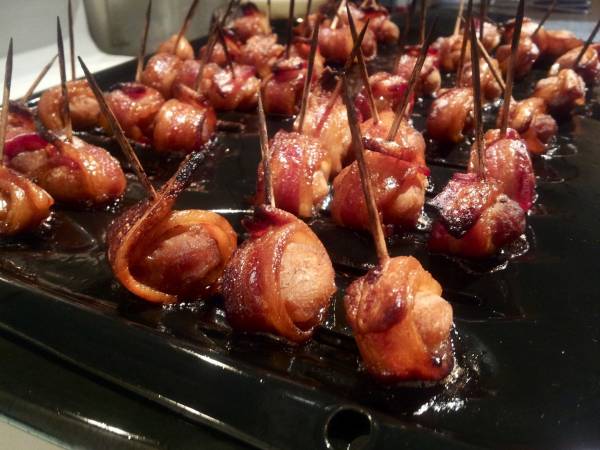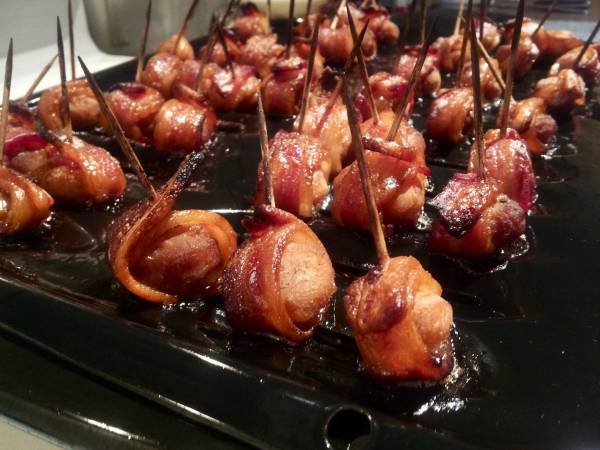 The book is broken into different categories:
Mimosa Munchies
Appetizers
Small Plates
Pub Grub
Saloon Sides
Sweet Treats
Delectable Drinks
Now, these category headings are accurate. So, when it says "Pub Grub" it does indeed mean things like sliders, buffalo chicken, and a burrito bowl. The book includes over a hundred recipes and more than twenty drink recipes, ranging from breakfast food, to onion rings, to some rather crazy-looking desserts (apple nachos?). What you get with this cookbook truly is pub food, party food, and game day grub.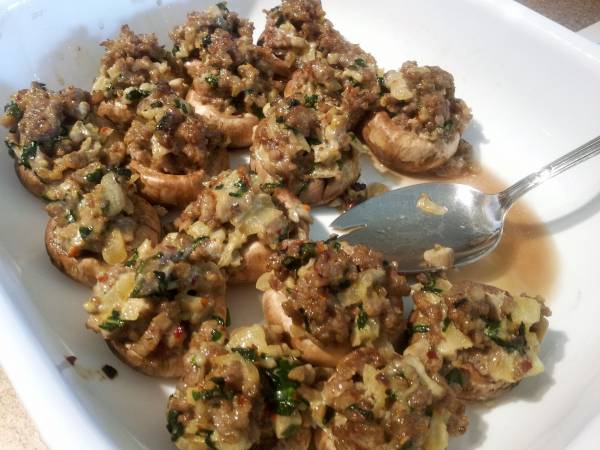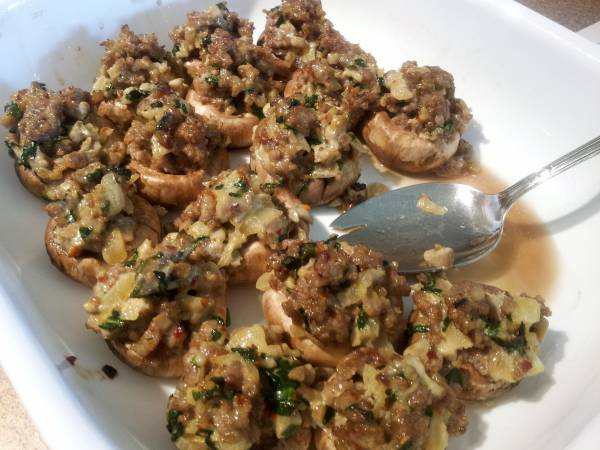 Recipes I tried included:
Avocado-Deviled Eggs
Bacon-Wrapped Water Chestnuts
Spicy Sausage-Stuffed Mushrooms
Shrimp Cocktail
Chorizo Spanish "Tortilla"
Curry Chicken Patties with Cilantro-Lime Aioli
Beefed-Up Chili
Pulled Pork with Barbecue Sauce
Pecan Pie Bars
When I first received this book I thought it looked great, but I was a bit concerned how I was going to work these types of recipes into our weekly meal plan in order to test them out. Eating appetizers for a week seemed like it might get strange. While we did have a small party at one point during the time I was testing this book, it turned out to be quite easy to turn a number of these dishes into dinners. That's what I did with the chicken patties, chili, pulled pork, and "tortilla." The pulled pork and the "tortilla" were particularly great and I'll be making both of those again. The chili was too hot for our taste and the chicken patties were all right, but the accompanying aioli sauce was a lot of fun.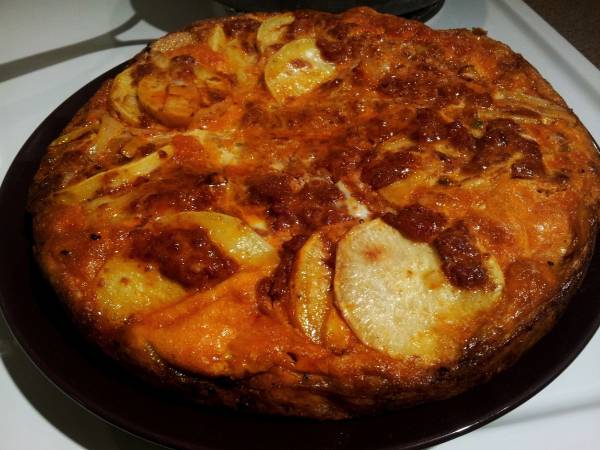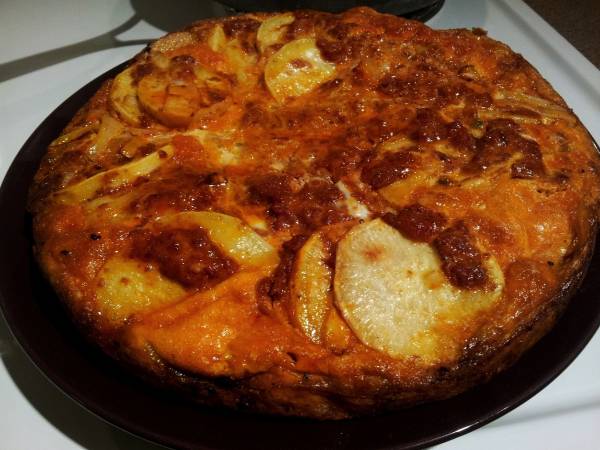 The real superstars for me ended up being the appetizers. They were all so good that it left no doubt in my mind that the rest of the appetizer recipes in this book must be as well. The water chestnuts, stuffed mushrooms, and shrimp cocktail were all simply fantastic. And the one dessert I made, the Pecan Pie Bars, was totally to die for. (Be sure to scroll down after the review for the recipe!) To quote my husband after he ate almost the whole batch, "You can make those anytime you want." So I'm not going to tell you that this book is actually in any way shape or form healthy, but it won't cause you to break all your paleo rules when you do want to have some fun and it will cause your taste buds to do little cartwheels (and you'll most likely impress your friends at parties, too).
Another thing I appreciated about this book was all the attention paid to the layout and design. The book starts off with one of my favorite things in cookbooks, which is a photo index of the recipes. I will admit, however, that I had to laugh when I saw it also featured a foreword by Robb Wolf. The man is a foreword-writing machine!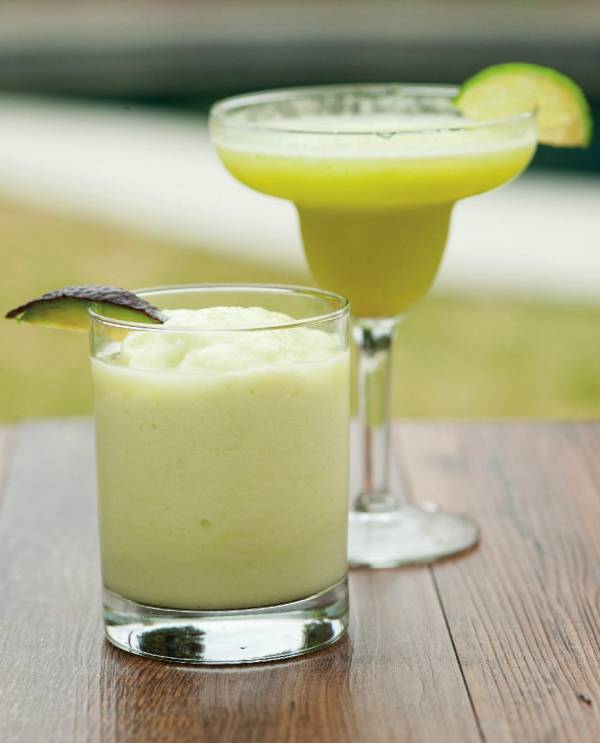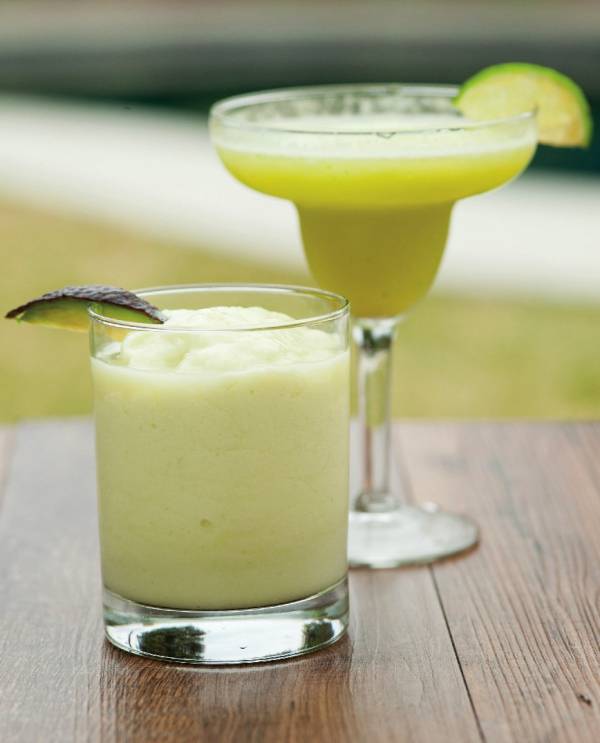 Visually, this book is a blast. The design is fun to look at and the photos are giant and beautiful. There is a photo for every recipe, which is a must-have in all cookbooks, in my opinion. All the detailed information included with each recipe was great, too. The recipes include everything from prep time and cook time, to tips on how to make a dish early for a party, to little visual icons representing any special tools you need like a blender or food processor. I never found myself lacking for info or wondering anything about any of the recipes I tried.
One other note about this cookbook: the "Delectable Drinks" category is full of what looks like cocktails. You can indeed make all these drinks with or without alcohol. The author addresses the issue of alcohol and paleo in a section at the beginning of the book. She discusses the pros and cons of drinking, but what I found most interesting was her "Paleo Alcohol Guide." Here she outlines the various choices you can make when drinking. She grades different alcohols on a scale of "Best Choices" to "Alcohol to Avoid" with a few other levels in between. For people who do like to have an occasional drink, especially at parties, it's a useful tool to help you make educated choices.
If you're looking for a cookbook to make dinner out of or to help you plan meals, then this is not the cookbook for you. But if you like to throw parties, if you like to have fun stuff to eat during football games, or if you want some great ideas for paleo cocktails (or mocktails), then this cookbook is totally for you (and it's fun).
"Paleo Happy Hour" is available for $20.26 on Amazon.com.
Here's a sample recipe from the book – none other than the Pecan Pie Bars!
Pecan Pie Bars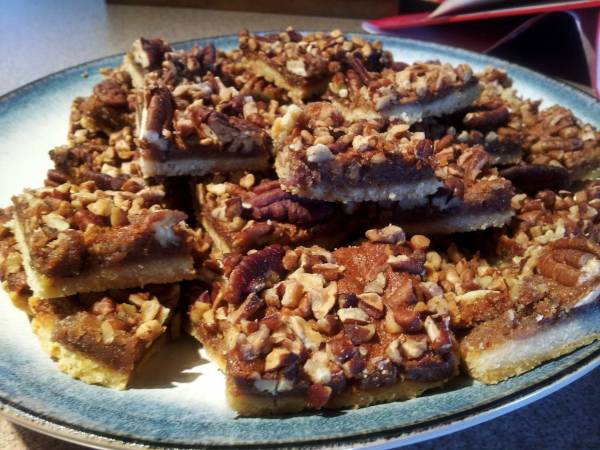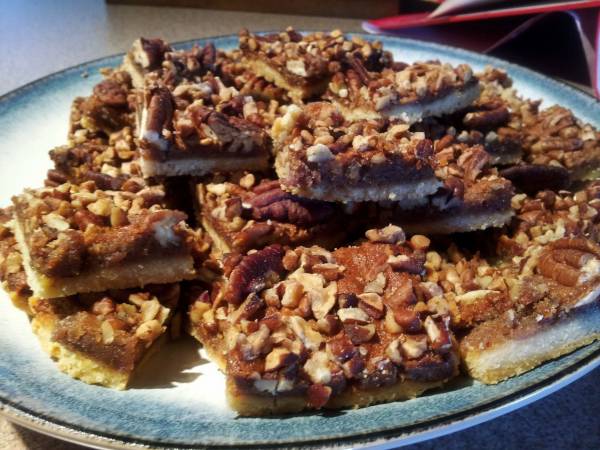 Yield: 24 bars
Prep Time: 15 minutes
Cook Time: 45 minutes
Pecan pie is one of my favorite desserts. The rich, sweet, nutty flavor is so luscious that you sometimes need only a bite. By making Pecan Pie Bars rather than a pie, you create an easy-to-share finger food that is sure to be a hit at any gathering.
Ingredients:
Crust
1¾ cups blanched almond flour
1 egg
1 tablespoon coconut oil
½ teaspoon arrowroot powder
¼ teaspoon sea salt
Filling
8 ounces pitted dates
2 eggs
¼ cup maple syrup
½ teaspoon vanilla extract
1 cup chopped pecans
Method
Preheat the oven to 350°F.
In a food processor, combine the almond flour, egg, coconut oil, arrowroot powder, and sea salt. Pulse until the dough forms a ball. Press the dough into a 10×15-inch glass casserole dish, and bake it for 15 minutes.
Meanwhile, make the filling by adding the dates to the food processor and blending them on high for 1 minute. Add the eggs, maple syrup, and vanilla extract, and process on high until the filling is smooth.
Pour the filling mixture over the partially baked crust. Sprinkle the pecans evenly over the top, and bake the bars for another 30 minutes. Let the bars cool before cutting them.