We receive free products and receive commissions through our links. See
disclosures page
.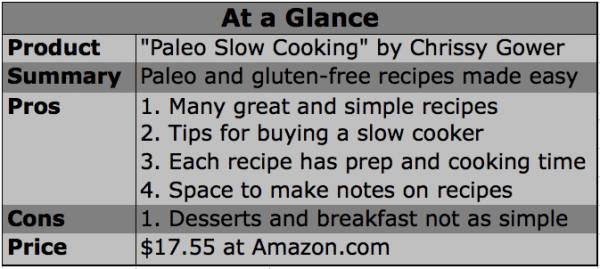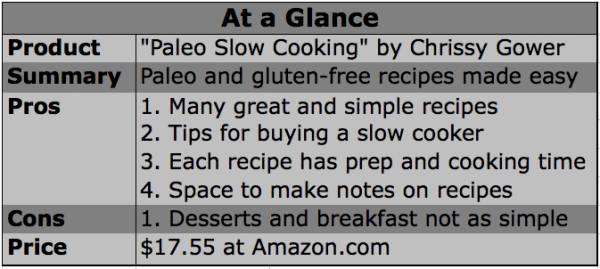 I love to cook. And, strangely enough, I love to chop vegetables. But these dual loves don't guarantee I'll always have the time to cook a detailed meal. This reality brought me to my third food-related love – my slow cooker.
Slow cooking is a wonderful method of food preparation for a variety of reasons. You can use less expensive cuts of meat in a slow cooker and have them come out juicy and tender. You don't have to possess much in the way of cooking skills. You can leave it all day and have dinner ready and waiting for you. And you can avoid nasty things that develop in other methods of cooking like polycyclic aromatic hydrocarbons and advanced glycation end-products.
Big words aside, when it comes down to it slow cooking is a wonderful alternative for busy, but still health- and budget-minded households. I had often wishes for more paleo recipes designed around this device. It was to my great delight, then, that I discovered Paleo Slow Cooking by Chrissy Gower, creator of the blog Growing Up Paleo. A whole cookbook full of slow cooker recipes? Indeed.
In addition to discussing the basics of paleo nutrition, the first part of this book also addresses the basics of slow cooking: how to buy a slow cooker, the history of slow cooking (it's actually an ancient method of food preparation), and what meats and vegetables work best in a slow cooker. There is also a section from Robb Wolf outlining the benefits of slow cooking in terms of it making all the nutrients more accessible to our bodies.
But really, what sells this book isn't all the facts about how simple slow cooking is or how good it is for your nutrition. What makes this book worthwhile are the fantastic and totally useful recipes. Slow cooker recipes don't have to be all about the same old roast you grew up with.
Recipes I tried included:
Boneless Pork Ribs
Chipotle Meatballs
Chipotle Chicken Stew
Mild Yellow Chicken Curry
Chili With a Kick
Orange Maple Glazed Pork Chops
Fire-Roasted Meatloaf
NorCal Margarita Chicken
More than a couple of those recipes were received with a "You could make that again" from my boyfriend. Paleo Slow Cooking includes recipe sections for breakfast, soups and stews, main dishes, side dishes, and desserts. Yes, breakfast or dessert in the slow cooker. The only requisite to being able to prepare some of those particular dishes is a bit of artistry with parchment paper, for lining the inside of the slow cooker. The vast majority of the recipes in this book, however, consist of a little preparation, maybe some browning of meat, and then dumping it all in the pot and walking away.
Not all the recipes require the slow cooker. A number of side dishes are included in the book that are stovetop or oven recipes, and some of the slow cooker recipes come with alternate directions for making them with other methods. One of the side dish recipes I tried was the Caramelized Onion and Chard Salad and it was excellent. I'll be going back to that one for sure.
For me, this cookbook has already become a staple reference in my weekly meal planning. Having a one-pot meal ready and waiting, or having my main dish handled in the slow cooker and all I have to do is make vegetables on the stovetop or toss something in the oven makes for a less stressful and healthier dinner experience. I have totally fallen in love with my slow cooker and this cookbook now as well.
"Paleo Slow Cooking" is available for $17.55 on Amazon.com.