We receive free products and receive commissions through our links. See
disclosures page
.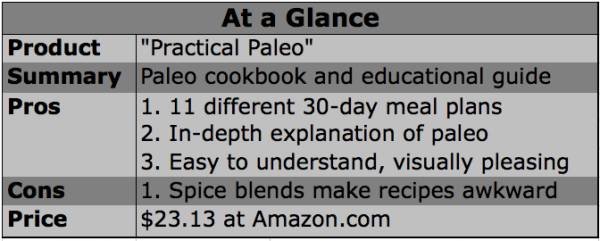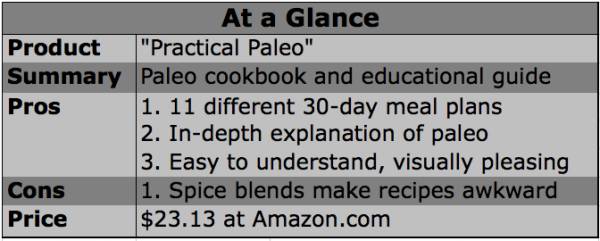 For Christmas this year I bought my parents two books – one was the Paleo Comfort Foods cookbook and the other was Practical Paleo. I hesitate to call Practical Paleo simply a cookbook, because it provides so much more information than just recipes. In fact the reason I chose it for my parents is because of the broad-spectrum approach the book takes to explaining why and how you should and could apply paleo eating.
The first half of Practical Paleo is more of an infographic lesson in science and nutrition than a cookbook. Whereas many paleo cookbooks will have a chapter or section explaining the basics of the philosophy, Practical Paleo really dives into the nuts and bolts. But due to the graphic design and layout, the book delivers this information in an intellectually accessible and visually pleasing way. Insets, lists, tear-out guides and charts, and beautiful photos all build together to make the science clear and application simple.
After explaining the science of paleo, leaky gut, saponins, smoke points of oils, the color of your poop, and a plethora of other things, the author gets into the individual reasons that you the reader might consider taking on a paleo lifestyle. This begins the second section of the book, which is comprised of the 30-Day Meal Plans.
The secondary title of this book is A Customized Approach to Health and a Whole-Foods Lifestyle and it's the 30-day meal plans that fulfill on this premise. There are eleven different meal plans outlined, each based on a different goal or health priority. Each meal plan not only includes an outline of breakfast, lunch, and dinner meals (all referencing recipes in the third and final section of the book), but also recommends specific supplements, herbs, and foods for your goals. There is also an accompanying list of foods to avoid and lifestyle changes to incorporate.
The following meal plans are included in the book:
Autoimmune Conditions
Blood Sugar Regulation
Digestive Health
Thryoid Health
Multiple Sclerosis, Fibromyalgia, and Chronic Fatigue
Neurological Health
Heart Health
Cancer Recovery
Athletic Performance
Fat Loss
Squeaky Clean Paleo
I am on the opinion that even if you didn't follow the exact meal plan, you could still gain a lot by taking on the recommendation for supplements, herbs, and foods to avoid, based on your particular goal.
Then in the third section of the book come the actual recipes for the meal plans and much more. There are over 120 recipes, many of which are suitable for people still familiarizing themselves with the kitchen. To that point, the book also includes some basics on knife skills and recipes for pantry staples like spice blends and bone broth.
The one thing I actually found annoying with the book was the spice blends. I don't particularly like when I read a recipe and it requires me to first make other recipes. Throughout this book the recipes list ingredients such as "2 tablespoons Chorizo Spice Blend." When you turn to the page with the spice blend you discover a recipe that results in 6 tablespoons of the blend. So you are left with the dilemma of either making more spice blend than you're going to use – and wasting it if you don't like it, or at the very least using up a large supply of spices that's going to sit for a while – or doing some math gymnastics. What is one-third of a half-tablespoon, anyway? I found this annoying enough that I avoided recipes that required it whenever possible.
That being said, all of the recipes I tried were good. They included:
Cumin Spiced Pork Tenderloin with Root Vegetables
Quick and Easy Salmon Cakes
Thanksgiving Stuffing Meatballs
Chorizo Meatballs
Sweet and Savory Potatoes
Baked Beets with Fennel
Sauteed Red Cabbage with Onions and Apples
We enjoyed all the recipes and the Sweet and Savory Potatoes have become a weekly habit in our household now. The recipes cover a wide range of styles and flavors and I think can keep a more accomplished cook interested, as well as not overwhelm a new cook. This is not, however, my favorite book of recipes, nor would it be based on the recipes alone that I would recommend it.
In the end, it was the first section of this book explaining the "why" and "how" of paleo that was impressive. I would recommend every coach I know purchase a copy to have on hand in your gym library. Years ago I used to request that all my clients purchase Paul Chek's How to Eat, Move, and Be Healthy! After reading Practical Paleo, this is what I would now recommend instead. However, like I did with my parents, I would encourage my client to buy a second cookbook to flesh out the recipe aspect.
"Practical Paleo" is available for $23.13 at Amazon.com.