We receive free products and receive commissions through our links. See
disclosures page
.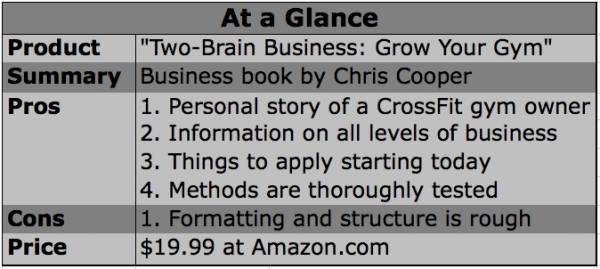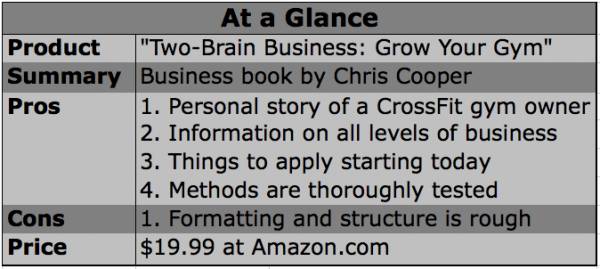 Before I was a coach and personal trainer I worked in the entertainment industry, mainly as a music editor. One thing I learned quickly working with musicians was that they are generally bad businessmen. They are artists and they are fabulous at what they do, but they need help and structure when it comes to business.
In the eight years I have been involved with CrossFit I have witnessed many times a striking similarity between musicians and new CrossFit gym owners. Most CrossFit affiliate owners get into the business because of excitement and passion for the sport and possibly some aptitude and passion for coaching. Most know nothing about business and some may even be under the impression that passion can replace knowledge when it comes to achieving business success.
This is where people like Chris Cooper come in. Owner of CrossFit Catalyst, co-author of Ignite! Enrichment Through Exercise, founder of the business blog Don't Buy Ads, co-founder of the CrossFit business consulting company 321Go Project, and now author of Two-Brain Business: Grow Your Gym, Chris has made the journey from passionate artist to successful businessman. Now his goal is to help others through that process so they can be the coaches they dream of being, but not go broke and not neglect their families.
If you have recently opened a CrossFit affiliate, are thinking of opening one, or opened one in the last couple years and are struggling, Two-Brain Business: Grow Your Gym is a book you might consider picking up. It can help you create an approach to your business and revisit your relationship with your clientele. While the concepts in the book would apply to any small fitness studio, the book is clearly written specifically with CrossFit affiliate owners in mind.
What's great about the author, Chris, is his scientific approach to everything he does. Whether it's his coaching methods or his business methods, he believes in testing, analysis of results, and then adjustment of methodology based on that information. As such, you know the advice in Two-Brain Business has been thoroughly examined on every level before being passed on to the reader. The book addresses a slew of relevant topics: marketing, communicating with clients, creating revenue sources, choosing class schedules, creating membership levels, creating community, defining and structuring the jobs within your company, and more.
Chris is a great source of recommendations on another level, too. If you are new to business and haven't yet delved into the endless world of business books, Two-Brain Business can help you figure out where to start. Chris is clearly a business book junkie and makes frequent reference to books by business greats Michael Gerber, Jim Collins, Seth Godin, and many more. Any of the books he references would be a great next step to take after reading Two-Brain Business.
Be forewarned that Two-Brain Business is a self-published book and won't have the polished look of book put out by a major publishing company. The formatting and proofreading are lacking, in my opinion, which can make reading the book awkward at times. But the rough appearance is worth pushing through to take in the personal journey that Chris shares. He shares with great honesty his growth as a businessperson and the mistakes and lessons he experienced along the way.
As CrossFit itself is growing around the world, Chris offers advice for the future of affiliate owners and their businesses, as well. In a bit of irony, Chris suggests that gyms specialize, not outside of CrossFit, but within the realm of CrossFit skill-sets to differentiate themselves from more generic affiliates and put themselves out as expert coaches. Regardless of passion, Chris repeatedly emphasizes the need for both quality coaching and quality businesses.
In the end, Chris fully addresses the dichotomy of the CrossFit coach as an "artist" who has to come to terms with the business world. Rather than see this as a roadblock, in Two-Brain Business Chris invites you to see it as a path toward success and happiness, both emotionally and financially. For the new affiliate owner or the newly frustrated business owner, this book is a great stepping stone for educating yourself in yet another skill-set – owning and operating a small gym.
Two-Brain Business: Grow Your Gym is available for $19.99 on CreateSpace and Amazon.