We receive free products and receive commissions through our links. See
disclosures page
.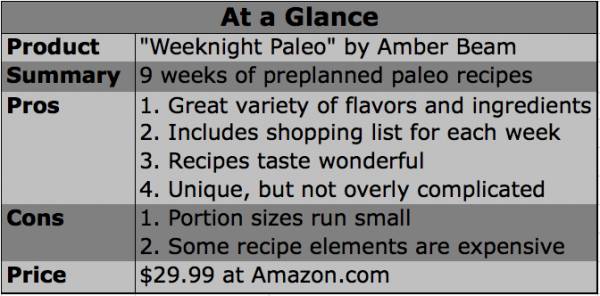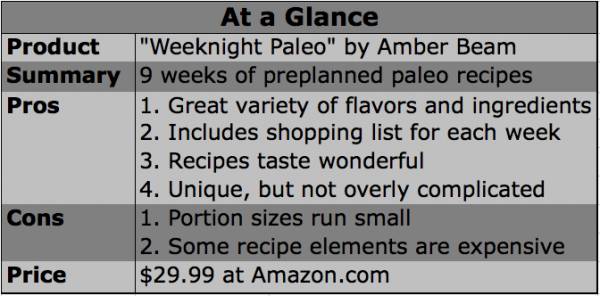 As the paleo movement grows and more cookbooks are coming onto the scene, it's interesting to see how they are also becoming more unique and mature. In the beginning paleo cookbooks were pretty bland and seemingly created by coaches, not chefs. These days that's not the case and I daresay someday we may even see the emergence of paleo "cuisine."
One of the newer entrants into the paleo cookbook scene is Weeknight Paleo by Amber Beam, who created the website Paleo Savvy. The book offers nine weeks of "quick and easy gluten-free meals." But while the book sells itself as a timesaver, it does not skimp on flavors.
The book is organized by week. Each week includes:
Recipes for four main dishes and sometimes accompanying side dishes
Tips for how to make some elements ahead and save time
Shopping list for the week
Beautiful photos of each dish
Occasional timesaving and/or shopping tips in the bottom margin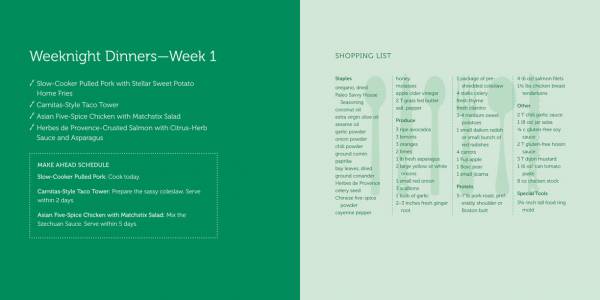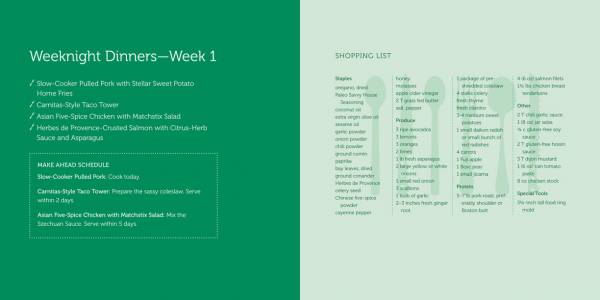 Without a doubt, every recipe I made from this book was fabulous. It prompted me to buy some ingredients that are not staples in our house (celery root and rutabaga?) and to create exciting new flavors, but without it being overly complicated. I truly enjoyed cooking all these meals and never found myself frustrated by any aspect of preparing them.
Some of the recipes I made included:
Slow-Cooker Pulled Pork with Stellar Sweet Potato Home Fries
Herb-Crusted Pork Tenderloin with Apple Cider Sauce and Apple-Celery Root Hash
Slow-Cooker Chicken Mole
Roasted Root Vegetables
Sassy Coleslaw
Thai Pork Meatballs
I will warn you these recipes are so good you may possibly completely overstuff yourself. I made a double-batch of the Thai Pork Meatballs and my boyfriend and I still consumed them all in one dinner. My boyfriend so loved the Chicken Mole that he ate it for 24-hours straight and we didn't have the required leftovers for the next evening's Chile Relleno.
One thing this book prompted me to do was to be more intentional in planning my week's meals and grocery shopping trips. It should be noted, though, that each "week" outlined in the book covers four evenings (it is Weeknight Paleo, after all), and not every evening includes the side dishes. That being said, there are a large number of recipes included in this book and you don't have to follow the given schedule. I mixed and matched things to fit my life and my week. The various sauces, vinaigrettes, and marinades in the book can easily be used for other items, as well, increasing its versatility.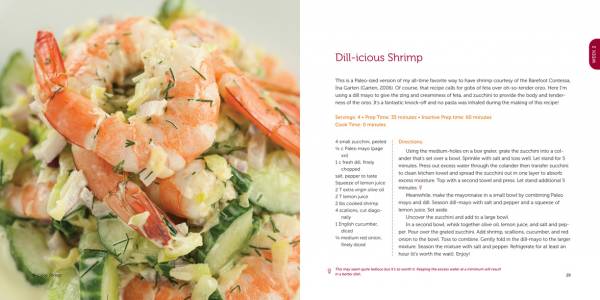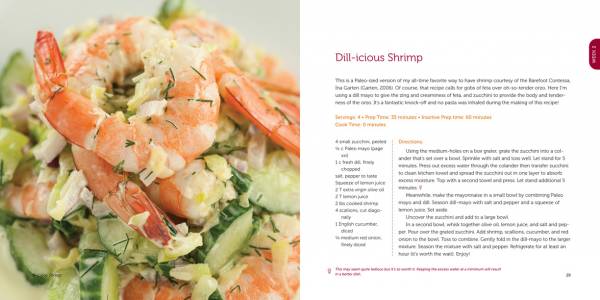 I did have a couple issues with the book – mainly portion size and budget size. In regards to portion size I felt some of the recipes were off in their estimations of how many people could be served with each dish, or how much would be left over in order to serve double-duty as part of the next night's entrée. I think if you have a house full of men and/or athletes, you might want to double some of the recipes.
The second issue was in regards to budget. For some people this won't matter, for others it could be a deal breaker. While my taste buds loved the inclusion of seafood dishes and meats like prosciutto, my wallet wasn't such a big fan. But this doesn't mean this isn't a great cookbook to own. The realization I came to is that this cookbook is a great resource for nights when you want to create a "nice meal." You know, when you're going to have friends or family over and you want to make something special. The dinners involving seafood and more expensive meat cuts are perfect for those sorts of events, as are some of the presentation methods suggested. And these are meals you won't find in most paleo cookbooks.
In the end, I found this cookbook and the meals I created from it thoroughly enjoyable. Some people may find the nine-week format useful, but personally I threw it out and cooked what made sense for my household, but kept the idea of planning ahead. I will continue to cook more meals from this book and revisit some of the ones I already tried.
"Weeknight Paleo" is available for $14.95 as an e-book and $29.99 on either Create Space or Amazon.