When it comes to watching sports, I've always preferred MMA over BJJ. I haven't spent a lot of time watching BJJ tournaments and so I'm not as familiar with the BJJ competitors as I am with the MMA fighters. My first exposure to Braulio Estima was seeing him viciously throwing his opponent and applying epic armbars in the very cool Storm Kimonos commercial filmed by Stuart Cooper. 
Not long after I saw that commercial, it was announced that Braulio would be competing in a BJJ super fight against notorious UFC fighter Nick Diaz. I was very much looking forward to seeing these great fighters go to war, as were a lot of other people. Unfortunately, Nick didn't show up and we were all disappointed. Recently I had the opportunity to talk with Braulio and I asked him if he felt there was unfinished business with Diaz. Braulio said, "Not at all. I'm over it. I was very upset for what happened at the time mainly because I felt tricked and disrespected and my family paid the price for nothing, as we didn't enjoy our so expected holiday prior the event so I could train."
Still, Estima did not need the fight with Diaz to prove himself in the BJJ world. As a second degree black belt under Carlos Gracie Junior, Braulio is a five time World Champion, a five time European Champion, and the ADCC 2011 Champion. Notable wins resulted from matches against Andre Galvao and Xande Ribiero, but of all his memorable bouts Braulio's triangle submission victory over Marcelo Garcia in 2009 is one that he likes best. Most recently, in 2011, Braulio won a super fight at the ADCC against a very tough opponent, Ronaldo "Jacare" Souza, taking his back and winning by points as the time ran out in the twenty-minute match.
The fight with Jacare was a rematch, so it prompted me to ask Braulio whether there was anyone else from his past he would like to fight again. Braulio said, "I don't really think much on the past. I've always aimed ahead and to the top. What's done is done. If there were losses or victories, it's all gone. I'm not a vengeful person. But to answer the question I would fight all of them again."
Like Jacare, Braulio Estima also competes in MMA. His debut was August 24, 2012 against Chris Holland for Titan FC in Kansas City. Although the commentators on fight night said Braulio's game plan was to finish Chris Holland with a rear naked choke, a pre-fight interview indicated his first choice was actually the arm triangle. And it was indeed the arm triangle that Braulio used to finish Holland at the 3:21 minute mark of the first round.
Regarding his mind set and game plan Braulio said:
I do focus a lot. I'm very determined person and I work a lot on my mindset. I've learned throughout my career how to deal with it. I've also learned to be versatile and adaptable. So my game plan and strategies always will vary according to whom I will be facing. My striking skills will always be used to bring the fight to what I'm good at. Of course, it will all depend on who I'm fighting. I have power in my hands but my arms tend to prefer squeezing people.
When Braulio began BJJ, he competed early and often, but it wasn't as fast and easy to get into the cage. He trained off and on for two years before his debut. "There's a different start for different people according to their previous achievements. In my case, it was very hard to start as a new MMA fighter due to my CV in BJJ. It pulls a lot of people away, so I had to face an experienced opponent."
The biggest test for Braulio, though, was the dieting to make his weight class. "It was the first time I did it and it requires a lot of dedication, control, and perseverance. It's a real test of how much you want it." Braulio walks around at over 210 pounds, but he cut to 170 for this fight in the welterweight division. In general, he keeps his diet clean and natural, but when he supplements he uses F3 because, he shared, "It has a great natural mentality behind it. It fits to what I believe."
Although he owns his own BJJ club, Gracie Barra, in Birmingham, England, Braulio chose to travel to Florida to train with the Blackzilians before his MMA debut. He says he chose to do so after meeting Glenn Robinson, the manager of the team. Said Braulio, "His intentions toward the athletes and knowing who was involved – it's very hard not to be comfortable to be part of such an amazing project." In an interview about the Blackzilians on Sherdog, Glenn Robinson said he and the fighters discuss and approve each new fighter who joins the team. Although not everyone is an MMA superstar, each member brings something special to the team and that's what helps all of them improve their games and become well-rounded fighters.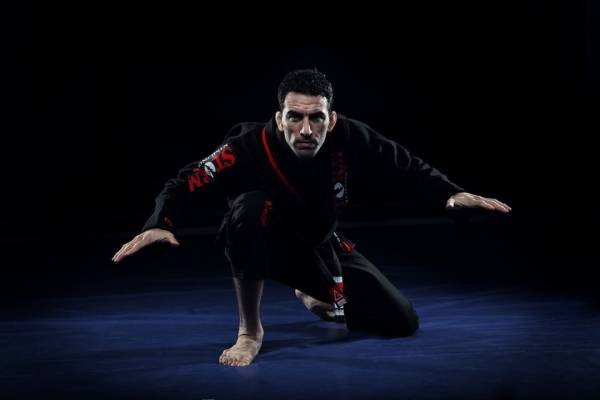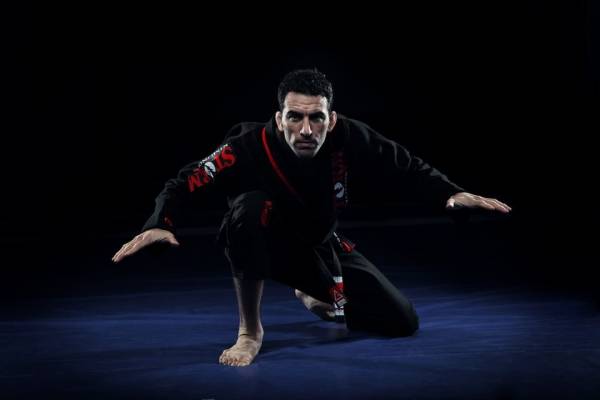 Estima trains two to three times a day, including his strength and conditioning and technical training. Although it's obvious that his mastery of BJJ has proven to be invaluable in MMA, he explained, "When you can punch and be punched the game changes." MMA training hasn't helped his BJJ technically, but he has been able to add better takedowns to his game and improve his legs and posture.
BJJ in MMA offers other challenges, too. Without rashguards and gis, grips become much more difficult to attain. I asked Braulio how he adapted to gripping a slippery opponent, and he said:
Grips are a very important aspect for a grappler. It gives you the edge to apply and complete the moves right and to control. So I do train a lot of grips. About the sweaty aspect, it's a tough one plus there is also Vaseline there. But I always try to control key points like hips elbows and knees, which it gives you a bit more stabilization. But it's still hard when the opponent knows how to defend himself. My trick is to be as tight as I can ever be on him and train the ability to deceive the opponent's expectations and have good timing.
Also training with the Blackzilians are MMA fighters Rashad Evans, Alistair Overeem, Mario Sperry, and Braulio's long-time training partner Roger Gracie. Braulio said, "Every one of those guys has their special skills. So with this in mind I've always tried to learn to open my mind and see what works for each of them and try to incorporate that into my skills and game. I've never had only one specific idol; I've always explored everyone's best games and fit in to mine what works for me."
Moving forward, Braulio stated his goals as, "To give a year of full dedication and see how far I've come and decide then what to do next. As long as I'm enjoying my journey, I will keep on going as far as a can possibly reach."
Braulio Estima has proven himself to be a dangerous competitor both on the mats and in the cage. He's a fighter who is always thinking, always creating strategies to impose his will on his opponents, leaving no detail overlooked. With his tireless commitment to improving his game and the support of the Blackzilians, he's sure to climb the ranks in MMA and I look forward to watching his journey to the top.