If you followed the link here after reading Stew Smith's full-length article, you already know most trainees facing a physical fitness test for military, law enforcement, or other tactical applications fail because of the same short list of mistakes.
In case you found your way here from somewhere else, here's a quick recap:
Failure to get specific immediately
Continuing to do daily PT
Not working smarter
Not having a plan/strategy
Too much leg work
Not pacing yourself
You can't do pull ups
Burning out on sit ups
Not eating optimally
Nerves on test day
Stew has made it his life's work to get people through their PFTs successfully.
Whether you are about to take your first physical fitness test, you're an intermediate trainee trying to improve your scores, or you're an advanced trainee applying to an elite unit, you've come to the right place.
We suggest you read Stew's full explanation or download the PDF, which contains both the full article and all twelve weeks of training.
Here's what a week of training sessions might look like: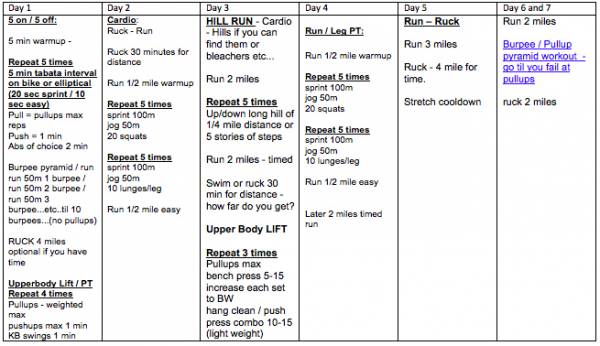 Above: A Sample Week of Programming