We receive free products and receive commissions through our links. See
disclosures page
.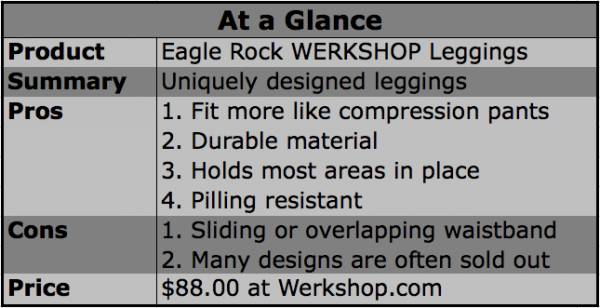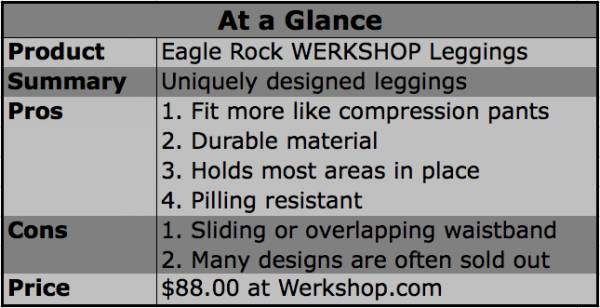 Eagle Rock WERKSHOP was founded and developed by Chriztina Marie. Chriztina, who worked in the apparel industry for over twelve years, began the company through Kickstarter. It did not take long for the company to reach its goal and become a full-access online store and wholesaler.
About Werkshop Leggings
As of this writing, Werkshop has seventeen design concepts, all of which are unique and eye-catching. They are all cropped length. The leggings I wanted, the Brown Sugar Leggings, were in short supply and I was one of the few to be able to get them in my size. I tested these leggings doing Olympic lifting, overhead squats, kettlebell work, bodyweight and gymnastics exercises, and running.
"As I completed my overhead squats, I was surprised by how these leggings kept my knees from tracking inward, which I have to constantly be aware of."
WERKSHOP leggings are not your average leggings, which are usually thin and more concerned about visuals than the performance side of things. These leggings are more like compression pants. I own a pair of 2XU compressions, and the WERKSHOP leggings are almost as good (keyword being almost). The compression aspects of these leggings give a sense of muscle control. As I completed my overhead squats, I was surprised by how these leggings kept my knees from tracking inward, which I have to constantly be aware of.
LEARN MORE: Compression Socks Improve Recovery in Marathon Runners
WERKSHOP leggings wear like a second skin. Once you start to exercise, you don't even realize you have them on. I live in Nevada so it gets so hot here and sweating is inevitable. WERKSHOP leggings stayed dry and wicked extremely well for this weather. They were also breathable and they had a bit of a cooling effect. Running in these leggings are so extremely comfortable in that they do not ride up like some running pants do, so say good-bye to the wedgie! Also, no chafing occurred after running for a long distance.
What Is Unique About Eagle Rock WERKSHOP?
Fabric – WERKSHOP uses Italian fabric that is a durable and very technical fabric. This fabric uses four-way stretch, which allows for a better fit and stretching during movement.
Zero Camel Toe – Ladies, we all know what this is. WERKSHOP uses a diamond gusset to prevent this particular issue.
Flatlock Seams – These prevents the seams from ripping. It also provides for excess seam allowance and prevents chafing.
Water Resistance – Enjoy stand-up paddleboarding or kayaking? You can wear these leggings for those sports and the moisture wicks away.
UPF – Offers UV protection of UPF 50, which is the maximum allowable
Sizing
As with any company, please check the size chart. And don't just guess, but actually invest in a measuring tape for the best results.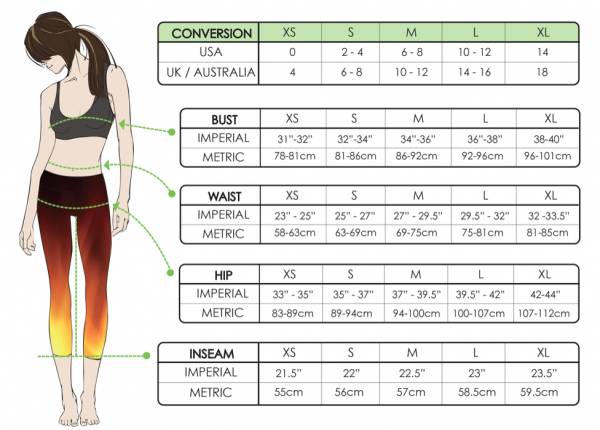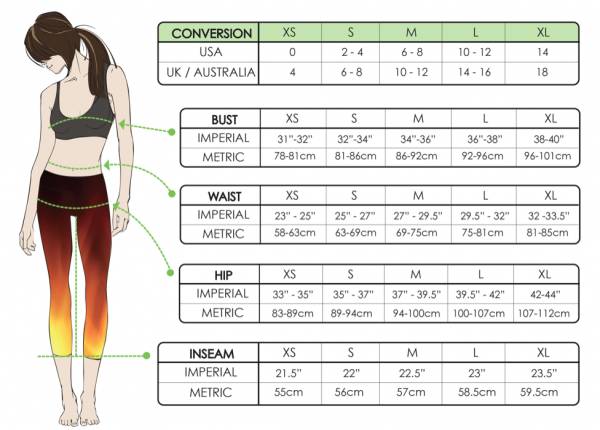 WERKSHOP's sizes range from small to extra large. The sizing guide is a bit confusing to find on the website, but when you click on a pair of leggings you like, that page will show you a sizing chart. WERKSHOP leggings run small, so I recommend that if you are in between sizes, you go up one size for the best fit.
Since this business is still fairly new, you can e-mail Chriztina or the WERKSHOP team to help you with sizing. Worst-case scenario, you can always return your item within fourteen days for a refund.
Cons
My biggest issue with these leggings was the waist. Every body is different, so for some people this may not be a problem. But while I was doing overhead squats, the waistband began to twist and lower, which meant I had to constantly pull up my pants. This could have been a sizing issue on my part, but the waist was the one area that began to sag first. Even while running, the waistband began to lower down and I had to pick up my leggings in order for them to fit correctly.
Second, WERKSHOP may have a lot of prints, but many times they are sold out. As of this writing, eleven of their leggings were completely out of stock. In most cases, you will have to wait weeks to months to purchase the leggings you want. Even though this is an issue, these leggings are so durable and technical that I think they are worth the wait.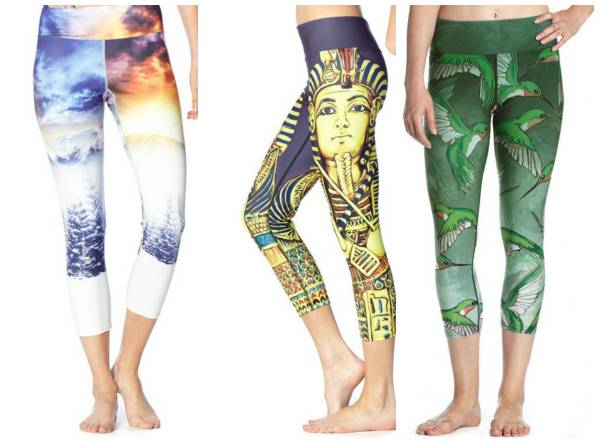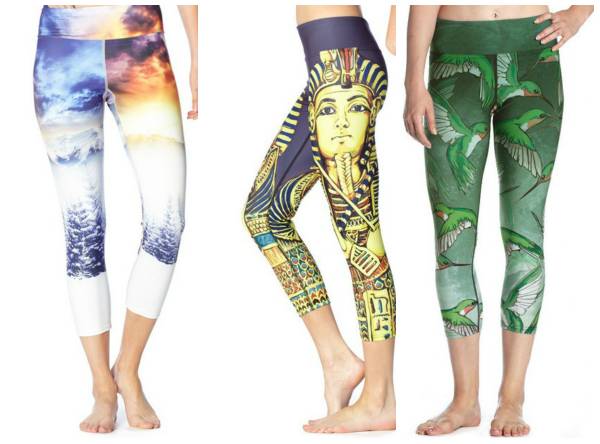 And once you order them, they will arrive quickly. I was surprised at how fast my items shipped. From the time I ordered to the day I received my leggings it took a total of three business days. They also ship worldwide.
Lastly, leggings are never really on sale with this company. The only time you can buy an item at reduced cost is when there is a sample sale (which is rare). During sample sales, the leggings are stitched the same, but there may be some small imperfections on the print. If you are fortunate enough to discover a sample sale and your size is available, it will usually drop the cost down to $65.00, but you also cannot return the item purchased.
Caring for This Product
These leggings are fairy low maintenance. I always recommend you hand wash all of your technical fabric and exercise clothing. With WERKSHOP you can machine wash your leggings in warm water and air-dry them, which can make laundry time easier.
Conclusion
Even though WERKSHOP leggings are a bit on the pricey side, they are worth every penny. The fact that these leggings are a hybrid of regular leggings and compression pants is a unique quality. I was impressed with these leggings and how well they performed during the toughest of workouts. Oh, and WERKSHOP sews all of their products in the United States, which is a major bonus in my book.
Eagle Rock WERKSHOP leggings are available for $88.00 at Werkshop.com.