For Zach Even-Esh, leader of the Underground Strength Nation, his personal journey to the underground has been a rollercoaster of emotion, injuries, and learning. From reading Flex magazine with his brothers to amassing an enviable personal library of strength and conditioning texts from around the globe, Zach has been educating himself since the age of 13 and he hopes to pass on the knowledge he gained from his mistakes.
Zach's personal mission began years ago, when he was a 25-year old shoot fighter with dreams of a fighting career. That is, until the day he tore his ACL and his career came to an early end. Zach shared his experience:
When I went into surgery I was so pissed off. I was so angry. I remember before going under anesthesia thinking, "I'm going to do something about this training and teach wrestlers around the world how to avoid all my mistakes." I was like, on a mission. I remember as soon as I got home from surgery I was on the Internet googling how to train and all this stuff.
Zach felt like he had missed out on proper training growing up. His first forays into weight fitness and athletics were spurred on by his older brother, who had joined the high school wrestling team. Zach followed suit and together they started reading Flex, Muscle and Fitness, and Arnold's Encyclopedia of Modern Bodybuilding, trying to create a strength training program for themselves. But, according to Zach, the programs in the magazines back then were pretty much made up by the journalists, and real strength and conditioning programs for athletes were kept behind clothes doors at colleges and professional sports teams.
While Zach did earn and undergraduate degree in health and physical education and a masters degree in health education, he tenacity in seeking out experts and picking their brains was the true seed of Zach's coaching knowledge. When Zach first started training wrestlers, he was also working as a full-time teacher. So on his lunch hour he would call Louie Simmons of Westside Barbell to pick Louie's brain about his experience of training competitive wrestlers. Other experts Zach sought out who influenced his training and coaching included Joe DeFranco and Josh Henkin. Said Zach:
I have my undergrad in health and physical education and my masters in health education. I spent eleven years as a teacher at the elementary level, which I love, a little bit at the middle school, I coached wrestling at the middle school and high school level, and then I was adjunct at the community college level. But my training knowledge came from just getting in the trenches and learning from these guys,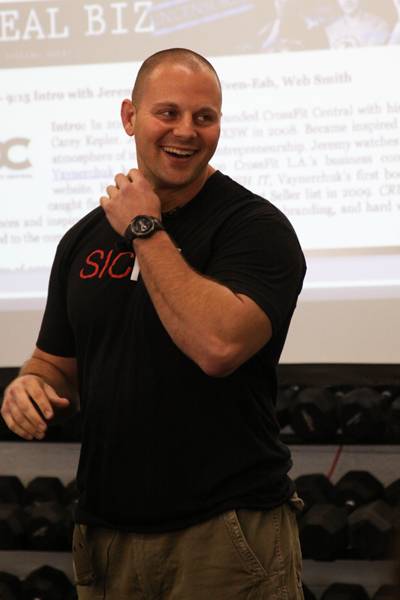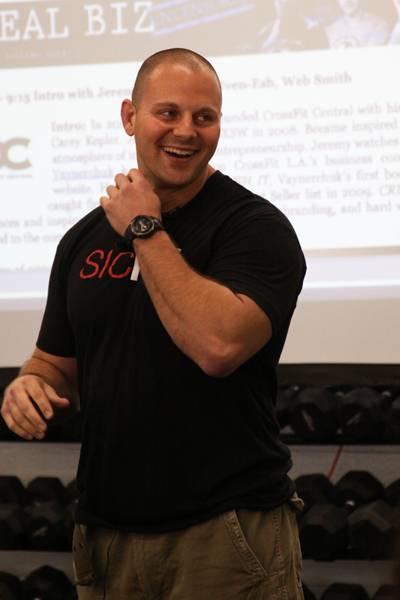 DeFranco, Henkin, Louie Simmons, Dan John, and others set the tone for Zach to develop a style that would be uniquely his and reflect his never-ending journey to refine the training of his athletes.
Zach's personal libarary of magazines and books also reflects this journey. These days he owns all the magazines he wishes he had a young boy trying to figure out how to get strong and train properly. Shared Zach:
I have two drawers just loaded. They're bending at the point where you open one drawer and another opens because it's bending. I've got old books, some of them are from the late 1800s. I've got tons of those old strength magazines from the 40s, 50s, and 60s. Those magazines, that was like the original Health and Fitness, and I saved them and look at them all the time and think, "I wish this was the magazine I was buying in high school."

Those strength and health magazines had a blend of strongmen, powerlifters, Olympic lifters, bodybuilders. You know, a lot of the bodybuilders back then were Olympic lifters, so they would clean and press everything, deadlift everything, squat everything. Everything that I learned was, "Don't worry about the weight, feel the muscles, squeeze the muscles," and that was the stupidest thing that I could have done. But I will say that I went through a lot of emotional times because of the bad training. I had a real unsuccessful athletic career because of that, but if I never went through all that hell, I would never be so driven to help the young athletes of today, and that's really my mission.
For Zach, as a coach, his best moments aren't necessarily training the star athlete, but rather, taking on a kid like himself who has the desire, but not necessarily the natural skills or a track record of winning.
I love working with the athletes that have really had no success. So when the father brings his son to me and the kid is like, twenty to thirty pounds underweight and he never won a wrestling match, I'm like, "Perfect, this is the exact kid I want to work with." I don't want to work with the kid who thinks he's already too fast, too good, too healthy. I want to work with the kid that's totally raw, underdeveloped mentally and physically, because to me those kids need everything. I know what the training does; it just brings them to life. So that's who I really love to help, because when we train, I always see that it strengthens our bond, not just the body.
That bond, that connection, is part of what Zach feels makes a good coach. Zach's passion comes through when he talks about coaching. He gets animated, excited, and you can just feel the depth of his caring. That caring, is something he says is essential, along with good technique, and not having it be about you.
Zach Even-Esh's Three Essentials for Good Coaching:
I think what's super important is you have to deep down truly care. You've got to give a shit big time. Because if you care, you will always be motivated to make yourself better, to be a model. The coaches who are close-minded, they don't evolve. They think that there's only one way to squat, bench, deadlift. Or if you say, "How do you get better at a deadlift?" They say, "Deadlift more." I think that's a very close-minded coach who doesn't want to evolve. I think a good quality of a great coach is reading the athletes. And I consider everyone an athlete, so when I say athlete don't just think of a college or high school or Olympic athlete, I mean everyone. Read them. Know how to auto-regulate each training session. So like I said earlier, if everyone's got great energy, you can see it, read it verbally and nonverbally, go for it. Push it to the next level. Or maybe they just need that push.
A coach is also committed to technique. I am so friggin' pissed when I get kids who have been training with another coach who can't do a bodyweight squat. You know, they bend, they squat halfway, and their back is warped. It's like, "Nobody was committed enough to tell you and show you how to do this?" That fires me up. So if you're a coach, you're committed to technique all the time. You're constantly reinforcing and pushing it. You care. You put all your heart into your coaching.
When you coach, it's about everybody else, not you. So I tell coaches, "I don't care if you're cold, tired, hungry, your girlfriend or boyfriend dumped you – nobody gives a shit." It's all about the other person. It has nothing to do with you, and we need to have that need to build mental toughness as a coach, and give it your all. So I'm a big believer in, when it's time to coach people, on a scale of 1 to 10, you're 20. That's it, nothing less. And anyone who gives less, in my opinion, they shouldn't have the privilege to be a coach. When you coach, you're supposed to be trying to change people's lives, and it's all about helping them. So if a coach doesn't want help from another coach, but he really needs it – that is not looking out for #1, which is your client, your student, your athlete…I'm not well-versed in Olympic lifting, but one of my other coaches is, so we're starting an Olympic lifting class, because it's a great thing for the kids to learn and it's going to be beneficial to them. I'm not so egotistical to say, "I don't know how to do it, and so we're not going to let anyone else do it."
In short, said Zach, "Drop the ego, care, have crazy freaking energy, be totally committed to the person and the technique, and really just stay on top of your game, and nothing less."
To learn more about Zach read the rest of our feature interview:
Featured Coach: Zach Even-Esh, Part 2 – Training the Athlete
To follow Zach's workouts here on Breaking Muscle follow this link:
Strength & Conditioning Workouts from Zach Even-Esh