Want a quality, heart-rate taxing, and muscle stimulating assignment? How about if you're lacking motivation and need to "just do something?" Better yet, do you need to add some variety to your training? Do you like the idea of moving through a training session and seeing your accomplishments in the rear-view mirror? What about plain and simple randomness?
The good old four corners workout will check all those boxes. There's something in it for everyone.
It's a pretty simple concept, with many "plug-in" exercise options. It can be performed in a regular gym, in a large area (i.e., indoor court or outdoor field), or any place you desire. The equipment needed will depend on what you have at your disposal: body weight exercises, barbells, dumbbells, machines, medicine balls, sand bags, sleds, or whatever. Time of the session? It's up to you: 10:00, 15:21, 22:00, 24:48… just get it done.
You'll complete four "corners" or stations with varied exercises and work time or repetition goals for each, and other objective tasks. Complete corner one and move to corner two, and so on. Need some ideas? Here you go.
4 Corners Format Example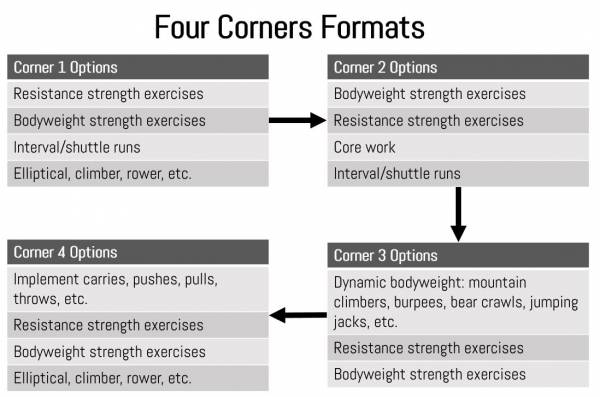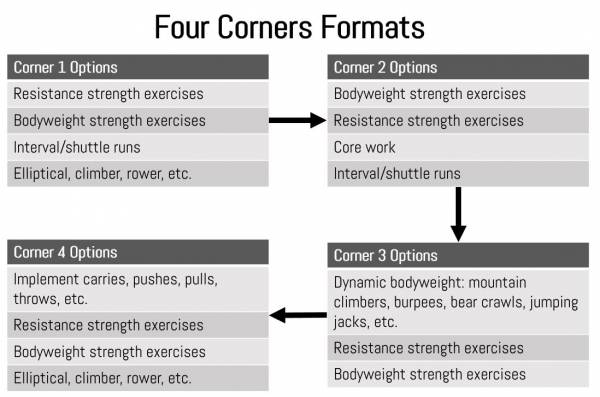 Sample 4 Corners Workouts
Click each image below for a larger version.