For Gwen Sisto not weightlifting has never been an option. She was first introduced to the sport as a child, when her brothers read a newspaper article about a local Olympic weightlifting team and started training there. She tagged along, thinking if she couldn't be the fastest woman out there, like her hero Flo Jo, then she would be the strongest – even though she'd never done a squat before. Years later, in 1994, Gwen participated in her first junior novice competition and has been a competitive weightlifter ever since.
She also has a degree from Georgia Tech in aerospace engineering, a Master's degree from MIT, a husband, a daughter, and an equipment company called Risto Sports. And yet, for Gwen Sisto, not weightlifting has never been an option. She keeps on juggling everything life has to offer, no matter how heavy the weight.
That doesn't mean the journey has been easy, however, and giving birth to her daughter halfway through college was one of the toughest times, as Gwen shared:
I was literally sleeping maybe one or two nights a week. It was that bad. I feel like it definitely slowed my weightlifting process, than if I was able to train twice a day. After that I got my full-time job and they took me through this engineering leadership program, so there was all this extra work I had to do. And when I finished that program I did my Master's at MIT, and again I went back to sleeping like one night a week.

The way I look at it is, I spent most of my twenties focusing on my career and education, and not just focusing on athletics, where other people focus on athletics first.
Gwen doesn't see the fact she is older than her competitors as a disadvantage, though. In fact, she believes her mental maturity and the challenges she worked through have provided her with unique physical and psychological advantages. Gwen shared her analysis of her training, given her previous years of stress:
The interesting part is I can handle loading now much better than I could when I was a teenager. There are some weeks where I do like 800 repetitions. Which probably most American weightlifters only do about 300, but I can take it because I've been through all that central nervous distress, like when I was doing my degrees, because this is a central-nervous-system-heavy sport. It's really interesting because I think I'm a much better athlete now than I was when I was a kid.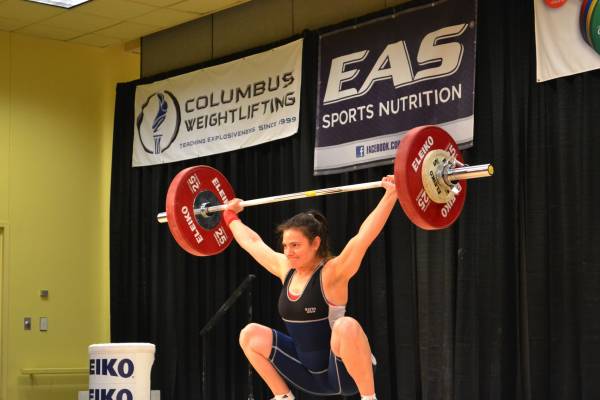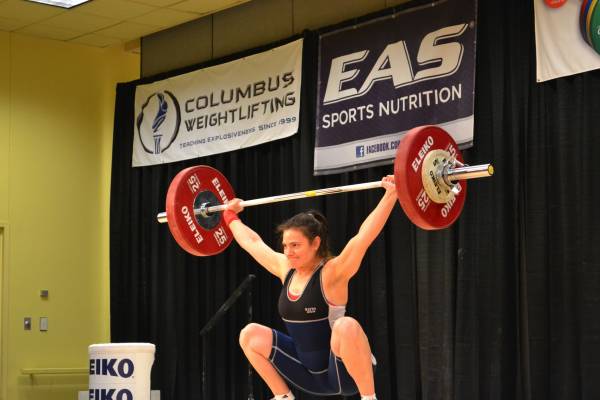 According to Gwen her weightlifting career began in earnest in 2004 when she met her future-husband, weightlifting coach Ivan Rojas. She and Ivan would go on not just to create a family, but also their own gym and their own gear company, Risto Sports. Their daughter even comes to the gym and lifts with them, which as Gwen shared, is a dream come true:
At this point in my life, because we have Risto Sports, we're able to have our own training space and that makes such a big difference. It's just such a big difference from training in your garage, especially when you have other athletes around to motivate you.
The seed for the creation of Risto Sports came during a training trip Ivan and Gwen took to Bulgaria in 2008. After being inspired by the shoes of the athletes there, but unable to coordinate with the Bulgarian businesses, they decided to just start their own company to put out a better weightlifting shoe in the States.
Despite the addition of Risto Sports, these days Gwen is able to dedicate more time to weightlifting since there are fewer elements to juggle – school is behind her and she is settled into her career with an aerospace company. She trains eights time per week, following the Soviet system of weightlifting training. Mondays are Gwen's day off, then she trains one session per day Tuesday through Friday, and two sessions each on Saturday and Sunday. Gwen explained:
We use the Soviet system, which is the basis of the Bulgarian system. In the Bulgarian system they actually do less volume; the Soviet system does more volume at high reps. The Bulgarian system is famous for maxing out, which isn't necessarily true. If you look at the data, the Soviet system, they actually do more volume at heavier weights. It's just that you're doing more volume in general. And because in the Bulgarian system you're not doing as much volume, you're not as physically prepared and you get injured more.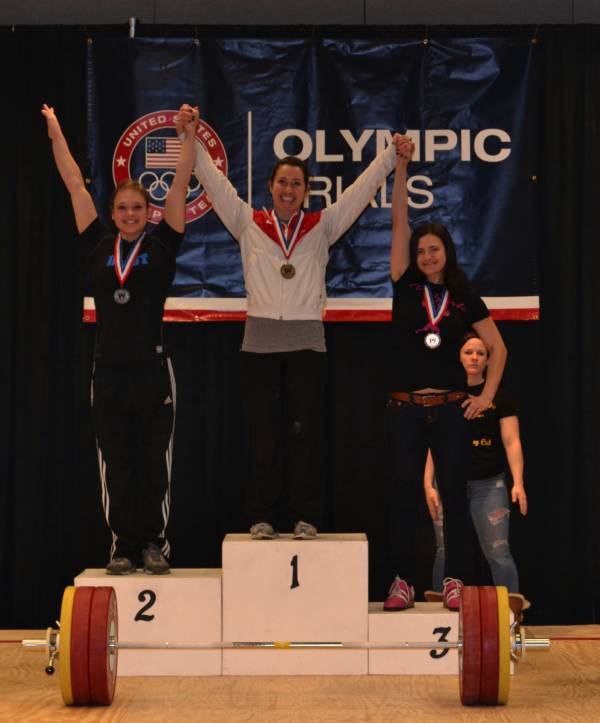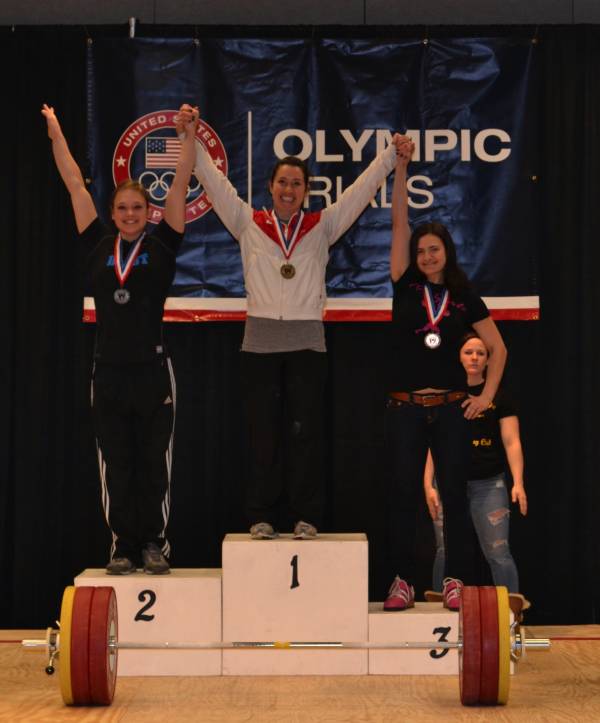 For Gwen staying strict to her training schedule is what allows her to still juggle job, family, and training, while keeping herself healthy. The start time to her evening training varies only by a few minutes from evening to evening and she gets up at the same time every morning. And most importantly, after years of stress, Gwen tries not to think too much and just show up and lift.
At her most recent competition, at the Arnold Sports Festival in Ohio, Gwen went six for six on her lifts – successfully finishing all three snatch attempts and all three clean and jerks, landing herself a third place finish at the USA Weightlifting Nationals. She considers this one of her most successful competition experiences so far.
And now Gwen has her eyes on even bigger prizes: breaking American records, medaling in international competition, and qualifying for the Olympics. But in the meantime she wants to provide for other people what she didn't have growing up:
My parents, they placed no emphasis on sports, especially for girls. My dad likes the Yankees, so certainly if my brothers were able to play baseball for the Yankees, he'd be cool with that, but for me, my parents didn't push any sports. If anything, because I did really well in school they were like, "Why are you wasting your time with weightlifting?" And then when we started Risto Sports they were like, "Why are you wasting your time with that company?" So my dream is to be an awesome weightlifter and have an awesome weightlifting company that helps other athletes.
From the looks of it, Gwen is well on her way to her awesome dream come true.