Don't mess with Dennis Bermudez unless you mean it. The veteran of season fourteen of The Ultimate Fighter, Bermudez is preparing for his upcoming UFC 157 bout against Matt Grice on Saturday. I got a chance to talk to Bermudez about how he got started in MMA and how he is training for this big fight.
As a former wrestler with a self-described "in your face" style, Bermudez takes pleasure in breaking people, in getting them to give up and submit. That "super-aggressive" wrestling style prompted many to suggest to Bermudez that he try mixed martial arts, saying he would be perfect for it. As fate would have it, he started to believe it himself when he helped a friend prepare for a fight. He worked some wrestling and submissions, and the friend's coach reiterated – vehemently – that Dennis should become an MMA fighter.
And the coach was right – Dennis took to MMA like a fish to water. Now, as he prepares for his UFC fight, a typical day starts with breakfast and a light run, maybe 2-4 miles to kick his metabolism into gear. This is followed by grappling or MMA class at Long Island Mixed Martial Arts, or perhaps kickboxing with focus mitts. The end of the day sees him completing a weight lifting session at Long Island Strength and Performance, where his strength coach focuses his efforts on functional, cross-body movements rather than movements that increase bulk.
But Bermudez told me his favorite part of training is "breaking people," getting them to succumb to his will due to fatigue or self-doubt. He noted that his wrestling training has been "1,000%" useful in his MMA training, particularly with his intensity level and with weight cutting. As a self-described "fat kid," Bermudez doesn't particularly like cutting weight, but he does like how it makes him look and what it enables him to do.
Bermudez' wrestling style also helps him prepare mentally. In wrestling, according to Dennis, the attitude was that you should treat everyone the same and not idolize anyone. If you were to fight a national champion, you wouldn't put him on a pedestal; you would remember that he puts his pants on one leg at a time just like everyone else. In other words, you'd remember he's beatable.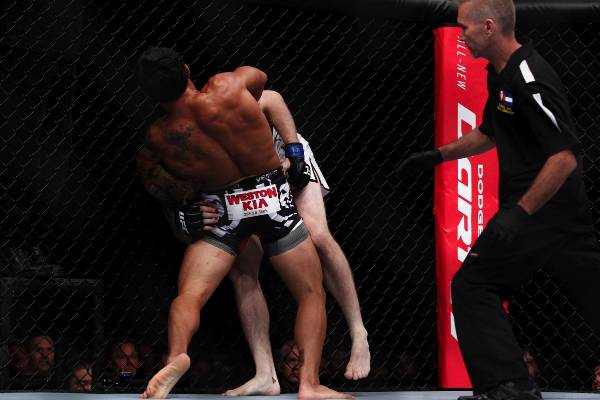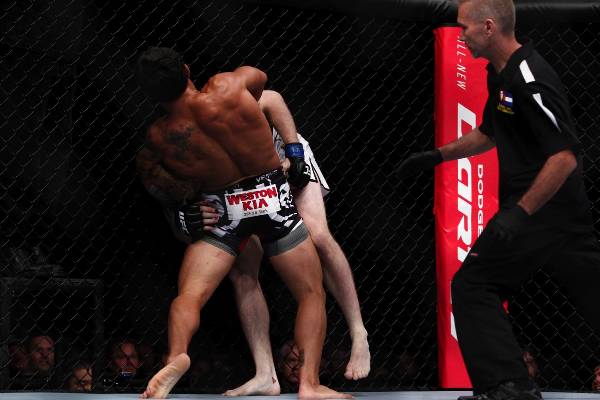 This unflappable mindset also translates into the Octagon. In describing what it's like to fight in the UFC, Bermudez described it as "kind of surreal." All he hears from the crowd is white noise, and he refrains from thinking that everyone is there to watch him. But once he and his opponent touch gloves and the fight starts, everything outside dims, and he follows his game plan and does what he's been training to do.
While Bermudez doesn't particularly like having to put in the time to improve his Brazilian jiu jitsu, which is arguably not as strong as his wrestling or his striking. He admitted he'll eventually meet the guy who can take him down and he will have to be able to finish that person from the bottom. Meanwhile, though, there are tons of techniques to learn. It's a whole new sport for him, unlike striking, which has a finite number of requirements. But it's not entirely up to Dennis, because his coaches give it to him straight and keep him honest in terms of his game plan and his schedule.
In five years, Bermudez plans to be defending a belt in competition. And in the long run, he wants to have something to show for all his hard work in terms of sound financial investments and stability for his future. In the UFC, said Dennis, "It's about how fast you want to go." Before he fought, Bermudez was working at UPS, where you had to put in the time to get promoted. But in the fight game, you can fight every month, and as long as you do it in an entertaining fashion, they'll keep you going. So his advice to new people is to stay hungry.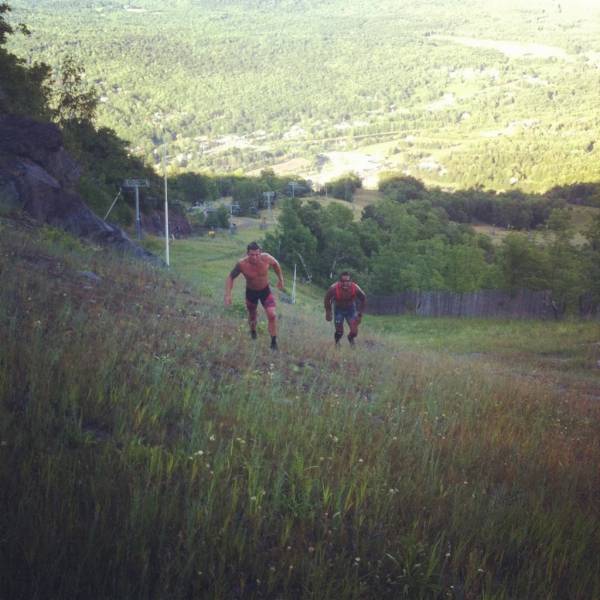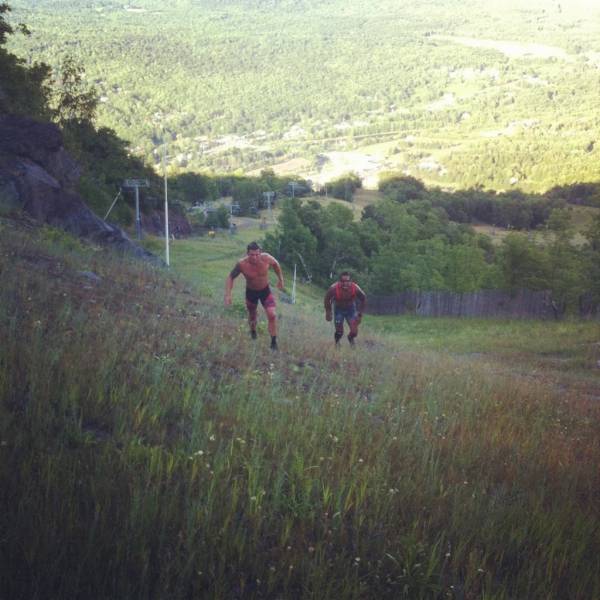 He may also have a future as an adventure race creator. In preparing for a previous fight, he and a teammate created their own marathon to prepare for high-altitude conditions. They ran, swam, and biked around and in the Hudson River and Hunter Mountain, despite the fact that many people told them they couldn't do it. He enjoyed proving them wrong.
Bermudez commented that he is ready to go in and have fun in his upcoming fight. In previous matches, he prepared for a tall opponent and for a lefty opponent. For his upcoming fight, his opponent is just like his training partners, who have prepared him well. When Saturday comes, he'll undoubtedly be putting his training to the test and getting in his opponent's face.