In previous articles, I explained how the Montessori concept of "following the child" can be applied in both a school environment and a fitness environment. I also discussed how foundational training is important in both the classroom and the fitness world.
In previous articles, I explained how the Montessori concept of "following the child" can be applied in both a school environment and a fitness environment. I also discussed how foundational training is important in both the classroom and the fitness world.
Now let's look at another Montessori idea that can be applied to the fitness and sports arenas: preparing the environment.
In a Montessori classroom, many of the materials are prepared with children in mind. Note, this does not mean "child-proof" materials such as unbreakable tumblers, condescending gadgets, and other garishly colored plastic materials.
Instead, real materials are used to teach children the real consequences of their actions, but scaled down to fit child-sized hands.
You'll find small glasses made of real glass and small metal forks, spoons, and sometimes even knives. Tables are at an adult's knee height or smaller, sinks are lower, and toilets are smaller. Materials are laid out in trays and workspaces at the child's height to make it easy to access and return materials.
Once the students understand the reality, power, and responsibility that goes with such a special environment, they care for and love their classrooms, with nary a Power Ranger, neon toy, or Snoopy in sight.
The Montessori classroom is appealing to the students because it is inviting and empowering.
They feel welcomed and respected in their classroom, and they are encouraged to take ownership of it. This same idea can easily be applied to fitness facilities and sports. However, finding age-appropriate equipment is a challenging area, especially for weight training coaches.
Materials and Equipment: A Challenge for Coaches
The plain and simple truth is, a lot of fitness equipment isn't made for children's usage.
Bars are too thick, and standard Olympic bars are often too long and too heavy for new trainees. For shorter children, even the standard size 20kg/45lb plate is too large, although perhaps not due to weight (I've known some very strong shorter lifters), but because the bar is just too high for them.
While there are options like shorter bars or aluminum shafted bars, they can be rather expensive, and unless you happen to own a profitable facility, you may not be able to purchase them.
Montessori teachers face the same challenges. Specifically made Montessori materials are a niche market, with manufacturers usually commanding premium prices for their craft. Math beads, science materials, and other items can run into the hundreds of dollars each.
Most teachers compromise, buying what they cannot replicate themselves and being creative with substitutes for the rest. You'd be surprised at how many seats for preschoolers can be made from paper milk cartons, duct tape, construction paper, and a bit of laminating film.
The same thing can be done for children's fitness. Here are some inexpensive ways to prepare the environment for kids' fitness:
Homemade Heavy Bag: With some duct tape, old clothes, and a single duffel bag (I used a clothes storage bag, the vacuum type), you can make a tackling dummy/heavy bag/lifting bag for kids for less than $10.00. I stuffed mine with the outgrown baby clothes and cloth diapers my son used (after a thorough washing).
Homemade Sandbags: Sand is another great option for providing materials for construction. It's cheap, it's heavy, and you can get it just about anywhere. Fill some bags with sand, and let your kids start with lifting those.
Bars: Barbells are harder to replicate. Unless you are a machinist, making bars for children that can handle normal plates is difficult. However, dip bars, pull up bars, and fixed weight bars are a more practical and attainable option.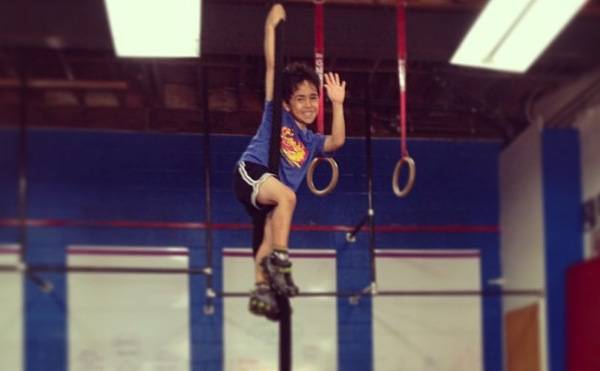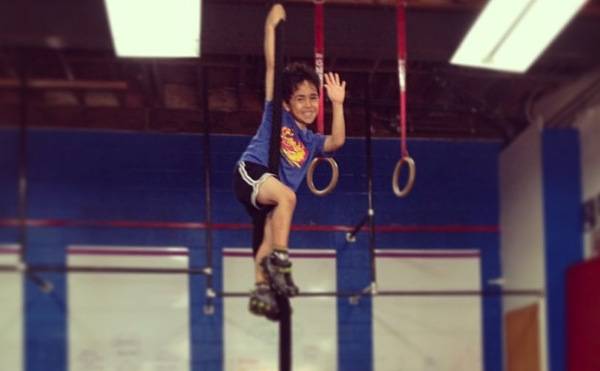 Rings, Ropes, and Bands: Rings are another fun option and are pretty easy to get your hands on. Ropes and bands are some of my other childrens' weight lifting options. They're lightweight, flexible, moveable, and again, often cheap. Ropes make a great option for most pulling exercises. You can tie them to almost any form of resistance to make pulling sleds or other options for leg work. And even the smallest hands can easily grip bands, making pushing, pulling, and twisting exercises easy.
Bodyweight: Of course, bodyweight itself is one of the greatest exercise tools. The ability to vary angles, positions, and timing makes the possibilities almost infinite. It falls to the teacher to make sure that the exercises are scaled properly to the child's level of coordination and fitness.
In the end, preparing the environment is key for creating fun, engaging children's fitness programs.
The biggest piece of advice I can offer is to use your imagination. Use everyday objects, especially ones that look realistic or are made from objects children would use in their play.
Pulling sleds that look like cars (a great second life for an old wagon, tricycle, or other device) or throwing medicine balls that are made from basketballs are a few creative ideas.
Use your imagination and prepare the fitness environment to be safe, challenging, and scaled not only to the child's physical ability, but also to his or her mindset.
Photo 1 courtesy of Shutterstock.
Photo 1 courtesy of CrossFit LA Kids.