MMA fans are very familiar, by now, with the story of how UFC President Dana White said there would never be women fighting in the Octagon. Then he met Ronda Rousey and the rest is history.
Rousey led the way in the women's bantamweight division and due to the success of that endeavor, a new strawweight division has been introduced with an exciting inaugural match between Claudia Gadelha and Tina Lahdemaki. The Ultimate Fighter 20 will be the first all-female cast for the show, and the winner will be crowned the UFC Women's Strawweight Champion.
UFC First: The Strawweights
But First, Say Hello to Kailin Curran
But the UFC isn't the first promotion to feature the strawweight women. Kailin Curran and Kaiyana Rain led the way for female fighters in Pacific Xtreme Combat (PXC) 36 as the first women to enter the cage for that promotion.
And Kailin Curran plans to make her UFC debut here in Halifax, Nova Scotia on October 4, 2014. In our recent interview, she described her journey to the Octagon, which began with her first amateur fight on March 6, 2010. Her amateur career included four wins, one no-contest, and one loss.
But since then, she's been on a roll. Kailin explained, "I was signed to PXC in March 2013. I won all three of the fights that I was given and I think they all showed that I am an exciting performer and that I can go the distance. I am contracted four fights with the UFC."
How Kailin Curran Trains for the UFC
Kailin wrestled for six years before she branched out to kickboxing, and these days, she likes to keep it standing. Said Kailin, "I would have to say that I am a technical striker. I love to stand and strike, but if the fight gets taken to the ground I wouldn't mind some ground and pound."
And Kailin's ground and pound is relentless. She dominated the dangerous Kaiyana Rain in the first round of their fight in PXC 36, shrugging off submission attempts and raining unanswered shots from the mount and in the guard. She's great at setting the pace, controlling the cage, and getting into positions that leave her opponents unable to block her strikes.
Kailin is on a quest to develop a well-rounded game and she described a typical week of training:
I train six days a week, from Monday to Saturday. On Monday, I focus on my ground game, with wrestling twice that day and jiu jitsu in between. Tuesday, I spar and work on my Olympic lifting. Wednesday, I work on my muay Thai in San Diego, with wrestling in the afternoon. Thursdays, I have private lessons in wrestling and stand-up, with jiu jitsu in the afternoon. I spar on Fridays, and on Saturdays, I do Olympic lifting. Sometimes we add on to this schedule, it depends on how my body is feeling.
Some of the women in the strawweight division have to cut weight to get down to the 115-pound limit, but Kailin struggles to keep her weight high enough. With her grueling training schedule, she has to be sure to eat enough of the right foods to ensure she stays competitive.
My diet is pretty normal, lots of protein and carbs because I naturally walk around close to 115. I am working on adding more meals a day to my diet so that I can keep my weight up. Considering most the girls in my weight class carry ten-plus pounds, as they cut down to the weight.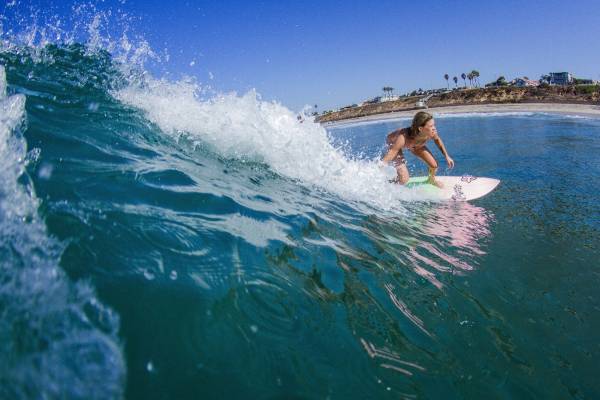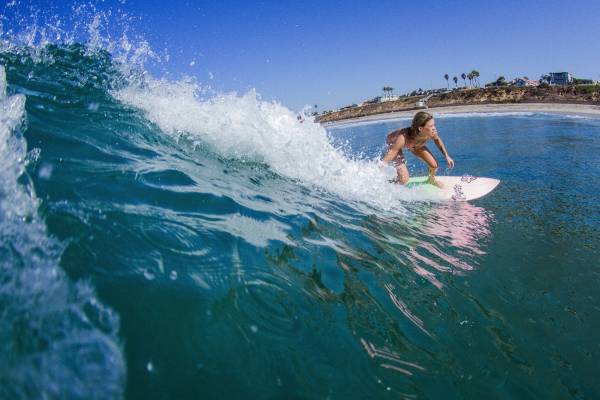 Kailin surfing in her free time.
The State of Women's MMA
Some people have said that the level of technical skill and athleticism in the UFC women's divisions is not on par with the men's divisions and that it's easier for a woman to be signed at this point in time. For example, in the women's bantamweight division, critics complain there aren't any women at Ronda Rousey's level to challenge her. I asked Kailin what her thoughts were on the subject:
I would have to agree that right now it is a bit easier for woman to be recognized because we are fairly new to the sport, which means that we have to build up our weight classes to keep things interesting. I would have to disagree to some extent that it is "easier for woman to be signed at this point" because I believe that we who are signed and get our chances have shown talent, therefore we earned the fights.
Kailin added that women bring "femininity, strong character, cattiness, beauty, athleticism and, I'll speak for myself on this one, heart and passion" to the Octagon.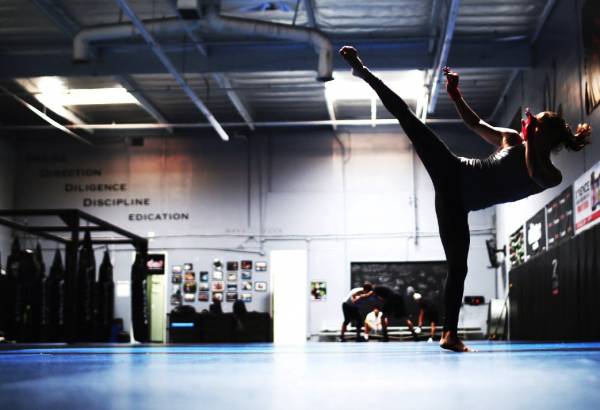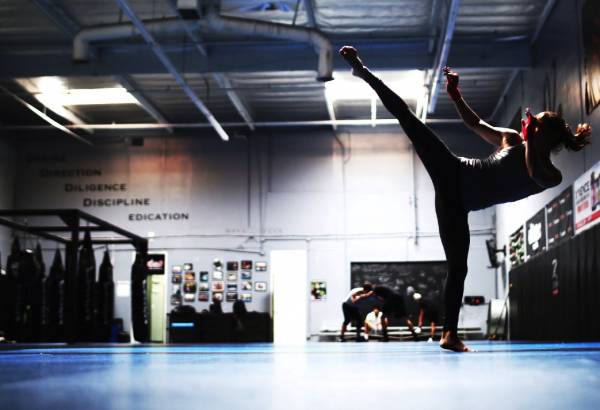 Kailin training at the gym.
Kailin's goal is to be the best in the world and she will do whatever it takes to achieve that goal. She intends to continue on her current path, adapt to changes, and take on whatever comes her way the best way that she can. "Right now I am extremely focused on fighting Paige VanZant, only because she is in the way of me finding out whom I'd potentially like to fight next."
But with VanZant currently in physical therapy for a spine injury and unable to train, it's up in the air as to whether Kailin's first UFC fight will proceed as scheduled for UFC Fight Night 54. We'll keep our fingers crossed, hoping to see what could be one of the most exciting fights of the night.
Follow Kailin on Facebook, Instagram, and Twitter to stay informed of what's happening in her career. Best of luck to all Kailin and all of the new UFC women's strawweight roster.
Photo 1 courtesy of Eric Williams.
Photo 2 courtesy of Dominique Labreque.
Photo 3 courtesy of Jenson Young Si.