If you watched the recent summer Olympic Games, there is a good chance you noticed some athletes donning multi-colored tape strips and patches on various body parts. It was quite noticeable on those more scantily-clad, such as beach volleyball and track and field athletes. In fact, one volleyball gal looked like she had the Michigan football "winged" helmet decal emblazoned across her abs.
This stuff is called Kinesio tape. A bit of history:
Kinesio tape has actually been around for quite a while. Kenzo Kase, a Japanese chiropractor and acupuncturist, designed the tape and taping method back in 1979. Kase believed a flexible tape would stimulate better circulation to an injured muscle due to its tug on the skin. Traditional tape and taping methods were thought to be too restrictive and even exacerbate injuries as a result of the inhibited flow of inflammatory fluids under the skin.
Does Kinesio tape actually expedite recovery from muscle injury, or is it also used to enhance performance? If solely used for injuries, there must have been dozens of wounded Olympians competing. My guess is the tape is used for performance benefits as well. If so, does it work or is it yet another gimmick one must use to "keep up with the Joneses?"
A study conducted in Italy attempted to determine the immediate effects of kinesio taping on maximal muscle strength of the dominant quadriceps of 36 healthy subjects. Subjects were tested across three different sessions, randomly receiving three experimental kinesiotaping conditions:
Tape applied with the goal of enhancing muscle strength.
Tape applied with the goal of inhibiting muscle strength.
Tape applied incorrectly with the goal to deceive.
Quadriceps muscle strength was measured by means of an isokinetic maximal test performed at 60 and 180 degrees per second. Two secondary outcome measures were also performed: a one-leg triple jump for distance to measure leg performance and the Global Rating of Change Scale to calculate the correlation between the Kinesio taping technique and the subjective perception of strength.
Here is what they found: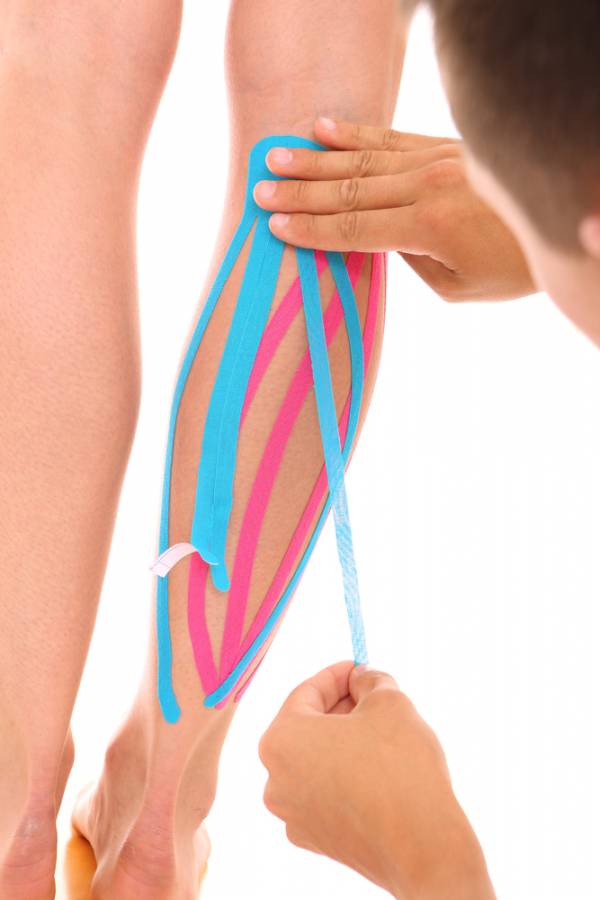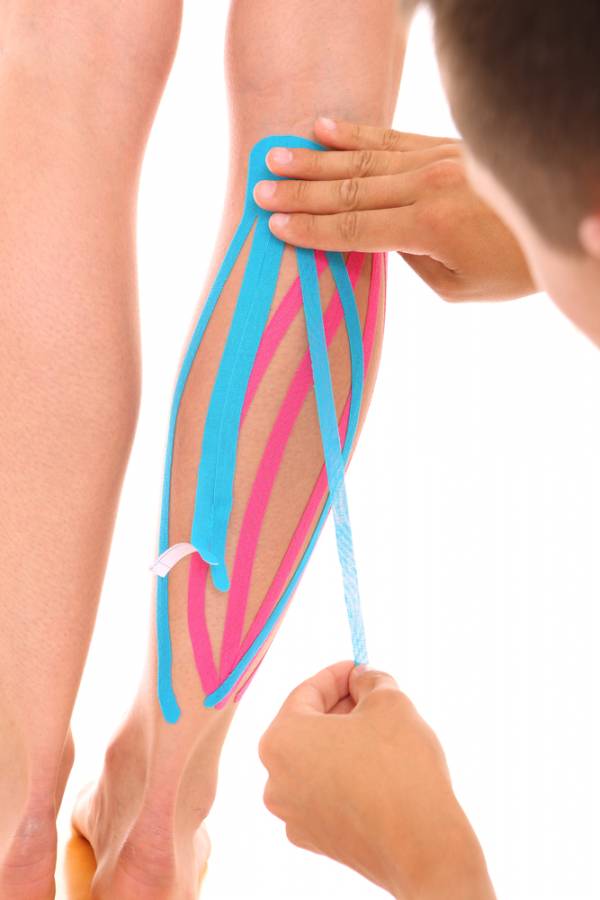 None of the three taping conditions showed a significant change in muscle strength and performance. The effect size was very low under all conditions. Only a few subjects showed an individual change greater than the minimal detectable change. Global Rating of Change Scale scores demonstrated low to moderate correlation with the type of taping applied, but some placebo effects were detected independent of the condition.
This study concluded no significant effect in maximal quadriceps strength immediately after the application of enhancing, inhibiting, or deceptive Kinesio taping. Therefore, the test results do not support the use of Kinesio taping as a means of altering maximal muscle strength in healthy people.
That stated, there are also those skeptical about the Kinesio taping's effect. According to Dr. Nicholas Fletcher, an assistant professor of orthopedic surgery at Emory University, there are few large scientific studies regarding its effectiveness. Dr. Fletcher stated, "I think, if anything, there is a placebo effect involved, and there probably is a little bit of a peer pressure effect. When people see athletes who are doing so well, they think, 'Maybe this could work for me.'"
Things come and go in the fitness industry – ankle weights, salt tablets, compression garments, toning shoes, sauna suits, ad nauseam. Some even come back. Kinesio taping may be the classical case of revisiting the past.
Does Kinesio taping facilitate recovery for injured muscles? I do not know. Does it enhance athletic performance? We need more research to determine that. What's your experience? Let us know in the comments below.
Photos courtesy of Shutterstock.