We receive free products and receive commissions through our links. See
disclosures page
.
"Where do you get your protein?" is one of the most commonly asked questions when talking to someone about any diet in our society. Whether you follow the vegan diet or the paleo diet, if you care about your health, want to increase your muscle mass, or gain/lose some weight, then you need to know about clean, full, and sustainable protein sources.
In conjunction with consuming enough protein each day, we also live in a very fast-paced society and are not always able to prepare our own smoothies, beef jerky, or complete meals everyday. I can totally relate to this chaos, as I am currently a Sales Representative for one of the fastest growing bar companies in the county. As you can imagine, I am on the road a lot and there are many times when I am so thankful that I can just reach in the back seat of my car and grab one of our protein bars.
Bars are convenient fuel, whether it is after a strength training session, while I am on a hike with friends, or stuck in traffic. Even though I work for a protein bar company (and it IS one of the ones listed below), I do like to mix it up and try other products. Through my work in the organic all-natural food industry, I have become friends with many companies who have created outstanding bars that can meet the needs of anyone who is looking for a healthy, clean, and conscious protein bar.
Here is a breakdown of my top five protein bars based on these needs:
Nutritional value: What is the ratio of protein, fats, and carbohydrates? Am I looking for a quick protein snack or meal replacement bar to sustain and fuel my body's needs?
Sustainability: Does the company source organic, local, non-GMO, fair-trade ingredients? Do the core values of the company include their impact on the environment?
Simplicity of ingredient: Do I know what each ingredient is? Could I reproduce this bar in my own kitchen?
Taste and texture: Is it chewy and crunchy? Does the flavor profile stand out? Do I thoroughly enjoy eating this bar?
Rise Bar
Rise Bar has two high-protein bars that are perfect after a workout or as a meal replacement. Their calories range from 260-280, and fat content is 16g per bar. The Almond Honey flavor has only three ingredients and 20g of protein, while the Crunchy Carob Chip has only five ingredients and 17g of protein.
The protein in these bars comes from the almond butter and whey protein isolate, which is sourced from Joseph Farms where the cows are not treated with any artificial hormones and are rBST free. All of the products from Rise Bar are certified gluten-free, non-GMO, and are manufactured in a soy and peanut free facility.
Both of these bars have a smooth and chewy texture and are greatly enjoyed for their delicious taste, which I'm sure you know is not always associated with a protein bar. You can also check out a more in-depth review on these bars from fellow Breaking Muscle contributor Logan Gelbrich.
GoodOnYa Bar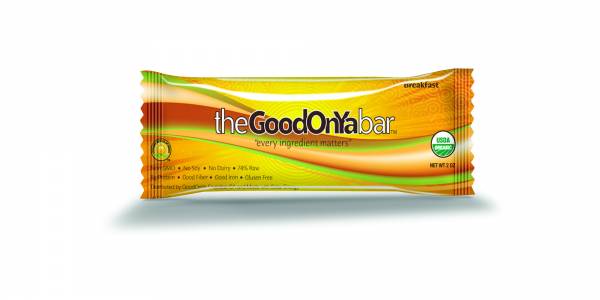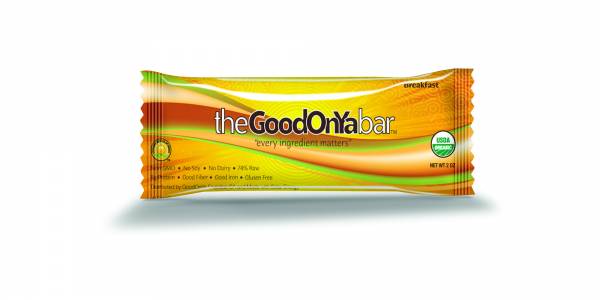 "Every ingredient matters" is the slogan behind the GoodOnYa bar out of San Diego, California. My go-to flavor is the Peanut Butter Honey bar, which has 10g of biodegradable protein, and is a healthy source of fats from hemp, flax, sesame seeds, and peanut butter. It is also high in iron and at only 295 calories is filling and light enough for long trail hikes or after a surf session at the beach.
All of the GoodOnYa products are USDA certified organic, non-GMO, grain and gluten free, and soy and dairy free. They are even manufactured with solar energy. The GoodOnYa bar goes beyond producing a delicious and crunchy bar, but also promotes good health to their customers. They encourage customers to find local sources of food and to consciously make decisions that will have positive benefits to our planet.
CORE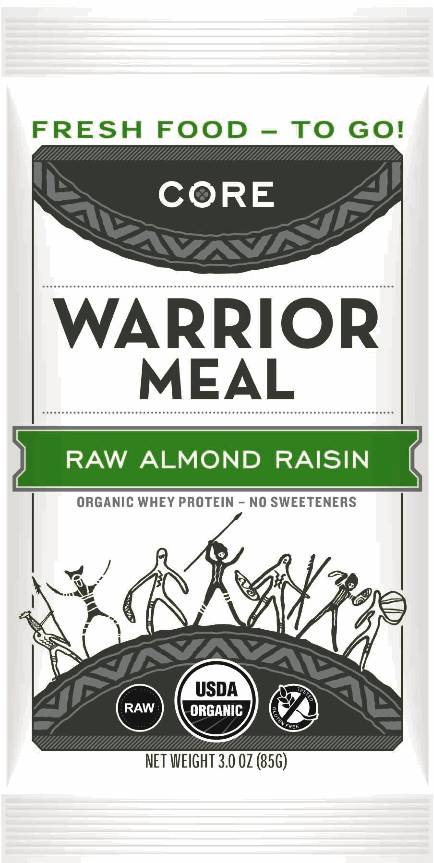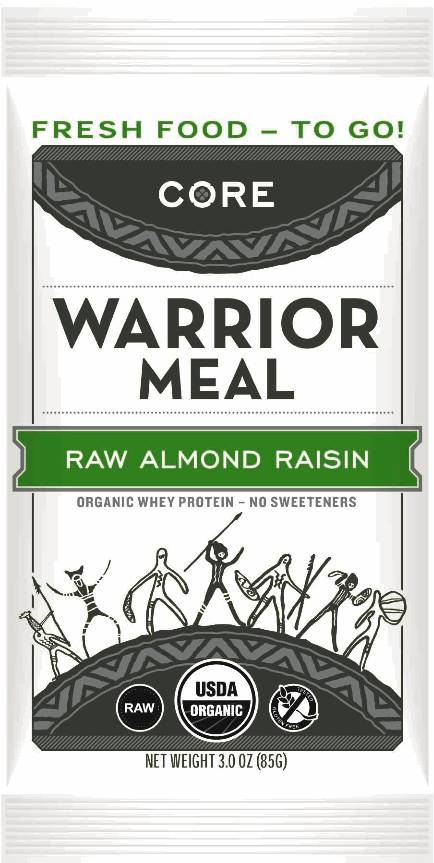 CORE Foods has two kinds of bars with a total of six flavors to choose from. Each is a complete meal bar with their calorie count coming in around 360. The Warrior Meal high-protein bars are packed with 18g of lean protein, healthy fats, and complex carbs that are perfect for intense activity and post-workout recovery. The added protein ingredient is whey protein, which is sourced from a certified organic supplier. The Defender Meal is a high-fiber vegan bar with 12g of protein and 13 amino acids and essential fatty acids, which is a great combination for toning and weight management.
All of the CORE Foods products are USDA certified organic, raw, tested gluten-free, and use non-GMO ingredients. The bars are perfect for long travels and satisfy you for hours with their soft and chewy texture and subtly sweet flavors. CORE Foods is a certified B Corporation committed to social change and is a not-for-profit company. You can also read the Breaking Muscle review by Becca Borawski.
Squarebar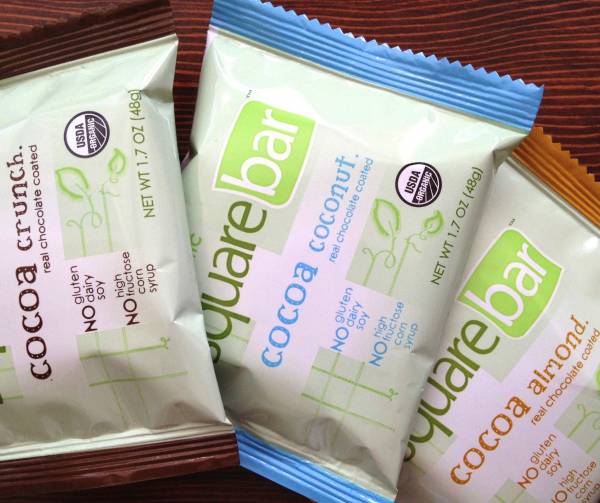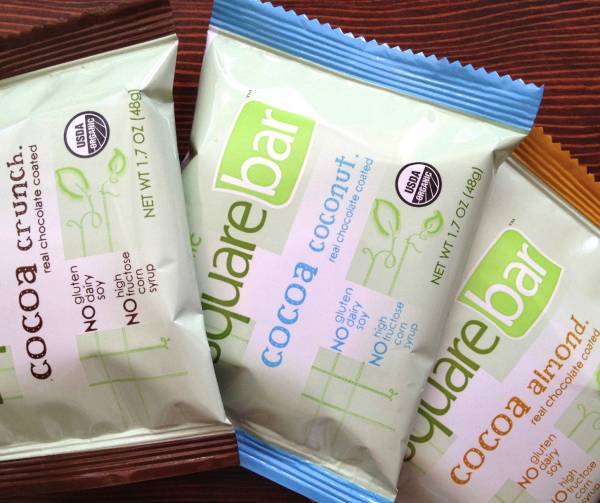 If you need a quick snack with a clean and delicious source of protein, Squarebar has you covered. They are a new company out of Northern California and are the first company to launch their product already Non-GMO Project Verified. They have three flavors to choose from that are all around 200 calories and pack 12g of plant protein sourced from brown rice protein.
I spoke with co-owner Andrew on what made their protein source different than other vegan bars and his response was, "While it's true that brown rice is not complete, the brown rice concentrate that we use in our bars is of a very high quality, and as the protein component is being separated from the carb component using enzymes (completely raw) the amino acid profile is actually enhanced making it a complete protein."
All of their bars are vegan, certified organic, non-GMO, certified gluten-free and soy free. My favorite flavor is the Cacao Crunch because I love their delicious combination of chocolate and coconut. Their bars are perfect for a late morning or afternoon snack to tide you over until your next meal and are most effective when devoured in three bites! You can read more by checking out Nicole Crawford's Breaking Muscle review of all three flavors.
Vega Sport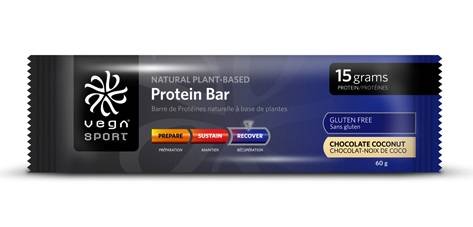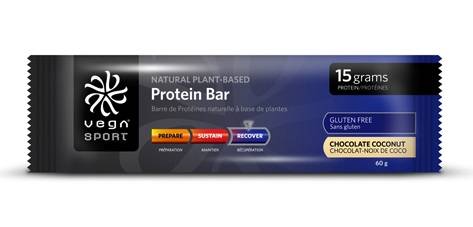 Vega is a well-respected company that provides plant-based performance shakes, protein bars, and electrolyte drinks formulated by founder Brendan Brazier, a professional Ironman triathlete. Vega has two protein bars that combine sprouted rice protein, pea protein, and sacha inchi seeds for a filling source of 15g of protein and 240 calories a bar.
The sacha inchi seeds are also a great plant-based source of the amino acid tryptophan and omega-3s. My favorite aspect of these bars is that they do not have any tree nuts, and are peanut, soy, and whey protein free. Although the packaging does not have the USDA organic label on it, I contacted the company and they assured me their ingredients are organic, non-GMO, and wheat and soy free. I have been a longtime consumer of these products and often use their protein powders and bars to replenish after a hard strength workout.
All of these products are available through each company's website and throughout your local organic-natural food stores. As you can see, these are only five of many protein bars that are on the market.
I believe that every company should be in integrity with their products and provide proper nourishment and delicious treats to their consumers. These are some of the companies I feel good to stand behind and support. But, remember it is always important to do your own research, explore, and sample as many bars as possible to see which ones work well with your body. Only you truly know what can nourish your body, heart, and soul.