We receive free products and receive commissions through our links. See
disclosures page
.


Opedix was founded in 2004 and their stated goal is to "help active people stay active." In short, their products are intended to help athlete stays out in the world, doing their sport of choice, while inflicting less wear on their bodies and producing less pain. They do this through a combination of science, research, and high-tech garment design.
Opedix asked me to review their women's tights. They actually make two different versions of the KNEE-Tec tights for women, a full-length and a ¾ version. I opted to try the ¾ given that it's summertime and has been over ninety degrees every day here in Oregon for some time. According to the Opedix site, the shorter length of the tights is intended for warmer weather or cold weather sports that require boots.
The Fit
I struggled at first to find which size would fit me. At 5'5" and 138lbs, the people at Opedix told me I was between the medium and large size. But I typically wear a medium or a small in most clothing and the website advises you should buy a size down for this particular product.
Opedix was kind enough to send me a small, medium, and large to try out. I thought the medium was too big for me in some ways and too small in others. But the large was definitely too large and while the compression of the smalls felt great, they drifted south while I ran in them and I could never get them on quite right to begin with. So I ended up going with the mediums for the long haul.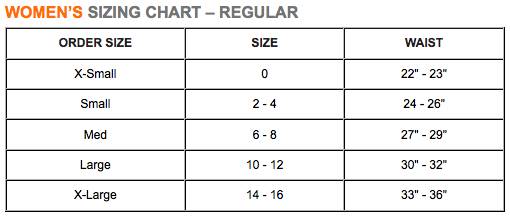 The pants do come in everything from XS to XL, so in theory there should be a size for just about every athlete from a traditional size 0 to size 16. It's my feeling that if you're muscular – i.e. a lifter or a CrossFitter – and you're between sizes, that you'll want to go with the larger option.
When figuring out which size is for you, be aware that it's very obvious where your knee should go. The support panels that surround the knee are clear to the eye. My problem came with the distance from the knee to the crotch not seeming to be quite right. While I really wanted to pull hard to get the pants up, due to the compression and fit, it was difficult to do so – think wetsuit – and I feared ripping the pants apart, especially once I got sweaty. So my advice is, hike 'em up high before you get sweaty and you'll be happier in the end. Just wear a long tank top so you don't look so goofy.
The Construction
The truth is, I think no matter how hard I pulled on these pants I wouldn't have destroyed them. They are solidly built and feel very sturdy. While they feel heavy to the touch and when you put them on, once you are moving around, they are deceptively light and airy. They definitely wick away the sweat and feel less sticky and uncomfortable than a more cotton-like fabric would. These are made of 90% nylon and 10% spandex, by the way.
The tights are made of nineteen different panels and incorporate anti-odor technology to "reduce odor and preserve freshness." I can say I've worn mine a bunch of times now and they're not stinky, for whatever that's worth. I washed mine in the machine on cold, and let them both air dry and tumble dry on different occasions. I noticed no difference and no damage or fit issues occurring via either method.
The pants also have a drawstring, which is always a nice feature and helps keep these pants in the right place, as I mentioned they do have a desire to head south if you don't hike them up before your training session.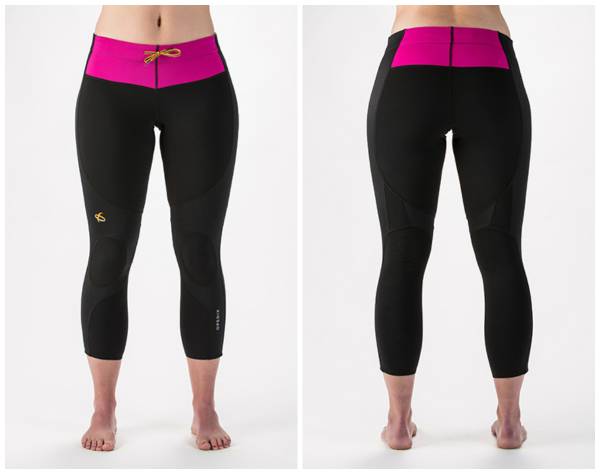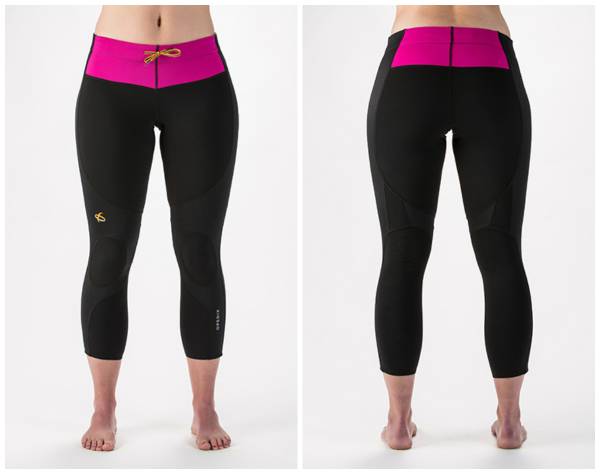 The Experience
As soon as I put my Opedix tights on for the first time, my immediate thought was, "Huh, that feels really good on my knees." And apparently there's a whole lot of science behind what made my knees feel great. According to the Opedix website:
Patented interregional support systems increase muscle flexibility and joint range of motion which allows the muscles to function at their optimal lengths and produce forceful or powerful movements. These improvements in joint mobility also enhance or restore the muscles' ability to relay sensory information to the brain about the position of the body at any given point in time. This increase in proprioception enhances the stability of the joint by improving fine-tuned motion control and trains the kinetic chain to produce rapid adjustments in joint motion as well as efficient and optimal muscle function for reduced rates of muscle fatigue during activity.
So, in a sense, wearing these pants is like wearing kinesio tape. These are not compression pants like you're used to thinking about. This is part of what can make getting the right size and fit confusing at first and I had to get my head around that.
While parts of these pants do feel compressive, they are not compression pants. They are meant to increase your neuromuscular awareness and function and therefore trigger your joints and muscles to move properly. Opedix describes their pants as being an "external muscle" there to assist you, and, according to them, wearing their gear will result in less stiffness, better joint alignment, and better movement patterns.
You could also think of the analogy of a knee wrap when trying to understand what Opedix gear has to offer. If you typically run, lift, or CrossFit with knee wraps, these pants could handle that job for you in one piece of clothing/gear. They offer the same combination of warmth and support that most knee sleeves will without the added bulk, layers, and inconvenience.
These pants would also be useful to anyone in a cold weather sport as a base layer. We all know somebody who's done damage to their knees while skiing or at the very least come home from a ski vacation sore and banged up. If you haven't tried knee wraps, or if you have and found they've worked for you, then these pants may offer a simpler alternative.
The Take-Home
Of course, this gear is not inexpensive. These are $225.00 pants. Depending on your gear budget, that might seem crazy. But I'd venture to say that if you actually looked through your CrossFit bag or your ski-gear bag, you've spent a fair amount of money on less useful things at this point.
If you regularly wear knee support or think that knee support might help you, then these pants are probably right up your alley. If you've never experimented with knee support, then I'd suggest starting with a knee wrap or kinesio tape first, to see how it impacts you and then go from there. That being said, any sport of activity that involves your knees, which is pretty much everything, could potentially benefit from your wearing these pants.
Women's KNEE-Tec ¾ Tights are available for $225.00 at Opedix.com.