We receive free products and receive commissions through our links. See
disclosures page
.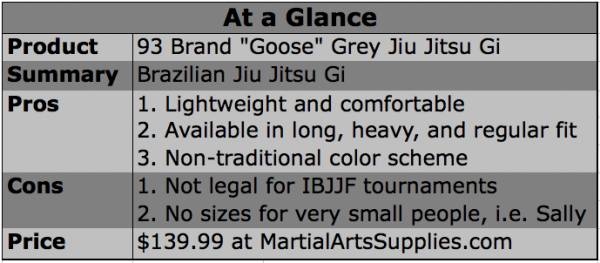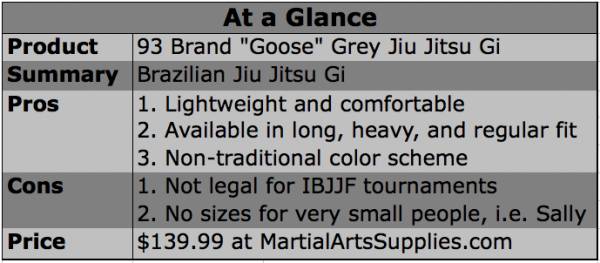 Marmac Athletics BJJ Instructor Scott Nauss was sent 93 Brand's "Goose" grey gi a few months ago for review. 93 Brand is a new Brazilian jiu jitsu label based in the United States that has also recently collaborated with artists Meerkatsu and Gawakoto to design some pretty amazing looking rash guards (reviews coming soon). Martial Arts Supplies accurately describes the Goose as "A functional kimono that looks unique yet not over-the-top in terms of patches and color schemes."
Features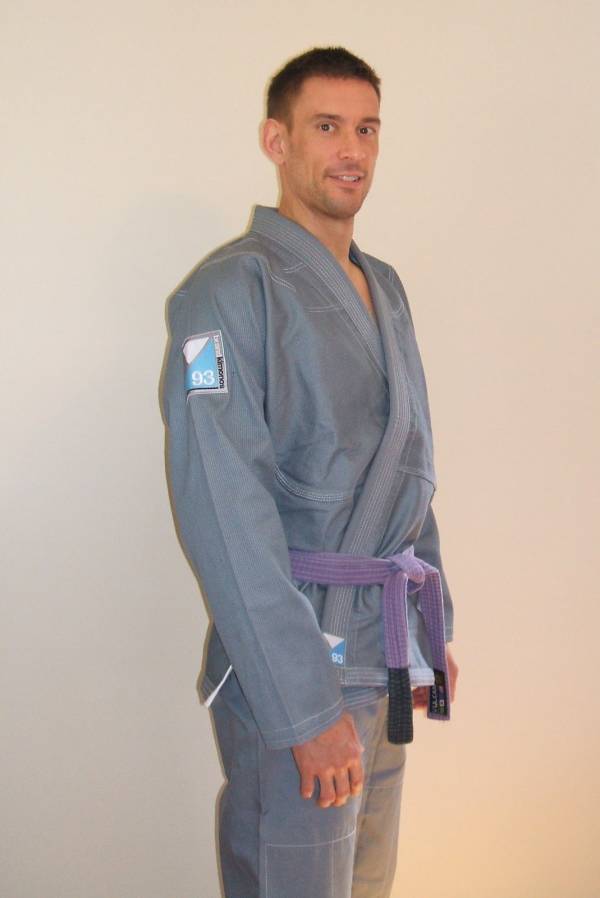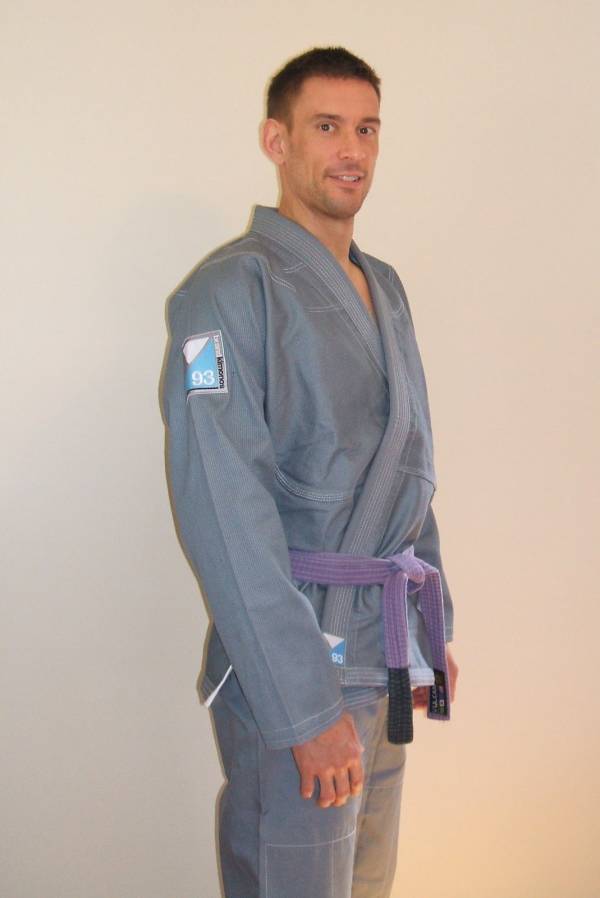 Jacket:
Lightweight pearl weave jacket with white contrast stitching throughout
Cotton-covered lapel, average thickness
Custom-embroidered 93 Brand Kimonos patches at each shoulder
Small patch on lower left lapel
93 Brand's "Position/Submission" cotton trim lines the cuffs, interior lapel and inner skirt.
Pants:
12-oz cotton fabric.
6 belt loops and stretchy rope drawstring with sealed ends
White pearl weave gusset
93 Brand patch across bottom
Cuffs are sewn with four rows of stitching for added durability. Additionally a band of 93 Brand's "Position/Submission" cotton trim is used to reinforce cuff.
Rope drawstring
Reinforcement at the seam split at the waist
Double-layer knee reinforcements from thigh to shin
Small patch on the right hip
Scott washed the jacket in hot water twice and dried it in the dryer. As you can see below in the pre- and post-wash measurements below, there was no shrinkage at all. The pants were washed in cold and hung to dry and lost only an inch in the length.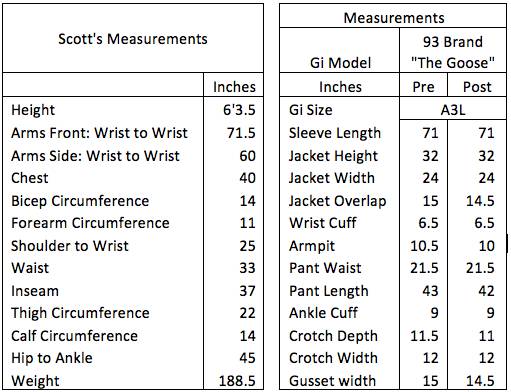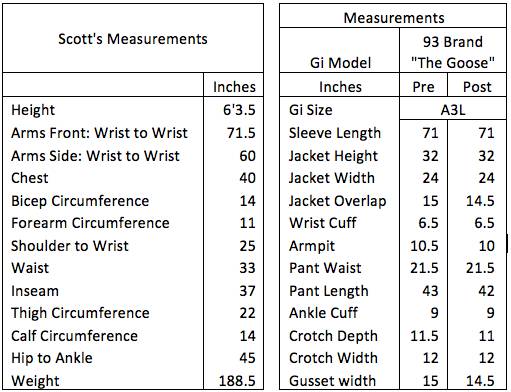 Fit, Style, and Quality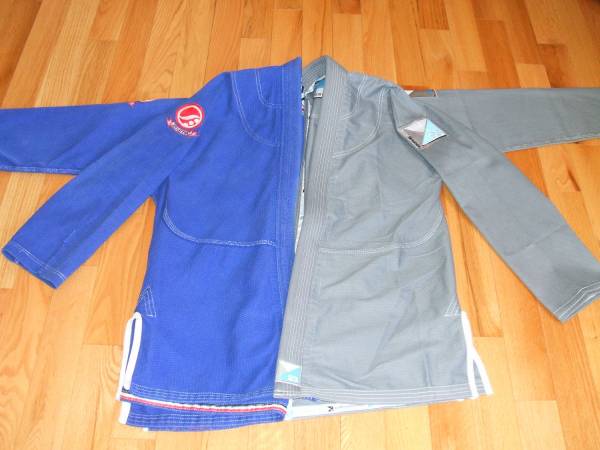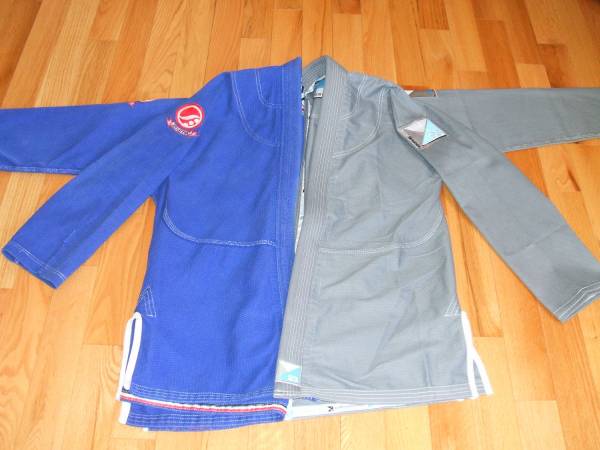 The A3Long size in the 93 Brand Kimono is nearly identical to size A3Slim in Shoyoroll. Scott has the Shoyoroll Americana so a photo was taken to compare the two. The Long size option is designed to fit the taller, leaner athlete and Scott was pleasantly surprised to see that out of the bag, the sleeves were too long for him. In his opinion, all gis should have additional length in the sleeves for those with a long reach, but he feels the skirts in gis designed for taller people could be a bit shorter. He would prefer if The Goose was two inches shorter in the skirt but enjoys the slim fit at the torso.
The pants are slim-fit as well but provide enough room for movement. They are nice and long and have a rope drawstring that he hasn't had to retie during class, possibly due in part to the six belt loops at the front of the pants. Although the pants are constructed with twelve-ounce cotton, they don't feel heavy and the weight gives them a feeling of extra durability.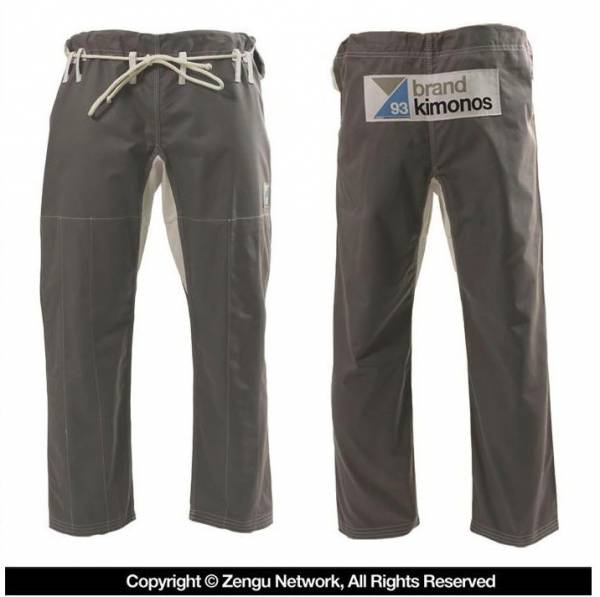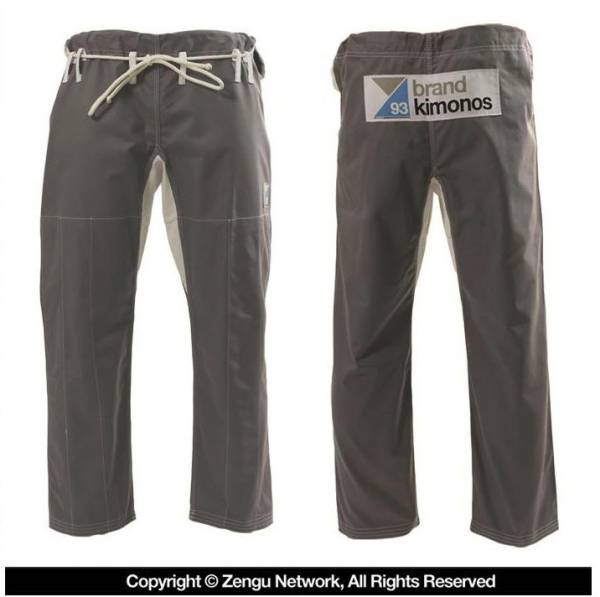 Scott has no comment one way or the other about the white, pearl weave gusset, but I'm not a fan of it. I found when I saw him rolling or warming up, my attention was drawn to that part of the gi and it made me uncomfortable. No one wants to get caught staring at someone's crotch. As a female in a male dominated sport, I would prefer not to draw attention to that area. Also, the crotch of a gi is an area that becomes sweaty and if the fabric is white, it is more likely to become transparent. Where the change in coloring has no real purpose, I feel it would be better if it matched the rest of the gi.
Overall, the gi still looks brand new after months of rolling in it once a week. I did find some fraying at the ends of some of the white cotton reinforcements and the belt loops, and some small areas of stitching looked a little sloppy but I think that was a construction issue rather than a wear issue. Other than that, there aren't any flaws on this gi.
Customer Service
Any time I've had questions about any of the products at Martial Arts Supplies they have been answered within 24 hours and their shipping to Canada is very fast. I've received orders from them within five to seven business days, as compared to the typical two-week waiting period with many American companies.
93 Brand Kimonos is a brand to keep your eye on. They aren't afraid to take risks with their designs and work with the best in the business to provide BJJ and MMA practitioners with unique, high-quality gear at reasonable prices. The Goose has been featured on BJJHQ at $100 and sold out at lightning speed.
The 93 Brand Kimonos Goose gi is available at for $139.99 at MartialArtsSupplies.com. It is eligible for free 2-day shipping within the United States.