We receive free products and receive commissions through our links. See
disclosures page
.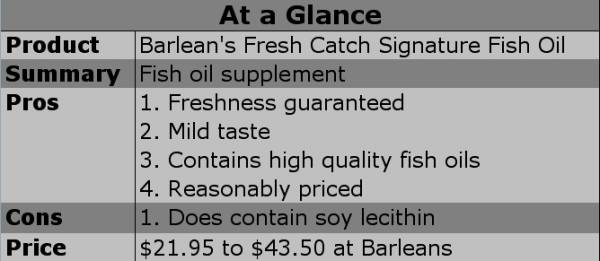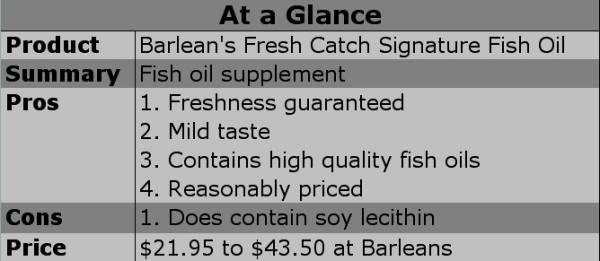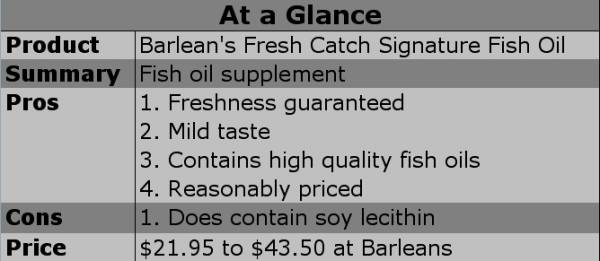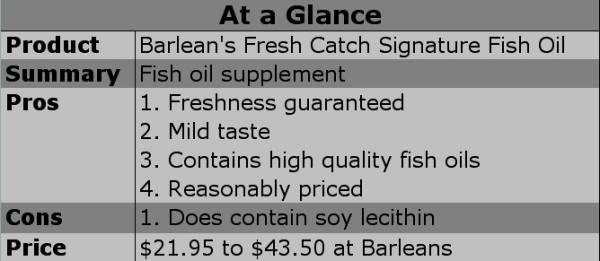 Fish oil is all the rage these days as a supplement. As a coach, it is one of the few supplements I recommend for all my students. I believe fish oil is genuinely good for you and worth taking for its anti-inflammatory properties. Inflammation is at the source of many of the illnesses from which people suffer and the omega-3 fatty acids contained in fish oil, DHA and EPA, are known to reduce inflammation. In addition there have been reports of fish oil helping with everything from depression, to Parkinson's and Alzheimer's, to high blood pressure. But, all that being said, there are a lot of different fish oils on the market making a lot of claims. Which oils are the quality ones? And which ones are palatable?
One product I recently tested out and recommend is Barlean's Fresh Catch Signature Fish Oil. Barlean's fish oil is made from anchovy, sardine and mackerel, and also contains citrus flavoring as well as a few other ingredients to guarantee freshness. Barlean's is not the absolute purest of fish oils on the market in that it does contain soy lecithin, but all the other ingredients can be found in other high quality fish oils.
Additionally, Barlean's guarantees the freshness of its product through a "five layer oxidation protection system" behind the design of their bottles. This system keeps light, heat and oxygen away from the product. Preventing oxidation keeps the fish oil fresher and more nutritious for longer. On a practical level, Barlean's Fresh Catch Signature Fish Oil is not fishy tasting. I am very picky and have tried a lot of different fish oils. Many fish oils leave a horrible aftertaste and have very artificial flavors. Barlean's is lightly flavored with orange and leaves little to no aftertaste. If you were to put this oil in a smoothie, or even toss it on a salad, you would not notice its presence. For me, Barlean's has such a light flavor, that I take it straight by the spoonful without mixing it with anything else.
Barlean's fish oil comes in either 8oz ($21.95) or 16oz bottles ($43.50), with a recommended serving size of 1 teaspoon at each meal. Each teaspoon contains 850mg of EPA and 550mg of DHA.