We receive free products and receive commissions through our links. See
disclosures page
.


Topical pain relievers are fairly common in athletics, yet it seems that often there is little innovation or care put into their production. I recently checked out Battle Balm, a topical analgesic (painkiller), that does much more than your typical product. When it comes to quality ingredients and variety of applications, Battle Balm leaves its competitors in the dust.
Battle Balm is a topical analgesic and aid for the joints, with anti-inflammatory properties. The product was formulated for martial artists. In fact, Battle Balm states that the care and attention that goes into the martial arts is a tradition that has influenced the creation of their own product. All of its ingredients are natural, organic, and of the highest quality.
Battle Balm can also function as an antimicrobial and contains ingredients that work against bacteria, viruses, and fungi. Many of the ingredients are thought to promote healing as well. The balm might also be effective on burns, small wounds, sprains, spasms, skin disorders (like eczema), bruises – basically any condition that may benefit from less swelling and more blood flow.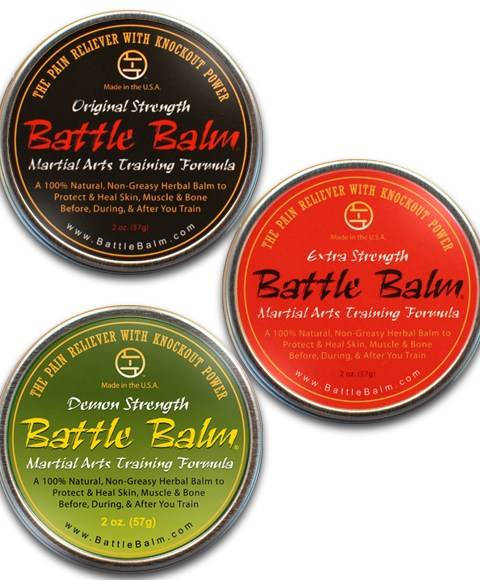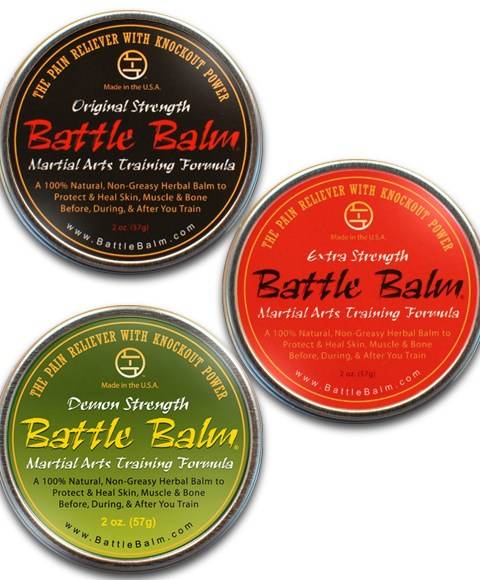 As far as the analgesic function of Battle Balm goes, I tested it on the pollicis muscles of the thumb. These make up the meaty muscles of the palm of your hand that control the thumb. These muscles suffer chronic soreness in many people, myself included. I used the Demon Strength Battle Balm on these muscles over the course of several days, let it soak in, and followed up with deep but brief myofascial release. Demon Strength is the strongest formula Battle Balm offers, but I also tried the Extra Strength version, which was a little milder.
After a week I did not notice a difference in pain. However, it should be noted that I am historically a non-responder to mild topical analgesics like arnica (one of the ingredients in Battle balm). That said, I know a lot of people who swear by arnica and herbs like it for management of athletic pain, and it is certainly healthier than an NSAID or other similar drug.
Battle Balm has some additional uses that shouldn't be overlooked. For example, I write this review in the midst of a cold winter in the northeast United States, and I have a stuffy nose. Battle Balm works for me as a decongestant. When testing the balm on my thumb, I took a deep breath and it cleared up my nose. Further, the mint components of the balm have an ergogenic effect, meaning they can boost performance when used as aromatherapy. Not only that, but I used Battle Balm while writing and it helped me to remain focused and alert.
Although I did not get much pain relief from Battle Balm, it was effective for me in its other applications. If you are someone who has had success with topical herbal pain relief in the past or if you are interested in the balm's other uses, Battle Balm is a well made product strong enough for the most active athletes and martial artists. If you're not sure how effective topical analgesics are for you, Battle Balm's high-potency and high-quality ingredients at a fair price are worth a shot.
Battle Balm is available for $8.95 for Extra Strength and 9.95 for Demon Strength at BattleBalm.com.