We receive free products and receive commissions through our links. See
disclosures page
.
There are a lot of protein bars, snack bars, and meal replacements on the market. You might be thinking, "Why do I need to read about another bar?" Well, regardless of whether you think you need the product, CORE Foods is a unique and interesting company on a clear mission.

CORE is a certified "B Corporation" committed to social change. They are a not-for-profit company, pay living wages to all their employees, cap salaries at the industry average and offset all carbon use. CORE products are also 100% made in the United States.
In regards to the product, CORE is committed to solving a problem many of us face. How do we eat in a healthy manner, quickly and easily? To answer this question, founder Corey Rennell examined the diets of apes, 99.4% genetically similar to humans, and looked at the eating habits of numerous traditional cultures.
Through their study of the history of food production, the effects modern food has had on traditional peoples, and the emergence of modern diseases and obesity, CORE developed two dietary theories on which they base their foods – Warrior Nutrition and Defender Nutrition.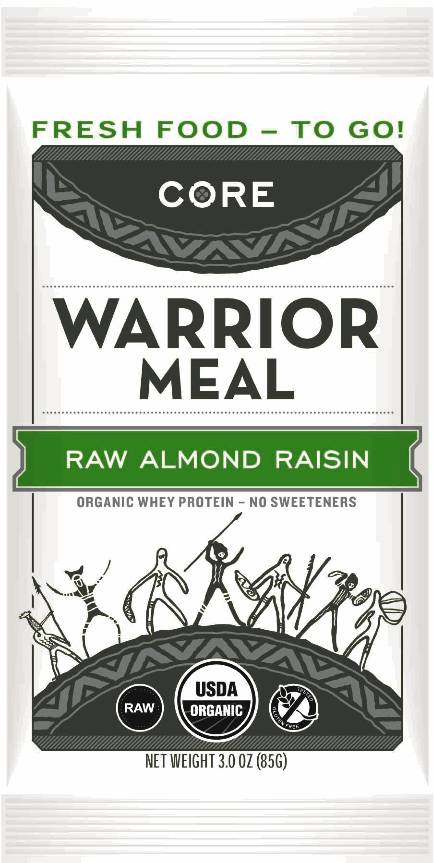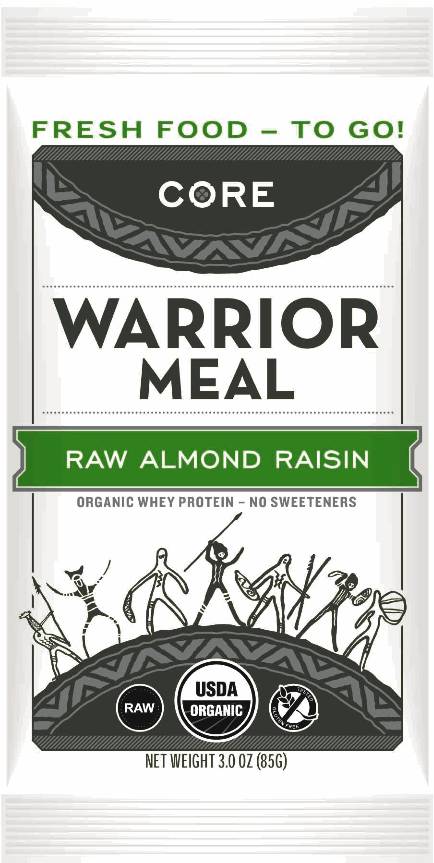 Warrior Nutrition – According to CORE Warrior Nutrition is about the balance of proteins, carbohydrates and healthy fats. Warrior Nutrition is for people concerned with athletic performance and who require animal based protein, but desire to eliminate processed foods from their diets.
Defender Nutrition – This second model is based on the idea of boosting the immune system and that modern Western diseases are the result of bad nutrition. As opposed to the Warrior Nutrition, Defender is less concerned with proportions of macronutrients and more concerned with using whole foods and following veganism.
The Warrior Meal bar is comprised of 5 different raw complex carbs and healthy fats along with 18 grams of certified organic whey protein. The Defender Meal consists of 5 organic plants containing high fiber, all 13 amino acids and the essential fatty acids. Neither meal has sweeteners, flours or oils. Both come in three flavors: Raw Almond Raisin, Raw Cashew Cacao and Raw Walnut Banana.
CORE is the only large-scale producer of a fully fresh bar. Core Meals use only organic whole foods and contain no chemical, preservatives, flavors or dyes. They use no sweeteners or flours. The meal bar is predominantly raw and the downside of this is, your bar will eventually spoil. Frozen, they will last 6 months, otherwise they are good for a week.
Unlike some raw bars, the CORE meals are flavorful and have a pleasant texture. They do not adhere all that well, however, so be careful if you are actually trying to eat it on the move. They are not heavy or have any sort of aftertaste due to the freshness of the ingredients and they have just enough natural sweetness to make them pleasant, but not artificial tasting.
In keeping with their social mission, the CORE website offers an abundance of resources related to health and fitness, from grocery shopping lists to advice on footwear. It is clear that CORE truly believes in their mission on all fronts.
CORE Meal Bars are available for $14.99 and up at CoreFoods.com.