We receive free products and receive commissions through our links. See
disclosures page
.


In an interview with Robin Black of 5 Rounds, former Affliction executive Tom Atencio explained that in his new role at Grips Athletics in North America his goal is to develop a line of products that will suit any activity. "I want to build an athletic brand now. I don't want a fight brand, I don't want an MMA brand or a jiu jitsu brand. I want an athletic brand that crosses borders. That a guy that trains, that does CrossFit or a guy that runs or whatever it may be will wear the product because it's a lifestyle."
Still, Grips does offer jiu jitsu gis and they have received nothing but rave reviews. In addition to gis, they've developed rashguards, shorts, jackets, spats, and duffels. The Amazona is Grips Athletics first women's gi. I was sent size F1 for review.
Features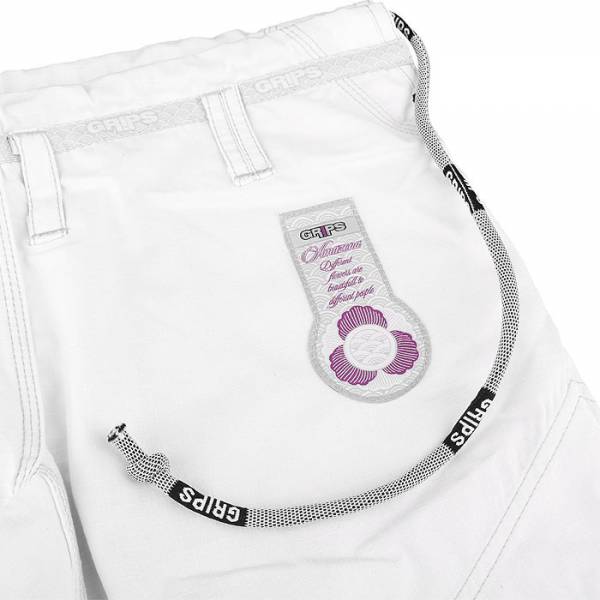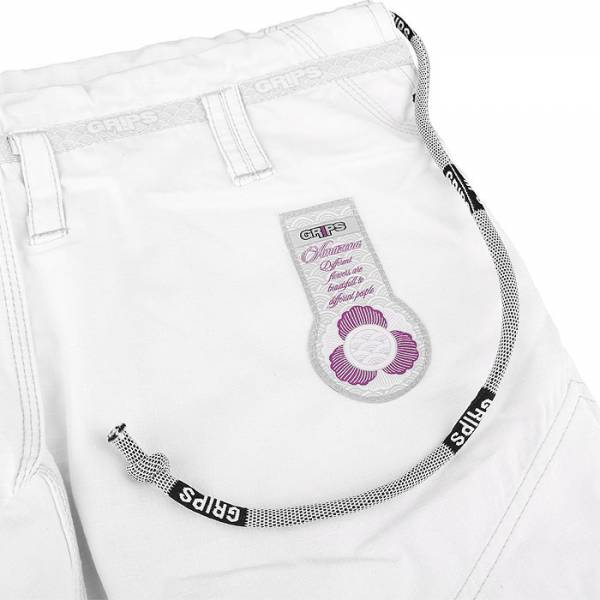 100% Pearl weave cotton Jacket
Tailored fit
Knees, shoulders, and gusset are lined on the inside of the gi with COOLMAX (50% COOLMAX/50% polyester) technology for comfort and breathability
Ripstop 60% polyester/45% cotton pants
Bungee cord drawstring
Six belt loops
Antimicrobial, anti-odor treatment
Pre-shrunk
Reinforced skirt, armpits, and pant waist
Silver contrast stitching
High-quality custom embroidery on shoulders, pant leg, and lapel
Small, feminine patches on jacket and pants
Made in China
Quality and Style
My first impression when I opened the Amazona was that I had just received something special. The gi came in a zippered, custom-designed Amazona gi bag with beautiful illustrations and featuring the phrases "Have a nice fight" and "Different flowers are beautiful to different people." The gi itself is made of soft, light material. It feels a little softer and smoother than my other gis. The material feels as though it is a higher quality than a typical pearl weave or rip stop. While the jacket is 100% cotton, the pants are 60% polyester and 40% cotton. The lapel, armpit, and skirt reinforcements are covered in ripstop material.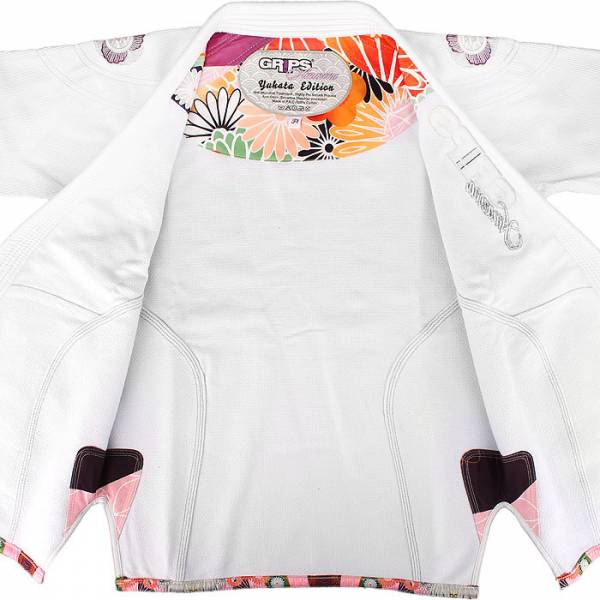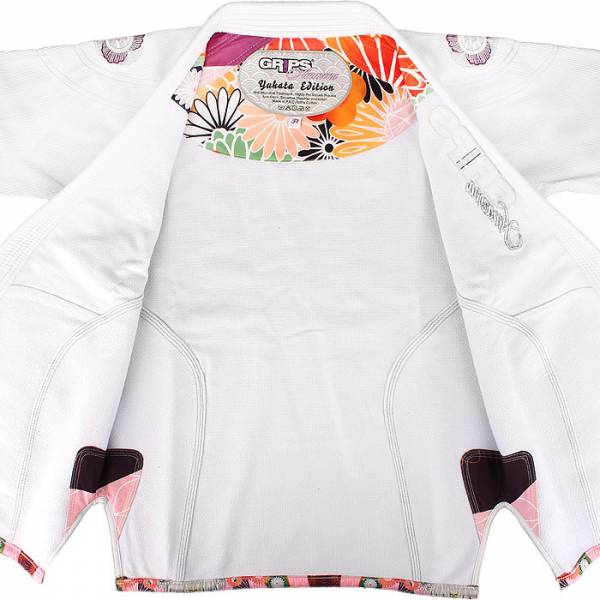 The attention to detail is unmatched. The silky, smooth, flower-patterned Coolmax lining at the upper back and shoulders prevents chafing for those who wear tank tops or sports bras under the gi. This lining is repeated at the gusset and at the reinforced pant waist and skirt. The embroidery and patches are also flower-themed, with embroidered flowers at each shoulder and a small patch at the hip and back that say, "Amazona: Different flowers are beautiful to different people" I love that. Silver contrast stitching throughout the gi ties in with the purple and silver embroidery. A custom Grips bungee cord drawstring secures the pants. I found the cord to be a little too short and so I typically tie it in a simple knot, rather than a bow.
Silver Grips seam tape is on the inner pants and sleeve cuffs, around the waist, and along the outer jacket hem. The inner hem features the flowered Coolmax material, which brings the interior of the jacket together, although no one really sees the interior but you. Grips Athletics has designed this gi to make the person wearing it look and feel like a million bucks.
I've worn and washed this gi at least ten times and it has shown a small amount of pilling on the jacket and around the patches. I also noticed that a small area on one of the seams had loosened, but because all seams are triple-stitched, the area is contained and has not caused any issues.
Fit and Comfort
I can't think of anything to say about this gi in regards to comfort, which is a good thing. It's better to not notice your gi while you're rolling than to be aware of features that could use tweaking. The Amazona is light, breathable, and a pleasure to roll in. The pants are a slim fit, but non-restrictive in any position. Both the jacket and pants fit perfectly and the shrinkage was nearly non-existent. I forgot to measure the gi when I opened it and only remembered after the first wash and dry.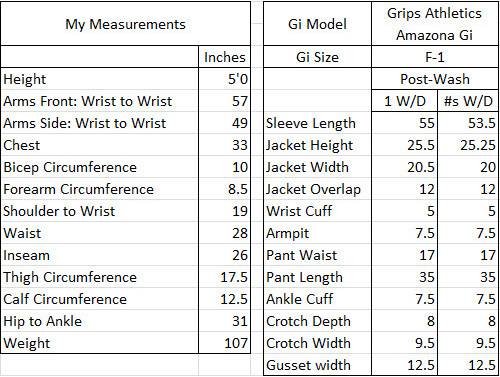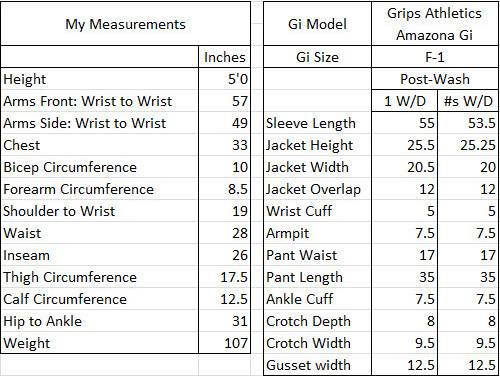 Initially I found the jacket to be a little uncomfortable when I was sitting on the mats. The taping on both the inner and outer hem gave it a thick edge and it dug into my skin a little when I sat on it. Over time it softened, however, and now I don't notice it at all. Because the seam tape is so silky smooth, I did not have any issues with scratching or chafing at my wrists or ankles.
The only thing I would have changed about this gi is to have the knee reinforcement area extend to the hem of the pants. The only place I've ever seen a gi rip is at the seam under the knees and this extension would prevent that. Still, none of my pants have ever ripped so I don't see it being an issue.
Customer Service
I was sent the gi for review, so I didn't experience typical customer service. Grips Athletics products are available for purchase at several online retailers, including BJJ Warehouse, MMA Outlet, Budo Videos, Martial Arts Supplies, Roll More, and BJJ Sports. I have had very good customer service from both Martial Arts Supplies and BJJ Sports but I haven't ordered from the other sites.
Grips Athletics is consistently producing amazing new products for their line, so be sure to follow them on Facebook, Twitter and Google+. Typically I prefer blue or black gis, but if you're looking to treat yourself to a high-quality, white, off-the-rack gi, this is the one I would recommend.
The Grips Athletics Amazona is currently available for $179.00 at MMA Outlet.