We receive free products and receive commissions through our links. See
disclosures page
.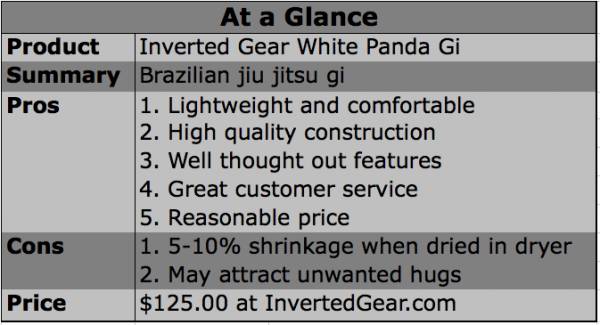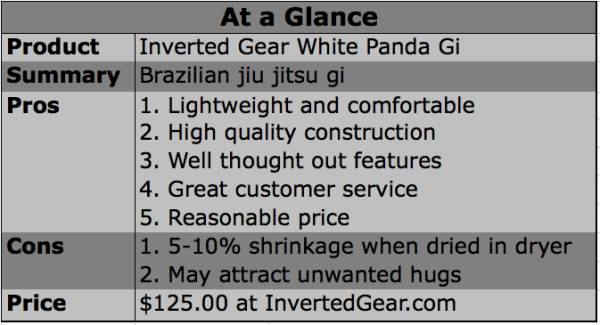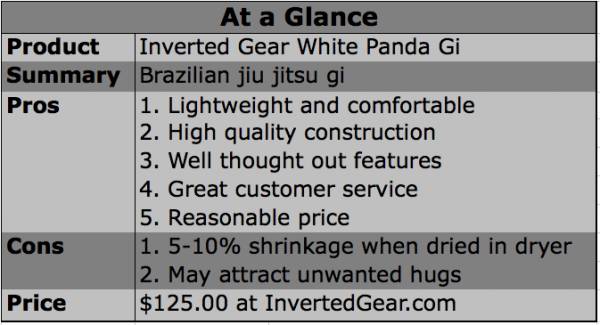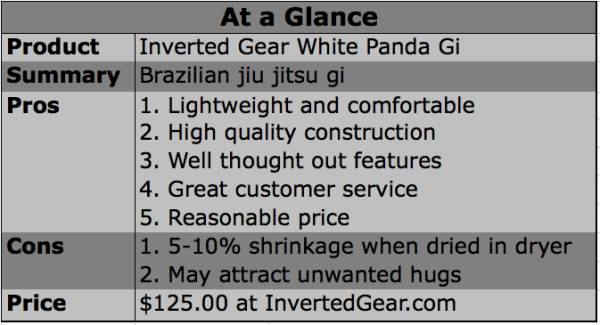 In February 2012, BJJ gis got a lot more adorable with the debut of the Inverted Gear gi. The custom-embroidered pandas on each sleeve are not for "tough guys," but it may be time to clear out some space in the closet for those of us who are over the whole Affliction thing.
Features
Jacket:
550 gram Pearl Weave Light Weight jacket
Custom inverted panda jacket edge and inside sleeve cuff taping
Custom embroidered panda logos at each shoulder
Small patch on lower left lapel
Heat safe lapel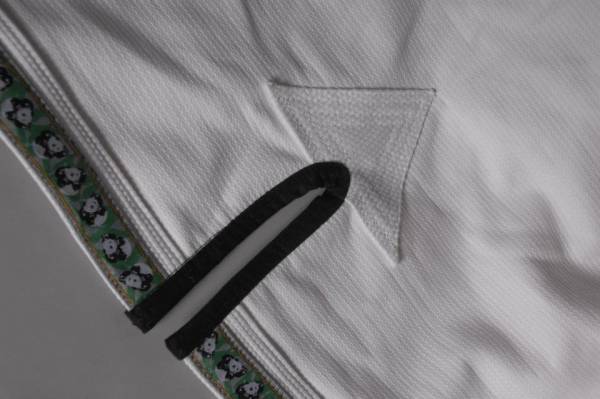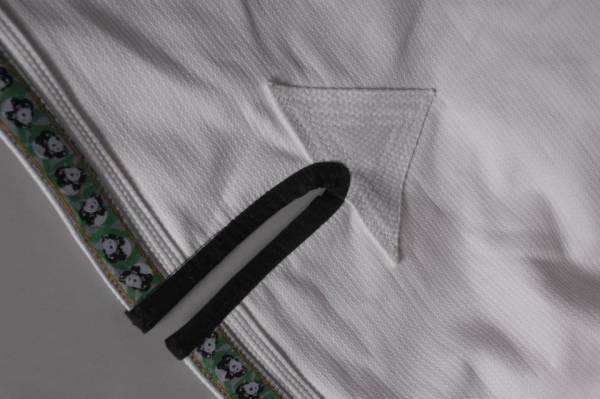 Pants:
12oz Rip-Stop Weave fabric
8 belt loop system including two extra-wide loops
Stretchy rope drawstring
Extra room in pants for comfort mobility
Reinforcement at the seam split at the waist
Mouth piece/ID pocket in pants.
Double-layer knee reinforcements from thigh to shin
Tailored cuffs reinforced with rows of stitching and inverted panda inner taping
Small patch on the right hip
Also:
Extra-large custom gi bag with a rip stop front and pearl weave back
Sizing
Since I began training Brazilian jiu jitsu four and a half years ago, I've bought a lot of gis. I've tried Atama, Shoy-roll, Koral, Tatami and many more, but for the first time, I found a gi that fit very well right out of the bag.
Anyone who has shopped for gis knows sizing can be tricky and if you don't fit into certain size brackets, it's very difficult to find a gi that fits properly. Online purchasing prevents the customer from being able to try the gi before buying and when the shrinkage issue is factored in, it makes for a lot of guesswork.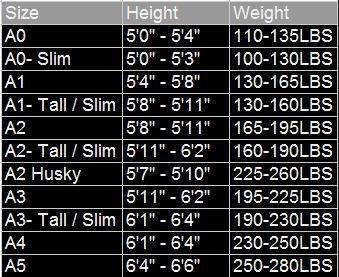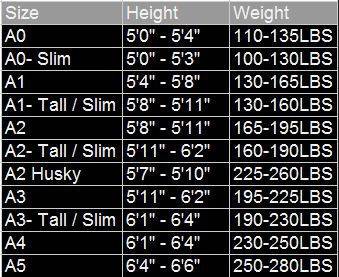 Inverted Gear has tried to solve the size problem by offering gis for all shapes and sizes.
Starting at A0, there are variations for average, slim, or husky people. When the first size chart with variations was released, I was very excited because size A0 Slim was offered. I'm 5'0 and about 110lbs
I've bought a lot of size A0 gis and was disappointed when they arrived and they didn't shrink down enough. I had to either sell the gi at a loss or have it tailored. When I contacted Inverted Gear about the new sizes, Nelson told me the A0 Slim might be a little big for me, but asked if I'd be interested in the A00 prototype. I was.
See the table below for my measurements and the pre and post-wash measurements of the Inverted Gear A00 prototype: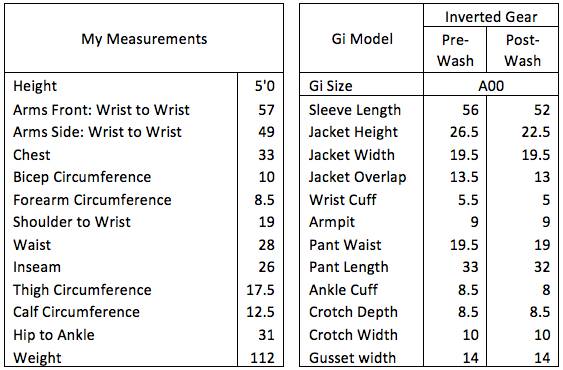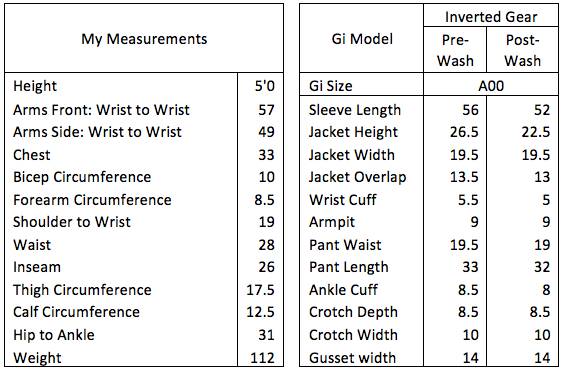 Check out the video below to see how it fit. I shrunk it a little too much, so it's possible the size A0Slim is the best option for someone of my proportions if she doesn't want to worry about throwing it into the dryer.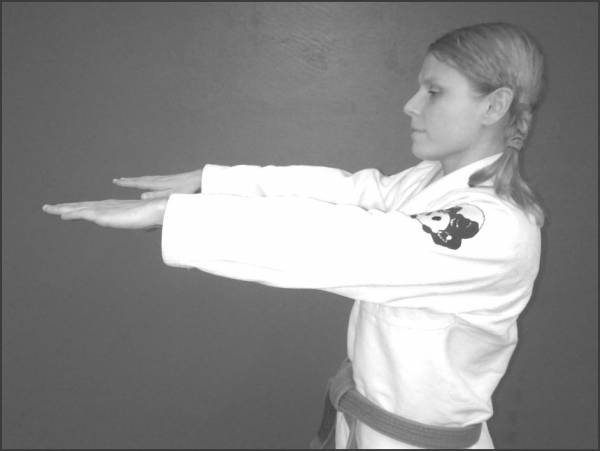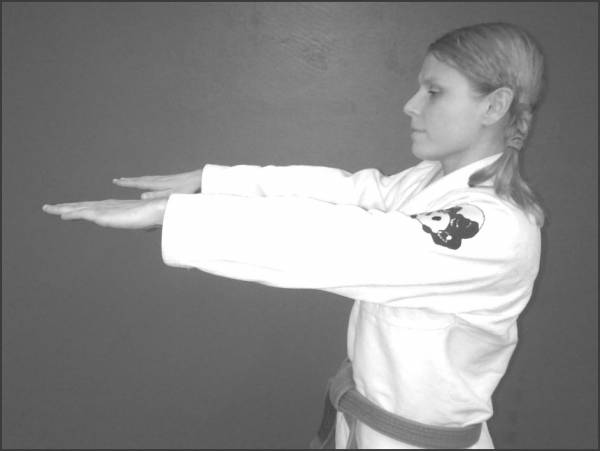 After doing my review, I wore the White Panda to class and noticed that as I warmed up, the sleeves stretched out to the proper length, as you can see in these photos. It's something to keep in mind if you shrink your gi to fit.
Style and Quality
The first time I saw the panda logos I thought they were a little ridiculous. They grew on me, though, and now I have to say that the Inverted Gear gi is my favorite gi.
I love the pandas, I love the cut, and I love the little pandas on the inside of my sleeves. In a recent newsletter, Inverted Gear explained the pandas:
Having the panda in an inverted position shows technique which, combined with the unassuming cuddly cute animal, represents most BJJ practitioners. Seriously, once you've started jiu jitsu your cuddling skills increase, no? And in reality, how many people in the sport look like they would be able to win a street brawl? Probably not many since the gentle art doesn't require bulging quads and biceps that look like tumors. But if push comes to shove, these people can defend themselves well. Just like the panda.
I'm not sure if my cuddling skills have increased since I started BJJ since we're discouraged from making eye contact but I certainly feel that I'm tougher than I look because of it, just like the adorable inverted panda.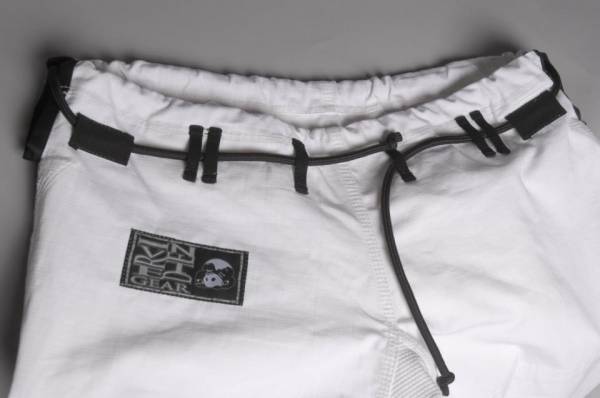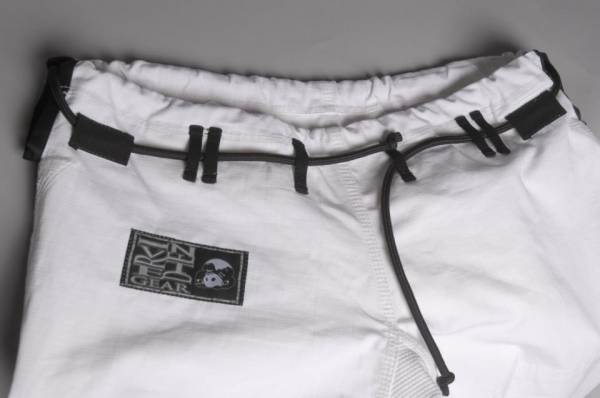 The attention to detail in the construction of this gi is what really sells it, though. The eight-loop belt system on the pants includes two extra wide loops with three regular-sized loops to ensure the stretchy rope drawstring stays in place while you roll. And the drawstring seldom has to be retied. The pants also feature a reinforced section in the rear, which increases modesty and durability.
The jacket is reinforced in all of the traditional areas with solid stitching throughout. I've rolled in this gi for over a month, washing it numerous times, and there is not a loose thread or frayed seam to be found. The design is minimalist but because of the unique logo, it attracts attention.
Comfort
The Inverted Gear gi is my most comfortable gi. I'm not aware of it at all when I roll in it, which is always my priority when choosing a gi, and although the jacket does look a little short now that I've shrunk it too much, I don't notice it at all when I roll.
That being said, I'll be more careful when I buy the Blue Panda gi to ensure I keep it at its ideal size. The jacket is lightweight and the rip stop pants do not get stiff and uncomfortable like other brands. Overall, this is the most comfortable gi I own.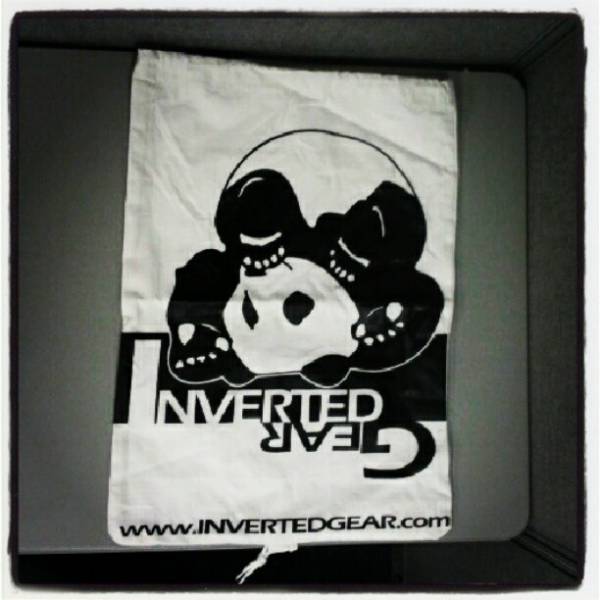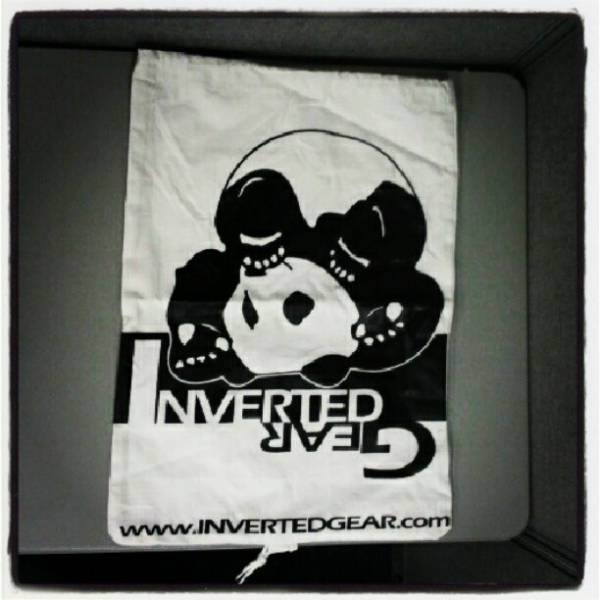 Price
At $125, the White Panda is very reasonably priced, especially considering the quality of the gi and the epic gi bag that comes with it.
Customer Service
Nelson at Inverted Gear was very patient in helping me find a size and responded to my questions in a fast and friendly manner.
Inverted Gear is doing everything right and I had a very hard time finding anything to add to the "Con" column. The White Panda is an eye-catching, quality gi at a price that can't be beat. Sign up for their newsletter to keep updated on discounts, promotions and product news.
The Inverted Gear White Panda Gi is available at InvertedGear.com for $125.00.