We receive free products and receive commissions through our links. See
disclosures page
.




Jaco Clothing's Women's Performance Training Top is a very soft and stylish rashguard. Indeed, the product description states, "This Loose Compression Rashguard's ultra-breathable Bamboo/Spandex blend provides a cashmere-like feel and comfortable formed fit that protects the skin during grappling and rolling."
Features
Body: 95% rayon from bamboo, 5% spandex construction
Panel: 87% polyester, 13% spandex
4-way stretch and ergonomic cut ensures an athletic contoured fit that forms to the body without limiting movement
Strategically placed mesh panel designed to regulate body temperature
Contrast princess paneling for an athletic feminine shape
Flat-lock stitching for long-lasting durability
Note that the body is constructed with 95% rayon from bamboo, not bamboo. When I purchased the top, I thought bamboo was a unique, environmentally-friendly fabric component and that was the reason it was so soft, but since then I've discovered something much different. In his February 3, 2010 article, Bamboo-zled: FTC Says Retailers Fibbed About Bamboo Product Claims, Mitch Lipka shared:
"Using the term bamboo may appeal to many eco-conscious consumers," James Kohm, the FTC's Enforcement Division director told WalletPop. "These consumers, however, may be concerned about products made from bamboo that involve significant chemical processing, such as rayon. We want to make sure that consumers are not misled."

Rayon is made from plants and trees, bamboo included, but it must go through a chemically-intensive process that results in a considerable amount of pollution – a fact that runs contrary to the environmentally-friendly claims of bamboo clothing.

Clothing made using bamboo fibers is not of the same silky smooth consistency as those made with rayon, the FTC said. Once bamboo or any other tree is turned into rayon, it is misleading to claim it is anything other than rayon because of the chemical bath used to convert the material from a natural product into rayon. It can be called "rayon made from bamboo," which isn't misleading as long as you understand there's nothing environmentally friendly about rayon.
A CBC News article Bamboo Textiles No More 'Natural' Than Rayon reported similar findings:
"The Ottawa-based Canadian Apparel Federation agrees the description of bamboo as a natural fibre was somewhat misleading and has worked closely with the bureau on educating manufacturers and retailers about the new labelling requirements.

"Cottons or wools have been cleaned and carded, but they haven't been transformed," the federation's executive director, Bob Kirke, said in an interview. "Man-made fibres are different – things like polyester. Labels don't say petroleum; they say polyester, because there's a specific way of labelling them. You don't say oak or beech, or birch [on a label], but there are specific types of rayon that are made from beech."
The rayon from bamboo used in this rashguard is not likely to contain the antimicrobial properties of the bamboo plant, nor is it biodegradable or "green" in any way. It's just very, very soft. It reminds me of t-shirt sheets.
Performance
I only rolled in the Women's Performance Training Top a few times. It feels like heaven against the skin when it's dry, but when it gets wet it becomes heavy and stretches out more than I'd like. I was afraid someone would get their fingers or toes caught in the fabric and get injured. For rolling I prefer a fabric that maintains its shape and stays close to the body.
I did wear the top in a couple of videos because I love the look of it. You can see it in action in this technique video where Renzo Gracie black belt Peter Martell demonstrates the triangle:
Since then, I've only worn this rashguard as loungewear and pajamas. As active wear I feel it would be ideal for yoga, walking, or anything that wouldn't cause it to become saturated in sweat.
Durability
The Performance Training Top has kept its shape very well since I bought it over a year ago. The seams didn't unravel or split at any point but there are a lot of little pulls in the mesh panel on the back. Also, although the fabric hasn't quite pilled yet, I can feel little fuzzies developing all over the rashguard, and the Jaco logo at the front hemline is cracked and beginning to peel, as is the inner label.
Measurements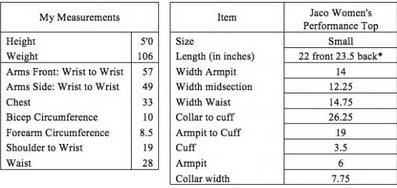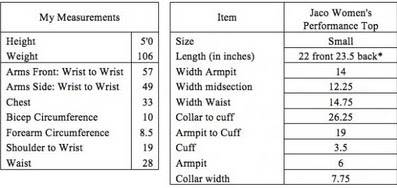 *Although the front and the back are different lengths, they sit at the same place at the hips due to the cut of the rashguard.
Jaco is on the right track regarding the overall style of the Women's Performance Training Top. I feel it would be perfect if they had chosen a fabric similar to the surf-style rashguards like 93 Brand Jiu Jitsu's Mandrill 2.0 (review coming soon).
I am glad to have the Jaco Women's Performance Top for activities such as yoga and walking outdoors. I enjoy wearing the fun, flashy gear in the privacy of my club but I prefer plainer styles when I train among the general population.
The Jaco Women's Performance Training Top is available for $39.99 at JacoClothing.com.