We receive free products and receive commissions through our links. See
disclosures page
.


If you have read one of my previous articles on goggles you will know that I am a big fan of the Swedish style goggles. While they are probably still my all time favorite, my goggle world got seriously shaken up by the Kiefer Precision Optical Racer Swim Goggles.
When I first heard of these, I thought they would just be another pair of goggles I would never use. I have worn prescription glasses since I was twelve, and while early on I wasn't too dependent on my glasses to see, nowadays I am blind as a bat without them. Growing up I would just swim with my regular goggles and not worry too much about it. These days if I wear any of my regular goggles it means I am either struggling to see or constantly worrying about my contacts. The number of contacts that have torn or become lost while I was swimming is a lot more than I would like to admit. The thought of have a prescription goggle was always a wonderful thought, but one I never imagined would actually materialize in a clean, comfortable, and affordable product.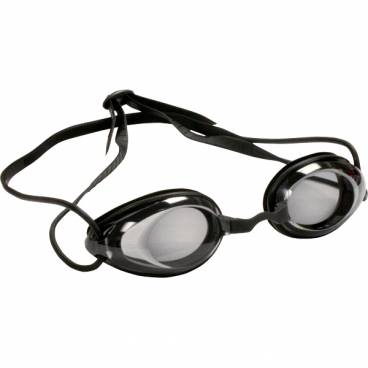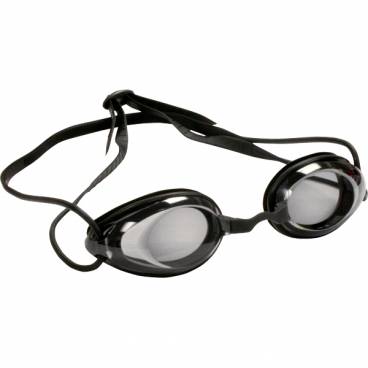 When I first put on the Kiefer goggles, the first thought in my head was, "Wow, I can see clearly!" Usually when I wear contacts the pressure of the goggle cup on the eye makes the contact not only feel funny, but you also don't see as well as with glasses. But I wasn't converted so easily. Still in disbelief, I got into the water and tried to find every excuse why I wouldn't like these goggles better than the ones I have been using for over ten years. While initially there was some leakage in one eye socket, it was quickly fixed after a few adjustments of the strap, as well as a change of nose piece (the goggles come with several nose pieces to suit different anatomies).
The straps are probably my least favorite feature on this goggle. I found it very hard to hold the strap in the desired position, making wearing the goggles tight (my personal preference) very challenging. I got around it by placing the goggle straps under my cap, and it has only occasionally become a problem since.
These goggles are all silicone with anti-fog lenses, a huge plus for people with latex allergies like myself. I have used these goggles for about six months (even though I don't swim as often or as long as I used to) with no issues to the gaskets or fogging of the lenses, which indicate the durability of the product is well above average. The lenses are available in clear and smoke, and in multiple diopters that are calculated based on your prescription spherical and cylindrical measurements.
While I have yet to compete in these goggles, they seem the perfect tool for competition, allowing the swimmer to have clear view of the pool and surroundings with little stress from annoying contact lenses.
Kiefer Precision Optical Racer Swim Goggles are available for $9.97 at Kiefer.com.