We receive free products and receive commissions through our links. See
disclosures page
.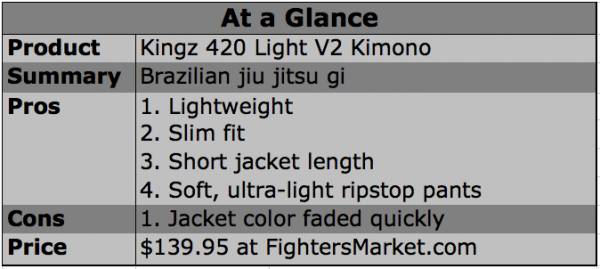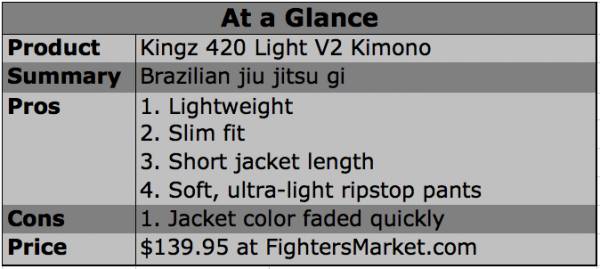 Men definitely outnumber women in Brazilian jiu jitsu and most gear companies cater to men's specifications. Marmac Athletics jiu jitsu instructor and Renzo Gracie Purple Belt Scott Nauss is able to try a lot of gear that isn't available in a size for me. Fortunately, he has agreed to help me review some of those products and the first one we will look at is the Kingz 420 Light V2 BJJ gi.
Jacket Features:
420-gram pearl weave jacket
Ripstop lapel
Pearl weave chest reinforcements
Kingz patches at each shoulder and lapel
Small embroidered Kingz crown logo at the back
Triple reinforced stitching at all stress points
Logo trim at jacket bottom and cuffs
Synthetic heat resistant lapel insert – a single piece of vulcanized rubber inside the collar that keeps the gi light, dry faster, and keep your lapel fungus and bacteria free
Pants Features:
8-oz ripstop cotton fabric
6 belt loops
Gi pants cuffs are sewn with extra runs of sewing along the horizontal axis for added durability
Ripstop drawstring
Reinforcement at the seam split at the waist
Double-layer knee reinforcements, triple-stitched with overlapped seam
Small embroidered crown logo on bottom right leg
Small patch at the hip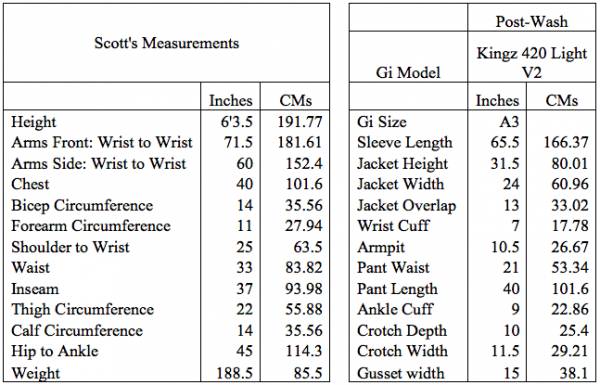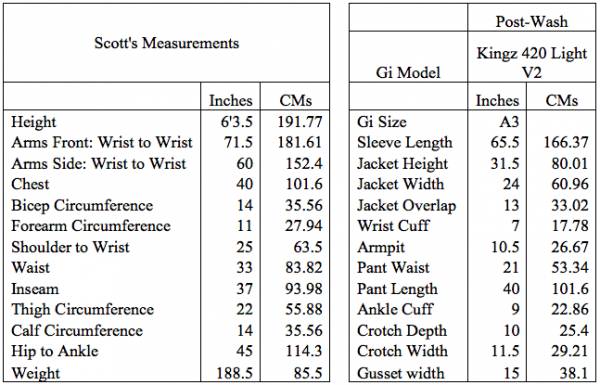 Style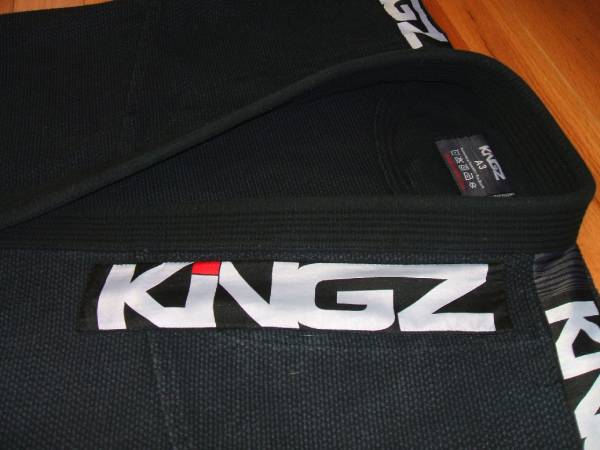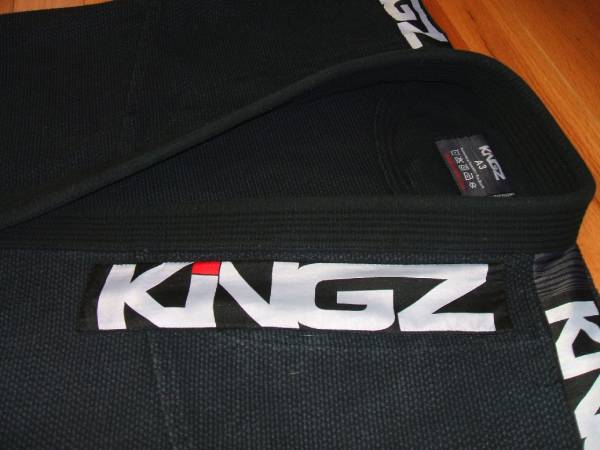 The Kingz 420 Light V2 gi looks like a custom fit gi on just about every person I've seen wearing it. It has a lot of patches and logos, but they blend well into the fabric and therefore the gi doesn't look as though it's blinged-out. I'm not a fan of the purposely-misspelled "Kingz" brand name on the patches but I do like the embroidered crown logo.
Sizing
I've seen a lot of people wearing the new Kingz gis locally as many were given out as prizes at the last two Marmac Athletics Annual BJJ Tournament of Champions. Marmac sells them on site as well and when I train there, the mats are full of Kingz. Scott told me he "likes the option of having the five traditional sizes with additional offerings of short and long for each." He said, "It's a gi for everybody."
Since Marmac had ordered a wholesale lot of the gis, Scott was able to mix and match the top and bottom. He is reviewing the A3 jacket and the A3L pants. He also has the first version of this gi in size A3 for both jacket and pants but found the jacket to be too long. The V1 jacket is 3 inches longer than V2 and the V1 A3 pants were 2 inches shorter than the V2 A3L. The Kingz 420 Light gi is pre-shrunk and after washing cold and hanging to dry, Scott did not notice shrinkage.
Comfort and Quality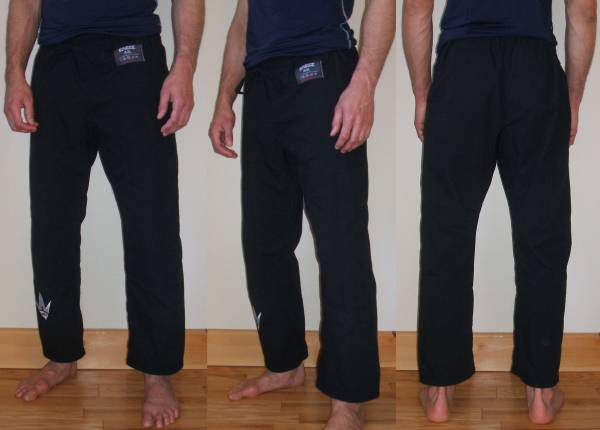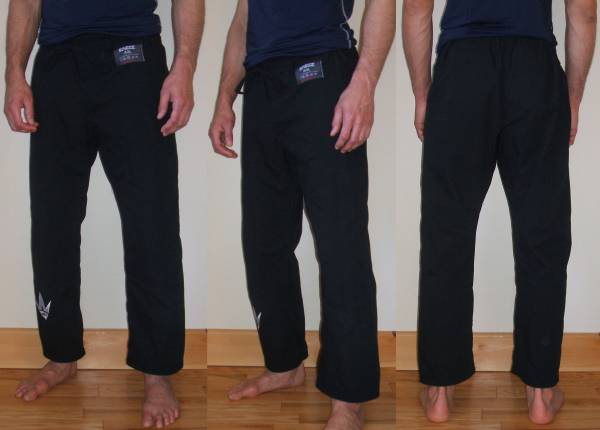 The A3L gi is reported to weigh 3lbs 6oz. They look so well-fitted I thought they would be restrictive, but Scott says they aren't restrictive at all. He feels V2 is a good cut for his structure and likes that there is no excess fabric or bagginess.
During training, the ripstop pants feel soft and do not have that stiff feeling once they get wet. The ripstop drawstring stays tight and rarely has to be retied. The additional belt loops keep the drawstring in place.
Many gi companies design the pants with knee reinforcements that begin at the thigh and end at the ankle, which some people prefer. During rolling, pants with the knee reinforcements just at the knee, like the Kingz 420 Light V2, will ride up on the legs leaving the knee unprotected. Scott doesn't have a preference either way. He wears kneepads under his gi and so he does not rely on the extra layer on the pants to protect his knees. I don't wear kneepads, but I also don't feel the extra length on thigh-to-ankle reinforcements makes a noticeable difference when rolling. The only gi I've ever had with reinforcements thick enough to offer protection is the OSS gi.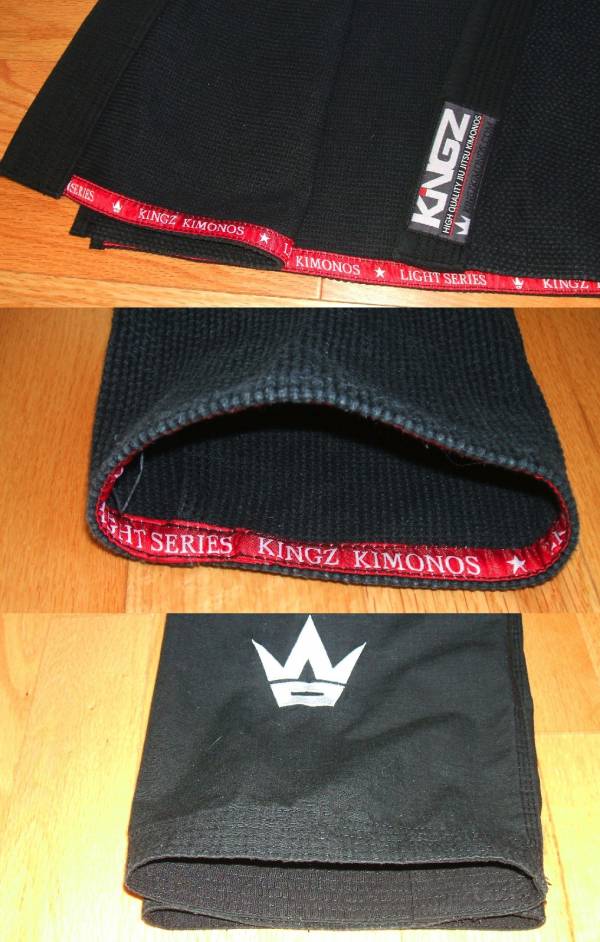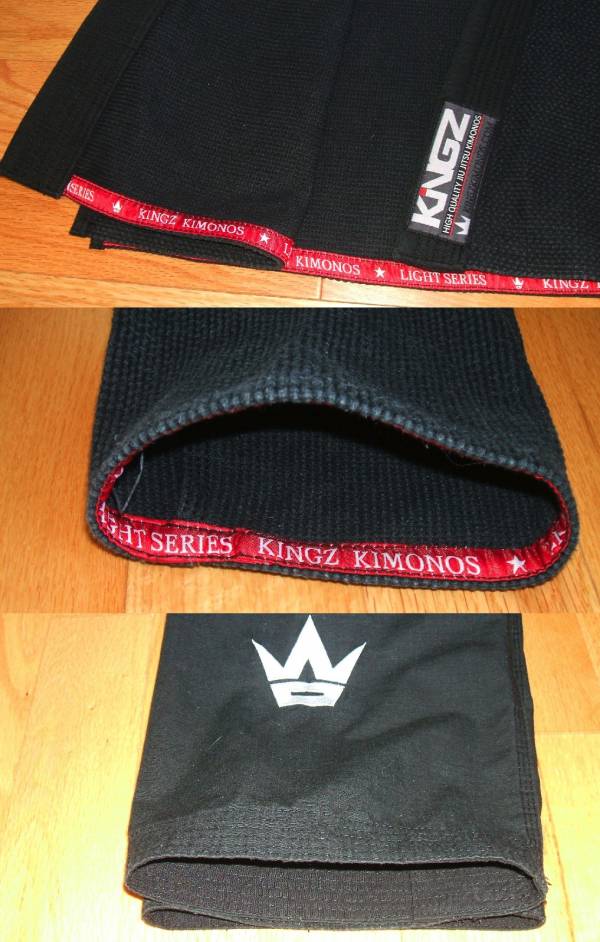 The jacket does not stretch out or become baggier as it gets wet during training. It has an additional layer of reinforcement at the chest, just next to the lapel and the lapel is middle of the road thickness at about ⅜ of an inch. When I asked about the cuff taping, Scott said he hasn't noticed any scratching or irritation at all.
As I took photos of the gi, I noticed that some threads have come loose and the cuffs of the jacket and pants look a little worn. It is recommended that a new gi should be color-locked by soaking it in the washer with one cup of vinegar for twenty minutes before wearing it. Scott didn't do that with this gi and after rolling in it once a week for two months, the color has noticeably faded on the jacket but not the pants.
Customer Service
As I mentioned, Marmac Athletics bought a wholesale lot of the Kings 420 Light V2 gis in a number of different sizes, so Scott was able to try the gi on before he bought it and did not have to worry about shipping. In the past, both Scott and I have made a number of purchases at Fighter's Market and found the shipping prices and time reasonable. For Canadian orders, duties and taxes are calculated and charged at checkout to allow customers to avoid the hassle of paying the mailman at delivery.
I have contacted Fighter's Market for sizing help in the past and found the response time to be very fast and the staff very knowledgeable of their products.
Scott's initial review consisted of about five words: "It's good, I like it." I'm glad he was willing to expand on that and help other guys his size to find gear that fits. Between prizes at tournaments, gifts and products he's bought over the years, he has a lot to share so keep an eye out for more reviews that Scott and I will do together.