We receive free products and receive commissions through our links. See
disclosures page
.


If you are familiar with my reviews, you know that I love jerky, and I make jerky. I think it's a great snack for athletes because it's high in protein and convenient to keep with you, as it travels well. I understand how it's made, what makes it good or bad, and I hold claims of "good jerky" under considerable scrutiny.
All that said, Krave Jerky is pure magic. When eating this stuff I almost forgot I had to write a review about it. I even balked at trying to figure out how they did it because the only thoughts in my mind were that I needed more. It's pretty much that good. Sadly, however, I am a reviewer and I had to (partially) trade pure ecstasy for scrutiny.
Taste-wise I have covered the flavors offered below and I'll let them speak for themselves, but all in all every flavor was amazing. I hated to do it, but I did share some of my Krave Jerky to get a few second opinions, and every single one was favorable.
As far as toughness goes, this is by far the most tender jerky you will ever eat. Some of the meat in some of the flavors literally fell apart at the touch and most were actually wet to the touch as well, practically dripping with flavor. Unreal. This is because of their unique baking process that doesn't dehydrate the meat in the usual way.
Krave's preparation process has advantages and disadvantages. It allows for less salt to be used, which not only makes the product healthier, but also more moist. The trade-off is that it doesn't last as long once opened as other jerky products do. The company recommends consuming within a week of opening, although it will last a year if unopened. However, I'll be honest, it was a struggle to not eat the entire bag immediately after opening anyway. For the sake of the review, I actually waited several weeks to finish each bag, which is longer than Krave recommends. While it was slightly drier, the jerky hadn't lost a step and tasted just as good.
As far as the ingredients go, this is one of the healthiest jerky options you will find. With a host of natural, low-fat ingredients, the aforementioned low sodium content, no MSG or nitrites, and no gluten, it is rare to find jerky of this quality. Even if it tasted half as good, they'd have still gotten a great review from me, but to combine amazing flavor, unprecedented tenderness, and quality ingredients is a jerky tour de force.
My only gripe, and it's a small one, is that they don't have a sugar-free option. They have a few flavors with only 5g of sugar per serving, which isn't much, but I love my jerky savory and every last one of their flavors has cane syrup as the second ingredient. Again, it's still better than most snacks by leaps and bounds, but worth a mention.
Now on to the flavors. Here we go: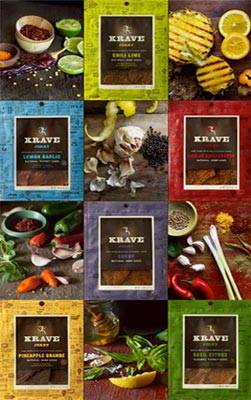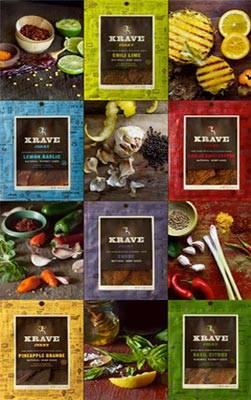 Pineapple Orange Beef: Sweet flavors of dried tropical fruit. Not oppressively sweet, but I personally prefer savory as mentioned, so this flavor, while delicious, wasn't my favorite.
Grilled Sweet Teriyaki Pork: I'm a first timer for pork jerky. This almost translucent pork has perhaps lightest meat flavor out of all of them, which means it is purely a high-protein carrier for their delicious sauces. The sweetness came through on this one, and while it is delicious, the teriyaki flavor isn't particularly strong.
Black Cherry Barbecue Pork: Meatier and with more texture than the other pork jerkies, this is one of Krave's best offerings. A perfect mix of spices and sweetness, most spicy food lovers will find this to be pretty mild, but it might be a kick for those sensitive to spiciness. Everyone, however, will find this delicious. I suppose if it were possible to not like any food at all, you might not enjoy this jerky, but for all of the rest of us this one will have you coming back for more. This is also one of the lowest in sugar and the highest in protein of all of their jerkies.
Sweet Chipotle Beef: This one has the flavor experience kicked up a notch. It is both one of their spicier and also sweeter offerings, and the beef is amongst the softest I've ever had. You can't go wrong with honey and southwestern spices mixed together.
Basil Citrus Turkey: Like the teriyaki pork, this turkey is merely a high-protein, low-fat vessel for a basil flavor, cut by powerful undertones of lemon. Along with the other turkey offering, this variety has the most sugar. Although that's a downside for me, it is still not at all sickly sweet like it could have easily been.
Lemon Garlic Turkey: More turkey taste than the Basil Citrus. A great sweet garlic flavor without oppressive lemonyness.
Chili Lime Beef: A delicious medium-hot chili garlic sauce tphat contrasts perfectly with a refreshing lime taste. The saltiest of their offerings, this is the only one that approaches average jerky saltiness. Most of the other flavors fall much lower on the sodium scale.
Garlic Chili Pepper Beef: This one is also made with the garlic chili sauce from the Chili Lime Beef, but is taken to another level of heat without the lime. Their spiciest offering, this jerky is loaded with flavor. Another of my favorites amongst a strong list of offerings.
So really, all that is left to be said is to take a look at that list. I'll tell you, besides the teriyaki, I found the flavors true to their descriptions. If any of those strike your fancy, you'd be doing yourself a huge favor by checking them out. This is definitely the best jerky I've had.
Krave Jerky is available at Amazon.com.