We receive free products and receive commissions through our links. See
disclosures page
.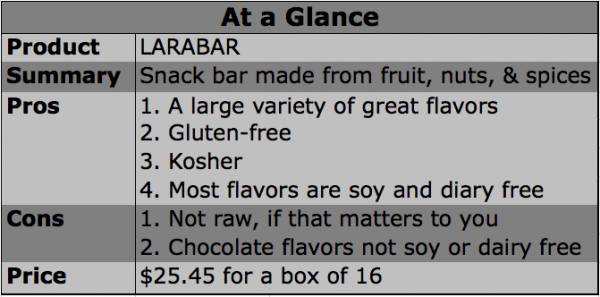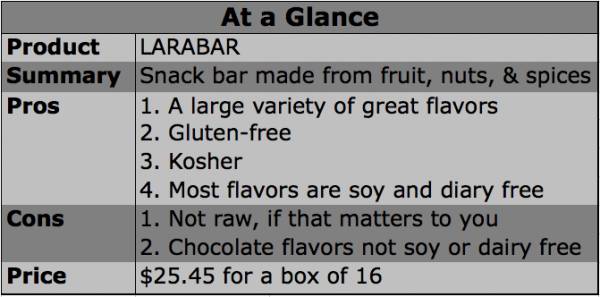 You've probably seen them just about everywhere now. While finding a healthy snack bar used to mean a trip to a special store, these days it seems like LARABARs are popping up everywhere I go – grocery stores, convenience stores, and even gyms. From Lara Merriken's kitchen in 2000 to today, it's been quite a journey for the lasty little LARABAR.
I've been a fan of LARABARs since I first spotted them in Whole Foods years ago. What appealed to me right from the start were the minimal, healthy ingredients. There is no flavor made with more than nine ingredients and the bars are unsweetened. They also contain no coloring or preservatives. The great flavor comes simply from great ingredients.
Recently I was perusing the LARABAR website and noticed some flavors I had not yet tried – Cappuccino and Chocolate Chip Cherry Torte. I decided to give them a try to see how they ranked among my favorites, like Coconut Cream Pie, Cashew Cookie, and Chocolate Chip Cookie Dough.


Cappuccino
I am a recent convert to coffee and coffee-flavored things so I was intrigued by this new flavor. The ingredients are simply dates, almonds, cashews, fair trade certified coffee, and vanilla extract. The coffee flavor is not overwhelming and blends well with the nuttiness of the bar. The vanilla flavor adds a nice warm second layer. All in all, it does indeed have the flavor of a warm, hearty cup of cappuccino.
Chocolate Chip Cherry Torte
I realize it is a bit strange I was excited about this flavor given I am not actually a big fan of either chocolate or cherries, but I find the Cherry Pie flavor of LARABAR so delightful I had a feeling this new flavor would be a good one, as well. It reminded me of the other chocolate chip flavors, but with the cherry adding a nice tartness. I don't think this flavor is unique enough to be one of my favorites, but for bigger fans of chocolate and cherry, it might do the trick.
Other things to know about LARABARs:
All LARABAR flavors are gluten-free and most flavors are also both soy-free and diary-free. Due to possible trace amounts of dairy and/or soy because of shared equipment, LARABAR does not make claims of being vegan, dairy-free, or soy-free in regards to flavors containing chocolate chips.
For those with peanut issues, only the following flavors contain peanuts and all other flavors are made on separate production lines to avoid contamination: Peanut Butter Cookie, Peanut Butter & Jelly, and Peanut Butter Chocolate Chip.
LARABARs are not, however, raw. All nut and cocoa ingredients are steamed or roasted and some also contain pasteurized ingredients.
LARABARs can be purchased online at larabarstore.com for $25.45/box and there is also a store finder available to find a local retailer.