We receive free products and receive commissions through our links. See
disclosures page
.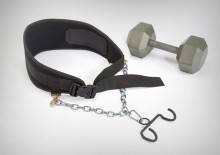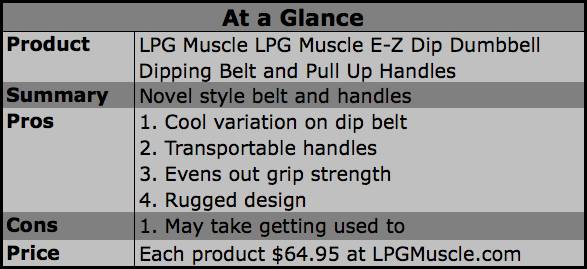 I've been using LPG Muscle products for a few months now, and I have only great things to say about them. Every product I've tried has been rugged, well-designed, innovative, and made in the USA. I reviewed their featured product, Haulin' Hooks, in the past and thought it was a solid product. I have a great grip, though, and I don't often need to use hooks, but when I saw some of the other cool products on their site, I knew I just had to try them.
The two items I received were near and dear to my heart: their unique E-Z Dip Dumbbell Dipping Belt and Pull Up Handles. You see, I love pull ups and dips. I love them so much there was a time in my life when I had no gym membership, but I'd still go to the park every day in zero degree weather just to get my workout in.
I'll start by saying what these products all have in common. Like the Haulin' Hooks, the Dumbbell Dipping Belt and Pull Up Handles are both lightweight, easily transportable, and durable. These items will last you a lifetime, and even if they don't, LPG Muscle will repair or replace them for free. In my book, that alone is worth every penny you pay, but that's not where the coolness of these products ends.
Here's a bit more detail about each individual product:
E-Z Dip Dumbbell Dipping Belt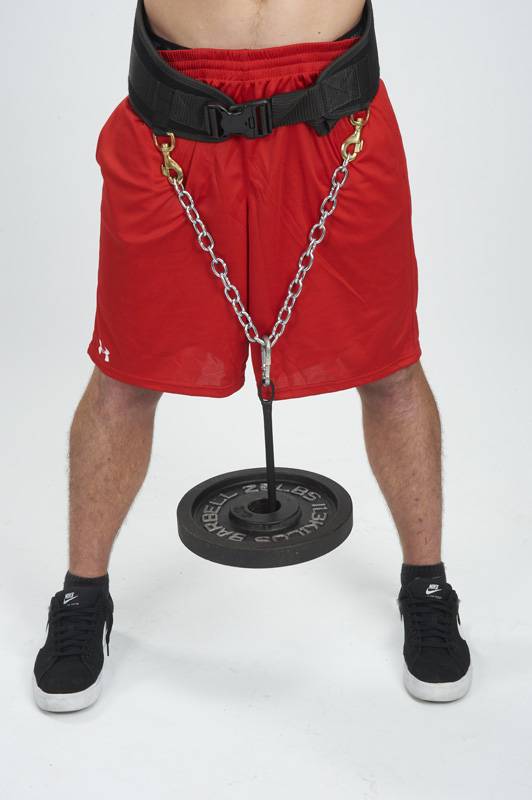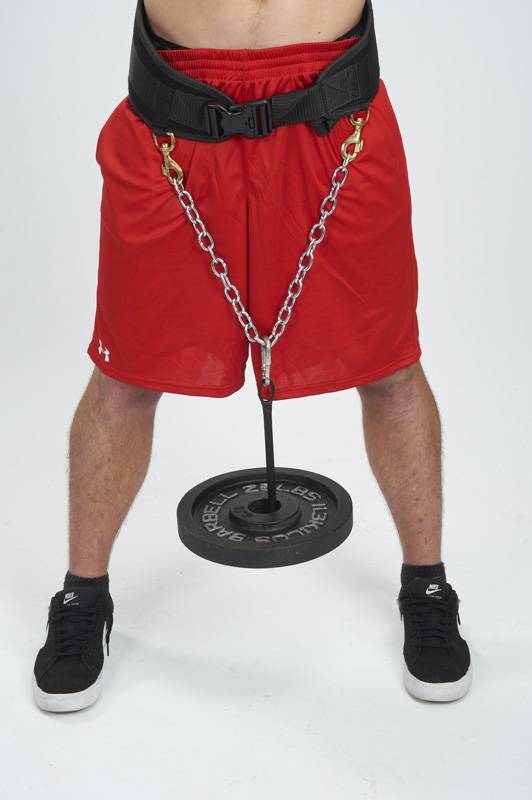 Anyone who uses a dipping belt on a regular basis has probably more or less resigned themselves to the annoyance of swinging plates, precariously perched dumbbells, and a sometimes time-consuming process for loading and unloading. Adding 100lbs to your dips or pull ups is a pain, plain and simple. And if you're like me, you can't tolerate the unbalanced weight when you're using different sized plates, so you sandwich a small plate in between two larger plates or something equally goofy. In the end, the whole setup takes you way too long.
Well, the Dumbbell Dipping Belt is a different design. It has a few simple twists on the classic design that make it infinitely better. First off is the dumbbell hook itself. You can use this belt like the old-fashioned type, with just the chain. Better yet, it also comes with a pair of hooks at the bottom of the chain. All you have to do is set a dumbbell on these hooks and go. No muss, no fuss. When you're done, take it off and keep wearing the belt if you like. Gone are the days of awkwardly taking the belt on and off for every single set.
It gets even better, though. The chain attaches on two ends of the front of the belt instead of in the back. While you can set up some dip belts this way, this belt comes like that, making the chain more comfortable and balanced.
Finally, the width of the belt is not determined by the length of the chain, since it's adjustable. It's unbelievable how nice this makes it. What this means is that you can set the strap to fit you specifically, and then simply use the clip to put the belt on and take it off. It stays the perfect size every time. Amazing.
Pull Up Handles
I personally prefer neutral grip pull ups to other forms, but regardless, I at least want a choice. Many gym set ups or playgrounds only have straight bar options and don't allow for neutral grip – that is, until I got these Pull Up Handles. Now, as long as I have a bar I can do a pull up, a chin up, a neutral grip pull up, and everything in between.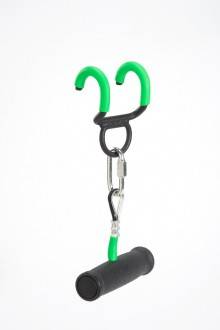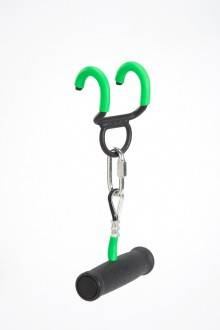 As with every LPG product, the handle design is simple, but highly effective. They are a basic handle connected to two hooks. You slip the hooks on a bar and you are ready to do pull ups. Combine them with the dip belt and you have a great, natural-feeling weighted pull up.
In the cons section above I put that these might take some getting used to. This isn't really a con, to be honest, but it's all I could think of. Normally you'll be gripping these handles with the hooks between your middle and ring fingers. This actually forces more of your grip onto your ring and pinkie fingers, which aren't as strong as the index and middle fingers. Because of this, you may find your grip fatiguing faster than normal. This makes for a better grip workout, but may limit the amount of pull ups you can do. If this is an issue, you can always add the Haulin' Hooks to the mix and eliminate the problem altogether.
Being the imaginative guy I am, I have used these handles for more than just pull ups. I have also used them to good effect on trap bar deadlifts to create a grip-intensive rack pull feel. Also, the sleds I use for sled work have nylon straps with no handles. When using any real amount of weight this pinches my hand and is very annoying. All I have to do is connect these portable handles to the loops and boom, handles on my sled. I'm sure I'll come up with other ways to use them in the future.
So once again, LPG Muscle products come through with some awesome, innovative designs that have enhanced my workouts. Based on the products I've seen, I feel comfortable saying LPG Muscle produces nothing but the best merchandise, and they also back it up with a lifetime warranty and money-back guarantee. These guys don't mess around when it comes to making solid workout gear. I'll be a life-long customer, and in my opinion, they've earned any business you throw their way.
LPG Muscle E-Z Dip Dumbell Dipping Belt is available for $64.95 at LPGMuscle.com.
LPG Muscle Pull Up Handles are available for $64.95 at LPGMuscle.com.