We receive free products and receive commissions through our links. See
disclosures page
.
Mizuno is a name I've known for a long time, but, to be honest, I've never thought of it as a brand for me. I thought you had to be a good runner to wear Mizuno. The name is so synonymous with running it didn't occur to me I could wear Mizuno, too. Lucky for me Mizuno offered a couple pieces of gear for me to try out, and it turns out it's good stuff for a variety of activities.
The folks from Mizuno sent me two items from their spring/summer line – three-quarter length pants and a pair of shorts. According to the Mizuno press release, they've "amped up the focus on style and visual appeal" this season. And I will say, the whole line up of spring and summer clothes comes in some eye-catching colors you don't normally see in women's fitness gear outside of lululemon.
Exodus ¾ Tight


The Exodus ¾ Tight is similar to a lot of the pants I wear for working out, so I was interested to put them to the test. They are made of 92% polyester and 8% spandex. They are very lightweight, but well built. They have a nice amount of stretch to them and remained comfortable while I squatted, twisted, lunged, etc. They also have a back zipper storage pocket, which is always handy in workout clothes, especially for running.
The Exodus ¾ Tight also have a UPF rating of 50+, for those of you who do a lot of outdoor exercise. In fact, these tights would be ideal for summer outdoor exercise gear due to the light weight and the UPF rating.
The one thing I did not like about the Exodus ¾ Tight is they didn't quite feel ¾ length to me. They seemed about knee length, and at 5'5" I'm not a tall person. I kept having the urge to pull them down. I feel like ¾ length should be at the top of my calf, or just below the knee and the Exodus fell a bit short here. I did wonder, though, if this was due to the heritage of Mizuno – being a running company maybe they aren't used to designing exercise pants for girls with weight lifting quads?
Meridian Short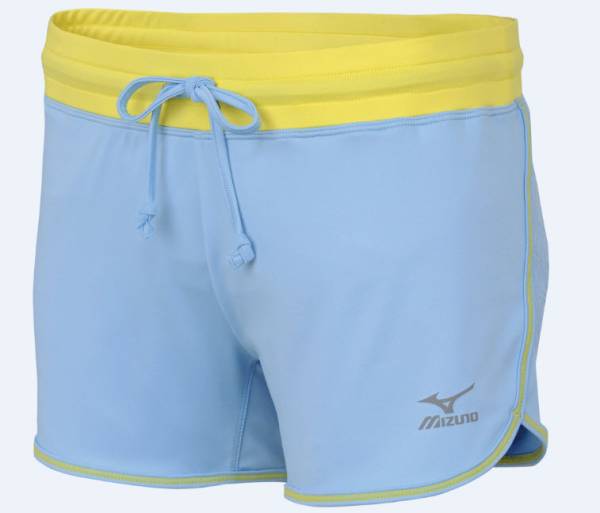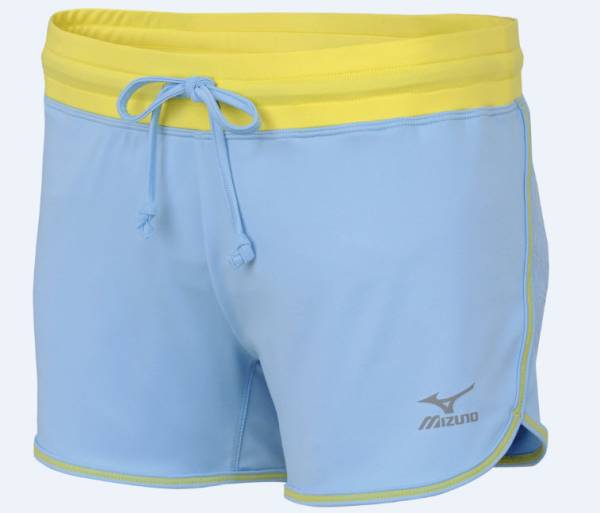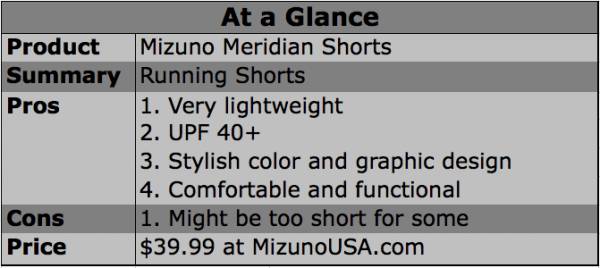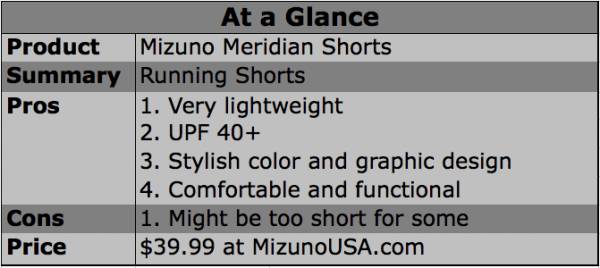 I really liked these shorts, and I'm not a short-shorts kind of girl. I found the Meridian Short to be stylish, comfortable, and functional. While I often prefer to run in tights, on a hot day I could totally see myself finding these a good alternative. They are rated UPF 40+, so the little bit of skin they do cover will be well protected.
The Meridian Short is made of 92% polyester and 8% spandex, just like the Exodus ¾ Tight. They feel more substantial than the tights, but not in a bad way. They are soft to the touch and while the waistband feels solid and well constructed, the rest of the short feels light and friction-free.
The subtle graphic design, which you can't see in this photo, and contrasting color of the waistband are also nice additions. They make the shorts more stylish, even though they are functional, and a little less painful to buy at $39.99. The Meridian Short comes in six different color combinations, as well.
Overall I would say the Exodus ¾ Tight was functional and well made, but didn't really stand out to me in the world of exercise tights. The Meridian Short, however, I could easily see being worn by kettlebell and CrossFit practitioners everywhere. It is fashionable, functional, and comes in at a better price point than a lot of the boutique fitness clothing out there.