We receive free products and receive commissions through our links. See
disclosures page
.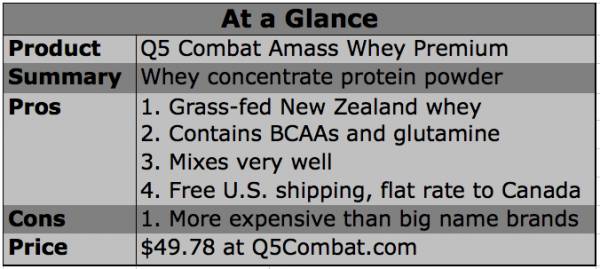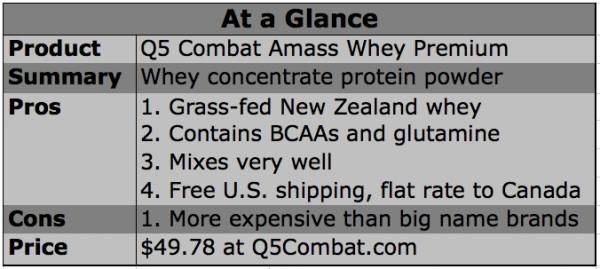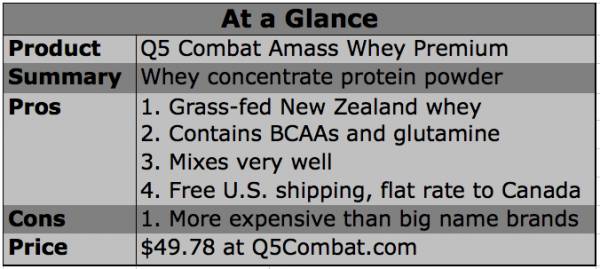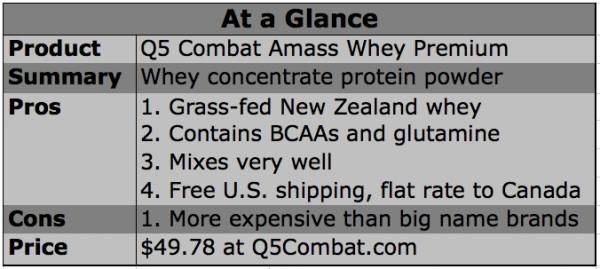 I recently became a sponsored athlete of Q5 Combat, a company whose focus is in helping older athletes, like me, stay in the game with competitors half my age by offering clean, high quality products. One of the first products I tried from Q5 was the vanilla-flavored Amass Whey Premium. Their site states that this protein powder "can help you build and maintain lean muscle and effective strength, and keep you at the right weight class. Not only that, but you'll recover quicker from training and lifting sessions, and be less sore the next day thanks to the high levels of naturally occurring glutamine. The almost perfect composition of our grass fed New Zealand whey is extremely bio-available, making it easy for your body to quickly put those nutrients to work, making you stronger, faster, and leaner."
Each serving of Amass Whey Premium includes:
100% Grass-fed New Zealand whey
21g highly bio-available protein
5.2g BCAAs
120 calories
1g sugar, no added sugar
220mg Stevia Leaf Extract
Q5 Combat also explains on their site that New Zealand dairy farm operations are strictly regulated to protect both the quality of the dairy products and the health and welfare of the cattle. Antibiotics and growth hormones are illegal and the Ministry of Agriculture and Forestry test dairy products to ensure they are contaminant free. The pastures used for grazing are also herbicide and pesticide free.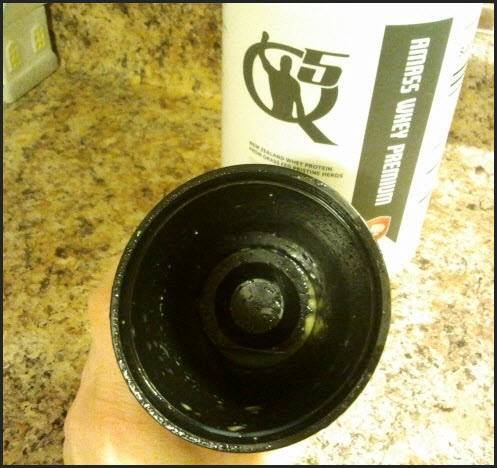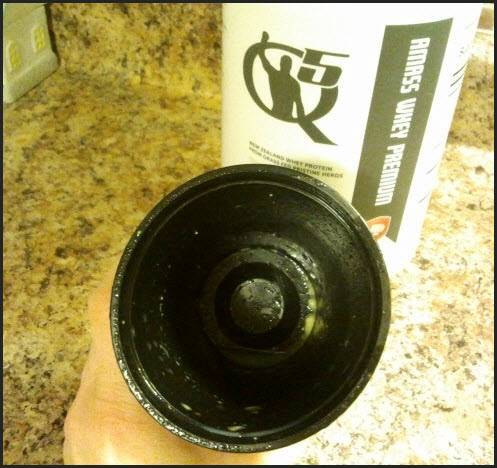 Although the purity of Amass Whey Premium protein really appealed to me, I would never have chosen vanilla protein powder. I'm more of a chocolate lover, but I was pleasantly surprised by the taste of the Amass vanilla. It is a mild, but pleasing flavor for plain shakes with water and it mixes very well with not a lot of shaking, leaving minimal residue in the cup. Even better, though, is the vanilla flavor's versatility. It can be blended with numerous ingredients for a protein smoothie, but I've been experimenting in cooking with it and have been pleased with the flavor it adds to my recipes.
So far my favorite recipe to use the vanilla Amass Whey in is Josh Wincey's Paleo Protein Pancake Recipe. I am a truly horrible cook and even I could follow this recipe successfully and enjoyed a delicious stack of pancakes. Josh mentioned he also likes the results when he uses three eggs, rather than two, for his pancakes. I also like to fry fruit and nuts in coconut oil and pour plain Greek yogurt mixed with vanilla Amass Whey over it for a tasty snack.
Recently, Q5 Combat has introduced Rich Chocolate Premium New Zealand Whey to its product line so other chocolate lovers won't be disappointed!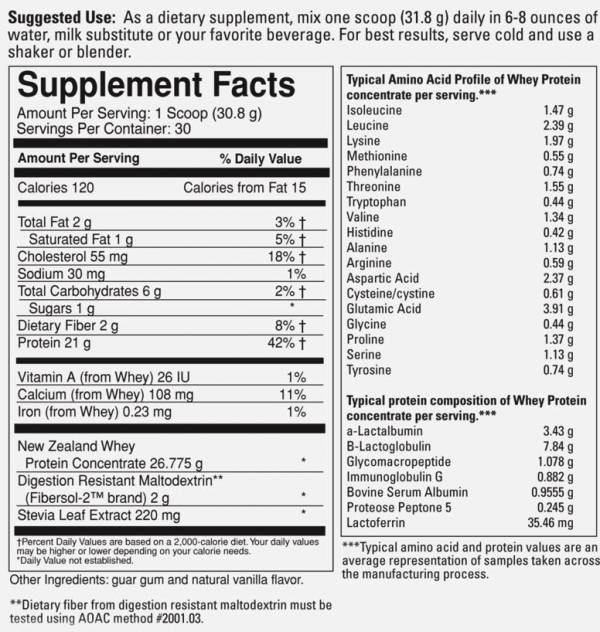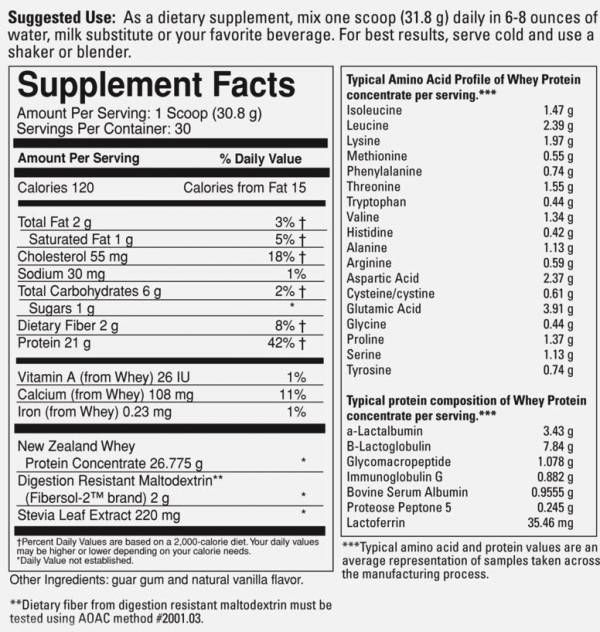 Q5 Combat has discounted pricing for purchases of two or more items, or supplement "stacks." Purchasing two 2lb tubs of Amass Premium Whey results in 5% savings, 3 tubs offers 10%, and 4 offers 15%, but mixing and matching products is also available. In addition, using my code "SALLY10" provides you with a 10% discount and with free shipping in the United States, the additional expense for a cleaner product is reduced. At $49.78 for 30 servings, one serving costs approximately $1.66 per serving, with the "SALLY10" discount, it comes down to about $1.49.
I am proud to be part of the Q5 Combat team. The founder, Bill Thomas, is a down-to-earth guy and life-long athlete who developed quality product for people like him who, at 44, is still training with much younger athletes. He says, "While most guys our age are passed out in their La-Z-Boy with a beer and a bag of chips, we'll be making the young lions nervous. They'll wonder what in the hell the old man has been taking." Fortunately we don't have to wonder – now we know his secret.
Amass Whey Premium is available at Amazon.