We receive free products and receive commissions through our links. See
disclosures page
.

Any semi-serious athlete knows the joys of self-administered soft tissue work. The lacrosse ball, the tennis ball, and the foam roller are all implements of pain used in pursuit of a greater purpose. We roll ourselves around on these items with the intention of breaking up "fuzz," liberating fascia, increasing our mobility, and enabling our recovery. The pain in the moment is worth the potential for increased performance and the possibility of injury prevention.
If you've used a foam roller, you are familiar with a unique kind of pain. You also know that diameter and density do indeed make a difference. Subtle changes to a foam roller can make for a different experience and different benefit in the long run and also in the present moment, mid-roll.
So, I met the Rumble Roller with mixed feelings. It looked at once amazing and frightening. Covered in large knobs, I immediately got the sense it would do me a lot of good, but not feel so good in the process.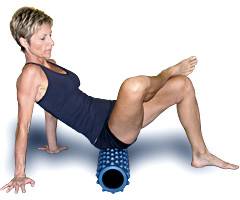 Rumble Roller claims the knobs are designed to be more like the thumbs of a massage therapist. Indeed, rolling on the Rumble Roller does feel more akin to having actual hands work on you. The height of the knobs allows for deeper penetration into the muscle, as opposed to the flat service of a stereotypical foam roller. While a regular foam roller pushes on the tissue, the Rumble Roller gives you the sensation of kneading and opening the tissues. And, it is surprisingly less painful than you imagine it would be. It did not feel any more painful to me than a regular foam roller.
The depth of the knobs also allows the Rumble Roller to navigate uneven parts of the body better than a traditional foam roller. You can position yourself to avoid grinding on bones and sensitive parts, while still digging into your muscles. Like with any foam roller, you can also decie how much weight to apply and how much surface area to affect by how you position you body.
One other benefit of the knobs is that you can move in multiple directions across them. Rather than just rolling up and down, you can move side-to-side on a muscle, as well. The knobs flex as you roll, but when you move side-to-side they are slightly less flexible and as such it's a very easy way to ratchet up the intensity of your session. This is where the analogy of the massage therapist comes into play, as moving sideways on the knobs is reminiscent of a therapists thumb digging in.
The Rumble Roller comes in two densities, by which it is color coded:
Blue – original density
Black – 36% firmer density
I used the blue density and it was great – intense, but bearable, and felt more productive than other foam rollers I've used. Quite honestly, I am not sure how I would feel about the black density. I tried it briefly when I first came across the Rumble Roller earlier this year at the Arnold Sports Festival and it was intense. You might need to be braver than me, or at least have fewer active nerve endings. As Rumble Roller says on their website, the black density is "intended for users with especially dense muscle tissue that doesn't respond to normal massage pressure." Rumble Roller highly recommends the blue density for the vast majority of people, including professional athletes.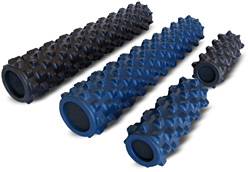 The Rumble Roller comes in two sizes – 12 inches and 31 inches in length. The full-size version, which I used, is long enough that you can roll your full back, lay the length of it, roll both your legs, etc. It is six inches in diameter. The "compact" sized Rumble Roller, only 12 inches in length, would be great for travelling or for the office and has a slightly smaller diameter of five inches.
The Rumble Rollers are waterproof and latex free. Given that you may use your Rumble Roller post workout and be sweaty, it's also nice to know the roller is molded with an antimicrobial additive to prevent growth of uninvited things. Although my Rumble Roller did off-gas for a while after I released it from its package, a week later I can no longer smell it, so just beware when it's brand new. As Rumble Roller themselves warns in the packaging, a new Rumble Roller smells a lot like a new car. Given that the rollers are waterproof, they are simple to clean off with soap and water.
All in all, the Rumble Roller feels like a definite upgrade to a regular foam roller. While the knobs take a little getting used to, they do seem to provide added benefit. The ease with which I can clean the roller and its durability are also big plusses in my book. Overall, if you're looking to upgrade your roller, the Rumble Roller is the way to go.
Rumble Rollers retail for $44.95 for the compact and $69.95 for the full-size and are available at a variety of stores.