We receive free products and receive commissions through our links. See
disclosures page
.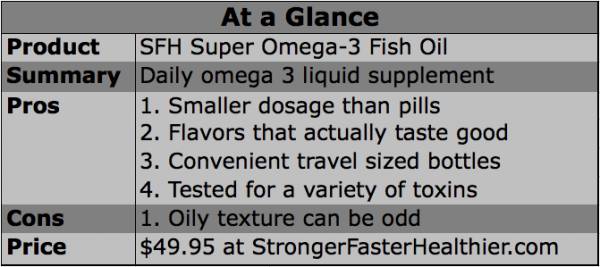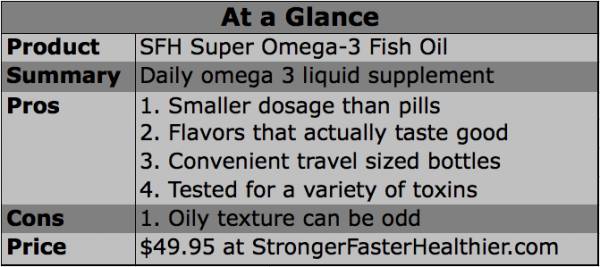 I'll tell you right up front I've known the people behind Stronger Faster Healthier (SFH) for a while. Some of them were members of my gym, CrossFit LA, in fact. I'm telling you this up front because it has nothing to do with the fact I think their fish oil is fantastic. And it is fantastic.
SFH was founded in 2010 as a division of Maine Natural Health, which has been around since 2006. I used to buy "Mainer Whey" from Maine Natural Health, so I was familiar with the high quality of their products. They produce what are known as "neutraceuticals" and the company was founded by pharmacologists and medical scientists. Even more importantly, the company is populated by athletes who know exactly what athletes want to consume and understand their priorities and concerns.
When it comes to fish oil, I like SFH Super Omega-3 (SO3) fish oil for three reasons:
It's highly concentrated, so I take very little oil to hit my daily dosage. Unlike other oils where I had to take multiple spoonfuls, or even worse, taking handfuls of pills.
It comes in a variety of truly tolerable flavors.
It comes in 2oz. travel size bottles. Great for both getting through airport security and not having a whole bottle go bad on you if you don't have access to refrigeration while traveling.
SFH recommends you take 3500mg/day of omega 3 fatty acids in the form EPA and DHA each day. To do so, you need to take 1.3 teaspoons of their S03 fish oil. That means for most people it would be appropriate to take 1-2 teaspoons per day. So, if we do a little math: There are 6 teaspoons in an ounce. If you buy a 10oz bottle of fish oil, that means you have 60 teaspoons or between 1-2 months worth of fish oil, depending on your daily dosage.
Now, a little more math. A 10oz bottle of SFH fish oil costs you $49.99. So, your daily dose of fish oil is costing you between $0.83 – 1.67 per day. I'll let you look at other brands out there and do the comparative arithmetic, but when you combine the price, quality, and ease of taking a liquid, SFH is hard to beat.
When it comes to quality, SFH has their bases covered. SFH fish oil contains no soybean products, no sugar, and no gluten. It is made from anchovies and sardines and contains no artificial colors or flavors. The fish oil is also third party tested as proof it is free from PCBs, DDT, mercury, cadmium, lead, aluminum, and arsenic.
SFH fish oil comes in lemon, tangerine, mint, vanilla, and chocolate. My personal favorites are the mint and tangerine. All of the flavors taste slightly better when chilled, but even warm, straight from the bottle they are all completely palatable. I find the vanilla and chocolate to be slightly disconcerting due to the contrast of dessert-like flavor with oily texture, but if you are intending to add your fish oil to a shake then these flavors are great.
If you are unsure of which flavor is right for you, then the five-bottle travel pack is a great way to test out the flavors. These bottles are also TSA compliant for those of you who don't want to be separated from your fish oil for extended periods of time.
SFH Super Omega-3 Oil is available for at Amazon.