We receive free products and receive commissions through our links. See
disclosures page
.
I have been doing CrossFit for over six years and one of the first snack products targeted toward CrossFitters I remember appearing on the scene was Steve's Original Paleokits. Paleokits are the invention of Steve Liberati and were initially created less as a business venture and more as a labor of love to support his charity project, Steve's Club.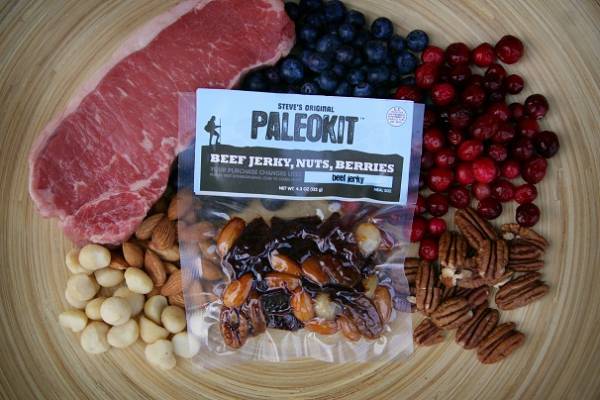 Based in Camden, New Jersey, the original Steve's Club is a not-for-profit CrossFit affiliate founded to provide local at risk children with an education in fitness, health and nutrition. Steve's Club started as one small club in a public housing development and is now a network of affiliates across the nation known as the Steve's Club National Program.
In the early days, as a way to provide the Steve's Club kids with healthy snacks at school, Steve and his wife created the Paleokits in their own kitchen. The kits became so popular with the kids and friends that Steve started selling them online to raise money for his Club. Eventually he even started employing some of the kids in his Club to work for him producing the snacks.
So what is the Paleokit?
Paleokits are a mixture of beef jerky, macadamia nuts, almonds, pecans and dried fruits. The jerky is handmade and USDA Certified. The kits are gluten free and sugar free, using only a small amount of apple and pineapple juice to cure the jerky. There are no preservatives in Paleokits. The kits come in a small and large size and are Zone Diet friendly in their macronutrient proportions.
I find Paleokits are great to have on hand for two scenarios: when I am busy at work and need a healthy snack and when I am on the road and am not sure I will have access to a nutritious meal. I highly recommend Paleokits for anyone who travels regularly. I also enjoy the taste of the Paleokits. They have a not too salty, not too sweet, but satisfying flavor. There is enough meat to fill you up and a variety of nuts and fruits in every package.
The only thing I do not recommend is trying to eat a Paleokit while driving! Paleokits are juicy and tender, which is great for the taste buds, but not for the fingertips and steering wheel. In the end, the best thing about Steve's Original products is that 15% of the money they bring in goes to the Steve's Club National Program. Not only are you eating a healthy delicious snack, but the act of purchasing a Paleokit changes the life of a child.
Steve's Original Paleokits are available for $7.90 and up at StevesOriginal.com