I am a blue belt under Renzo Gracie black belt Kevin Taylor at Titans MMA in Halifax, Nova Scotia and in February 2013, I'll be competing in my first IBJJF tournament. At 110lbs and competing in a weight bracket of 130lbs and under, I need all the help I can get. Inspired by Ronda Rousey's strength and conditioning coach, Leo Frincu, and his 8-Week BJJ Training Program, I decided to develop my own program to help me prepare.
With a little research and help from some experts, I've developed a plan that will help me to get into phenomenal shape by February. As I go through my training, I'll be providing weekly progress updates and in-depth information about each aspect of the program. The building blocks of any martial arts training program are diet, strength and conditioning, technical training, and creating a game plan. This week I'm going to introduce you to my amazing team of coaches in each of these departments.
Diet
In planning my diet, I've enlisted the help of professional MMA fighter and certified nutrition coach, Ricky Goodall. Ricky is the owner of Collision Sports in Halifax, Nova Scotia and I've seen fighters at my club achieving impressive results using his customized diet plans. My priority in dieting is to ensure my energy level is sufficient to be successful throughout my training program.
I received my diet plan a couple of weeks before the program start date and although I've gradually eased into it, I can already see a big difference in my body. My energy levels have increased and I'm sleeping much better. Based on these results, it's clear my diet had been holding me back.
This is the first official week of my eight-week program but unfortunately on day two I developed some kind of bug. At this point, I'm only eating foods that are easy to digest until I'm feeling better. On day one of the program I weighed 108.5lbs. Here are my "before" pictures:
Strength and Conditioning
For the strength and conditioning aspect of my training, I am very fortunate to have the help of one of the best MMA strength and conditioning coaches in the world, Joel Jamieson. He is the author of the book Ultimate MMA Conditioning, which is a scientific guide for athletes to optimally develop their energy systems for performance. For an overview of how energy systems work, check out his lecture at the Central Virginia Sports Performance Seminar at the University of Richmond in Virginia.
Monitoring
To monitor my strength and conditioning progress, I am using BioForce HRV, a system developed by Joel Jamieson to monitor whether his athletes were training at an optimum level and also to prevent overtraining. In the introduction to his manual The Ultimate Guide to HRV Training, Joel says when he first began using heart rate variance (HRV) technology, he was "excited, overwhelmed, and confused." That's how I feel during my first couple of days with the system. Luckily, Joel has it all figured out now and has explained it in his book. All I have to do is read it.
The components of the Bioforce HRV system include the book, the smartphone app, smartphone receiver, and a heart rate transmitter. I purchased the Polar T31 on Joel's recommendation for about forty dollars. It arrived yesterday and I was able to measure my resting heart rate and HRV in the morning, then again after a couple of sets of squats at the gym. As I mentioned, I've been fighting some kind of bug, but I felt a little better yesterday morning so I hit the gym and did light weights. Apparently, I'm only supposed to measure in the morning, but I got a little over-excited about my new toy.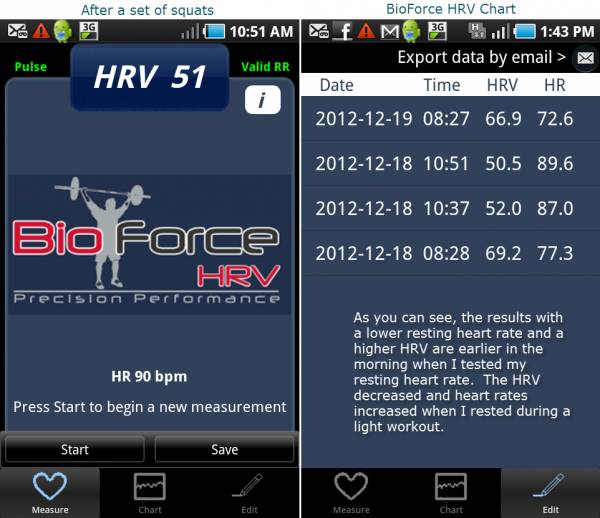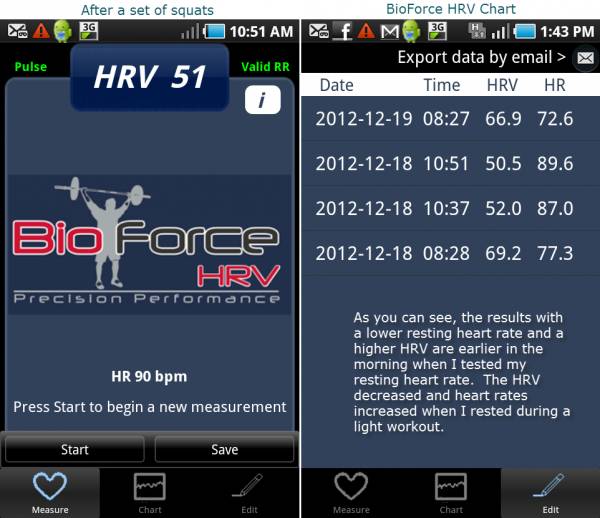 My initial results are displayed in the screenshots above. At 77 beats per minute, my resting heart rate indicates that I'm barely in average shape. In Joel's UFC 130 article series, UFC fighter Tim Boetsch began his training program with a resting heart rate of 74bpm and Joel helped him get it down to 54bpm after seven weeks.
Women's Resting Heart Rate Chart
Age
18 -25
26 -35
36 -45
46 – 55
56 -65
65+
Athlete
54-60
54-59
54-59
54-60
54-59
54-59
Excellent
61-65
60-64
60-64
61-65
60-64
60-64
Good
66-69
65-68
65-69
66-69
65-68
65-68
Above Average
70-73
69-72
70-73
70-73
69-73
69-72
Average
74-78
73-76
74-78
74-77
74-77
73-76
Below Average
79-84
77-82
79-84
78-83
78-83
77-84
Poor
85+
83+
85+
84+
84+
84+
Another test I did was measure my heart rate after a 1.5 mile run. Surprisingly, considering how high my resting heart rate was, my heart rate a minute after my run at an eleven minute mile pace was 114bpm. I tried again on another day at a nine minute mile pace and my heart rate was 118bpm. I plan to do these tests again at weeks four and eight and I've purchased a simple heart rate monitor watch to measure my intensity throughout my training.
Technical Training
I feel very fortunate in that I have excellent technical training at Titans MMA. Head instructors Kevin Taylor and Peter Martell are Renzo Gracie black belts. Teammates I always learn a lot from are brown belts Jon Gale and Josh Wincey and purple belts Josh Presley, Chris White, Aaron Jolimore, and Scott Rose. I also occasionally train at our affiliate clubs Marmac Athletics in Truro, Nova Scotia under Renzo Gracie purple belts Dan Vanderlans and Scott Nauss, and at Pictou County Titans in New Glasgow under Renzo Gracie brown belt Jaret MacIntosh.
Formulating a Game Plan
I competed for the first time at a local tournament last month and although I only lost to one person, I was disappointed in my performance. I went in with a one-size-fits-all game plan and it fell apart when I competed against a bigger and stronger blue belt. My team has helped me re-evaluate my game and we're working on strategies to help me to be more effective next time.
Another aspect to the game is mental toughness. It's something Chael Sonnen has been working on and talking about a lot. What I got from one of his video interviews is that if you've done everything you can physically to prepare for a fight, the mental aspect will take care of itself. Hopefully all of the pain and sacrifice you've endured during your training will give you that expectation of winning and you will do everything it takes to ensure it happens.
My intention in writing this series is to help others who plan on competing to create their own programs. Everyone is different so just providing a copy of my plan isn't very useful, but hopefully the resources I've shared above will help you to develop a plan just for you. Look for more to come as my eight weeks progress.