The 2011 edition of the CrossFit Games saw the introduction of swimming. The first workout included an open water swim and became known as the "beach workout." This very short ocean swim created havoc among competitors, leading to the demise of a few big names. This year as the workouts were announced, no swimming or foreseeable swimming was in the program based on locations. But if we didn't already know, and this year's competitors definitely figured it out, never assume anything and expect the unexpected. And that's how swimming made it back into the 2012 CrossFit Games.
Shana Alverson, owner and coach at CrossFit East Decatur, is a four-time games competitor. As such, she was hit with swimming in a workout two years in a row. During last year's workout Shana recounted her first reaction was panic, a major psychological hurdle to overcome. She shared, "Not only do I not really know how to swim, swimming in the ocean is vastly different from doggie paddling in a pool! I really felt like, if I finished that event and lived through it, I was a success."
Shana came in with absolutely no swimming background, except for "being taught how to not drown as a child." Fast forward a year to 2012 and Shana is at CrossFit Games again, thinking she has evaded swimming, when Dave Castro announces the Pendleton workout with a 700m ocean swim. I think everyone remembers the videos and photos floating around, showing the priceless faces of many of the competitors (granted it may not just have been the swim portion they were reacting to).
One of Shana's first thoughts was, "At least this year I would know how to put on my swim cap and goggles," but at the same time she felt herself deflate. She did not feel comfortable or competitive in an ocean swim. Thankfully, in the two months leading up to the Games, Shana decided to dedicate some time to swimming. She enlisted Andrejs Duda, a two-time Olympian from Latvia, to help her with her swimming skills. Shana felt more prepared this year, yet she felt she did too little, too late. Shana was one of the last out of the water, completed her 700m swim in approximately 25 minutes, swimming most of it side stroke, and getting tangled in a big clump of "icky and scary" seaweed.
The night before the Camp Pendleton workout, I was discussing strategy with Azadeh Boroumand of Get Lifted Gym in El Paso, Texas. While in high spirits about the event, it became clear to me that here was another top-level athlete who might fall victim to the swim curse. Azadeh planned on swimming all 700m on her back to avoid having to deal with breathing, but I convinced her to use backstroke as her recovery stroke. Azadeh struggled in the swim, but managed to catch up throughout the weekend finishing the Games overall in eighteenth place.
So how or why is swimming such a hurdle for prime physical specimens like Shana, Azadeh, and other CrossFit women and men? For Shana the answer is simple: "Basically, I just hate doing it. I just do not want to do it! I wish I did."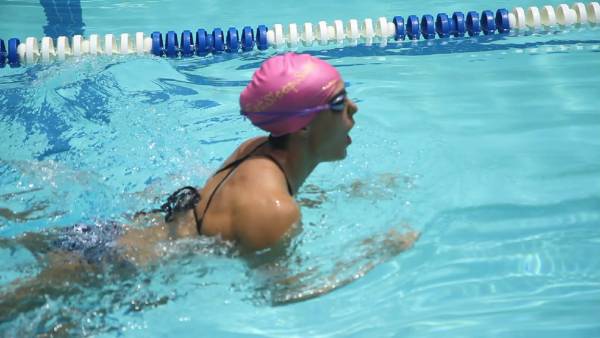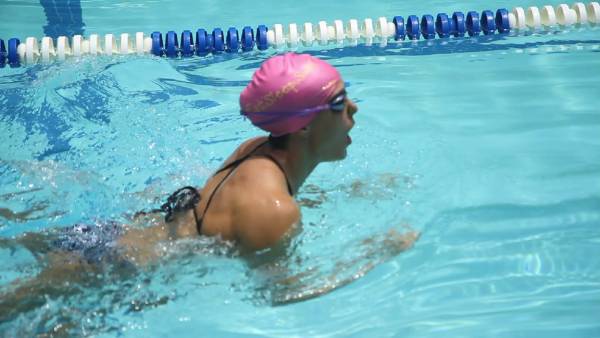 Coach Andrejs Duda taught Shana for two months before CrossFit Games, and while he felt Shana was a very good athlete and surprisingly flexible, which helps with swimming, her major hurdle was being uncomfortable in water. In fact, the trend we see with CrossFit athletes is being uncomfortable in the water and not being able to relax while swimming a stroke continuously. It is more of a mental thing for most beginner swimmers and putting hours in the pool as a child or as an adult is very important for this reason. Simple stuff like getting water up the nose or leaky goggles, which are not a big deal for a seasoned swimmer, can prove to be a real challenge for people like Shana. In Shana's case, coach Duda attacked her problem by using, "Basic drills, like blowing bubbles in the water and then later using a nose clip, and tightening her goggles. We also worked on side-breathing for freestyle."
In my experience with CrossFitters, the inability to relax is, without a doubt, a major issue. I still remember the day I was helping Miranda Oldroyd with her swimming and feeling the tension on her body that ultimately caused her to sink. Usually with this discomfort comes the attempt to stand up, which lowers the body position in the water, which makes it more challenging to swim. It is also usually coupled to the inability (rooted in fear) of placing the face in the water. That causes the head position I mentioned in a previous article that will lead to an unfavorable body angle for swimming, increasing the amount of drag.
Ultimately for some swimming will never be a pleasant experience, but there are steps that may make it a less unpleasant one – especially if it manages to sneak into a CrossFit workout or competition again. So the real advice here is DO IT. Get in the pool, the lake, the ocean, or the bathtub. (Yes, you can actually practice breathing drills in the bathtub.) Whatever you do, just do it. Learn to be comfortable in water so you can advance to other skills that may make your water experience less daunting.
But in my opinion there is no one who can put this better than Shana Alverson:
I think, based on my experience, I've done all the wrong things by avoiding an unpleasant goat. I am going to have to quit being such a whiney little bitch and really have to resolutely attack it, just like any other weakness, this year. And I guess I would suggest that to anyone in the same boat.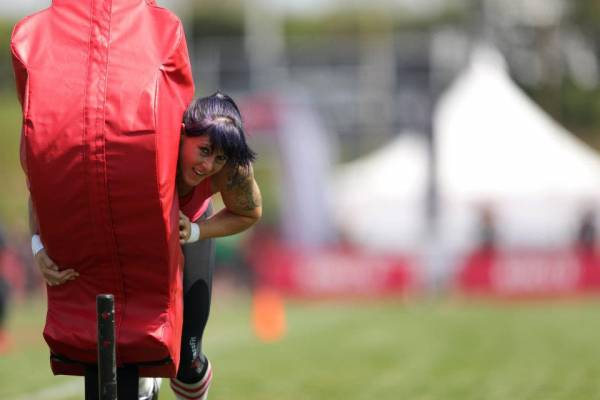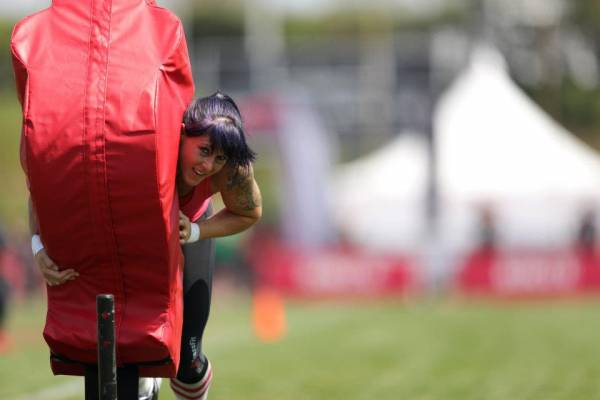 Photo provided by CrossFit, Inc.