Although the sport of weightlifting is nowhere near as popular as the mainstream sports of football and baseball, it is currently in a state of boom. Only a few years ago, most pundits considered the sport dead outside of Eastern Europe. But today, the sport is experiencing the greatest growth in its history, not only in the USA but in Asia, Latin America and even Africa as well. This growth has transformed the sport, but not without giving rise to some new challenges.
If the sport was so moribund in recent years, what has caused this revival? It is probably true that increased wealth in Asia and parts of Africa have enabled many more people there to pursue sporting careers, weightlifting among them. Weightlifting may find favor in these areas because it is relatively easy and inexpensive to introduce, compared to other sports. Champions can be developed far quicker than in the much more competitive mainstream sports.
But what about the USA and Canada? The usual answer given is the CrossFit effect. This is certainly true in North America and probably parts of Europe as well. The CrossFit people realized the importance of well-rounded fitness regime, especially one that concentrated on strength. The Olympic lifts satisfied that requirement and were very athletic to boot. As if that was not enough, coaches in other sports have also discovered the Olympic lifts as a training supplement, especially to those sports requiring explosive movements.
The dynamic growth of CrossFit has led to interest in the Olympic lifts, not just as part of CrossFit, but as an alternative sporting venture in themselves. Many CrossFitters have gotten curious about the lifts and wondered what it was like to enter a real weightlifting competition. With such decisions being made many times all over the world, we are now in the middle of an explosion in the total weightlifting population. Now let's see what that has wrought.
The Growing Pains of Weightlifting Events
The biggest change has been greatly expanded entry lists for competition. Where only a few years ago, one-session meets with less than 20 lifters were the norm in many localities, today the event organizers are forced to limit entries to 60 people. Why 60? 60 is about the highest number of athletes that can be handled in a single day. Now there is pressure to go to two-day competitions. This will certainly allow more entries. But while a second day would help space things out a bit, it is a step that is not too popular with organizers. This is because the hall rental costs will double, but the number of additional lifters that may show up might not cover the increase. In accounting terms, a competition's revenues are all variable, while their costs are mostly fixed. This can lead to problems breaking even, if the turnout is not high enough.
Another solution has been to raise the qualifying totals needed to enter. This only works for a while, as all of these novice CrossFitters soon are able to exceed such totals. If that leads to increasing the qualifying totals even more, that only means that there are lots of athletes left out of the competition who will still want to compete somewhere. These people have to be satisfied, because not only do they want to compete, but the local weightlifting association will need their entry fees to help finance their operations. This all leads to more competitions being held.
It is also possible to have more than one platform at an event. This is something that the fans love, because they've got more to look at in a sport that often has a bit of dead time. Having two platforms certainly can help move through a lot more lifters in one day, but this is not without its problems as well. Depending on the quality of presentation desired, an entire second equipment setup will be needed. This is fine if you are a relatively wealthy organization that can easily afford competition-level equipment, especially the barbells and all of the electronics now becoming standard. When that is not possible, the second platform is often shortchanged with regard to equipment and level of presentation.
A well-funded competition can afford two full platform setups, but that is not always the case. [Photo credit: J Perez Imagery]
But Who Will Judge the Lifts?
We all want more competitive opportunities, so why is this a problem? Certainly, the lifters like the idea of more choice in where they will compete, but that leads us to the main problem now facing weightlifting administrators: personnel. While everyone today wants to compete and even some want to take up coaching, very few seem to be interested in officiating.
This has led to the graying cadre of technical officials. Many of our senior officials are into their seventh and eighth decades, and have been doing the job for many years. But with the increased number of competitions and few new officials, we are facing a major problem. The only way out is to fast-track new people into the various officiating positions. That presents the problem of an overabundance of inexperienced officials who need more intensive supervision. And regardless of experience level, most officials now have to get used to working every session, as many as six in a single day, and working many more events over the season than before.
Now let's go back to coaching. Here the numbers figure looks a lot better. Among the newcomers to the sport, far more people want to coach than to officiate. This is to be welcomed, because the number of experienced weightlifting coaches is also small. In years gone by, it was always difficult to learn the Olympic lifts because the sport was very inaccessible with so few qualified coaches. But as in officiating, there is an attempt to create a new generation of coaches.
This growth is also not without its problems. Many now think you can simply get certified with a one-weekend clinic, and then you're a coach. Such people are usually disabused of this notion once they try to coach in a real competition. That is where the value of experience and knowledge becomes evident. But as with officiating, the only real cure for this situation is time. We in weightlifting were caught flat-footed with a small number of NCOs who had to suddenly bring a large number of recruits up to snuff in a short time. The next few years will be difficult, but we must also appreciate the fact that this is what prosperity looks like. Many of us remember the bad old days. Back then, no one ever dreamed that our sport would take off the way it has. So let's enjoy it.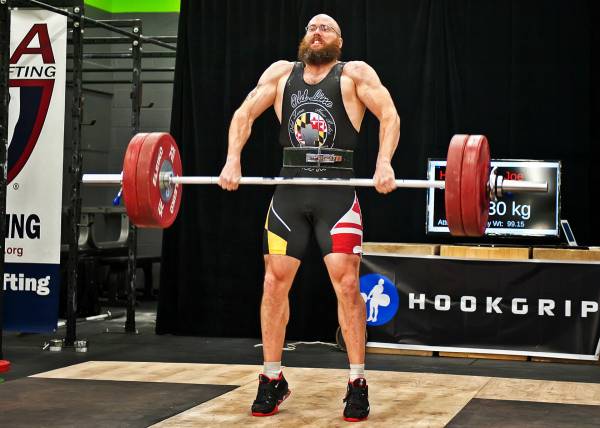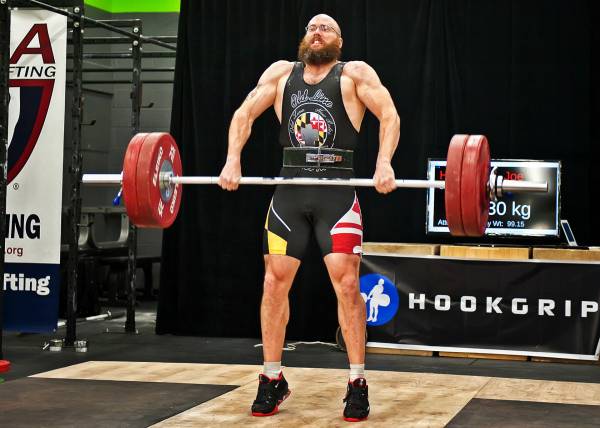 Until the coaching and officiating pool can catch up to the number of athletes, things will remain difficult. [Photo credit: J Perez Imagery]
The First Fruits of the Boom
Indeed, we are enjoying it, for the first fruits of this population explosion have now been harvested. The USA got one bronze medal in the Rio Olympics, while Canada was retroactively awarded a gold and silver for previous Olympics.
All of this is encouraging, but there is more. The recently-completed Youth World Championships have provided the USA with more hope for the future. The star of that show was 16-year-old CJ Cummings of Beaufort, South Carolina. He not only won all three golds in the 69kg category, but he did it in very convincing fashion. No winning on body weight, no barely eking out a victory. He snatched 135kg and clean and jerked 182kg for a youth world record, as well as a junior and senior American record. His 317 total was a full 12 kg more than his closest rival. It has been a long time since Americans, especially male Americans, have done this level of lifting. Earlier this year, Cummings also won the Junior Worlds, again with a world record clean and jerk.
Nor was Cummings the only bright spot. Hayley Reichart of Reading, Pennsylvania took the bronze in the women's 48 kg category total. Harrison Maurus of Auburn, Washington finished with three silvers in the men's 77 kg. Not so long ago, athletes such as these would've been looking longingly at East Europeans, and had to be content with only personal records at such a competition. Today, the prospects of taking home hardware are much brighter.
A Wider Net Finds Greater Talent
I believe these performances are the ultimate result of the greatly increased number of lifters. You cannot hope to prosper on the world stage if your local meets are only one session long and your nationals have only 70 or 80 lifters. It is well known in research circles that the more people you have working on a problem, the greater your chance of solving that problem will be. Weightlifting will solve theirs in the same way. Those long competitions at the local level have a far greater chance of producing another CJ Cummings than the garage meets of the past. If this trend continues, I have no doubt that more lifting stars will emerge. They have to, if we have the numbers.
Right now, we are having numbers problems with regard to weightlifting coaches, officials, and administration. We are all working much harder than we were in the years before the CrossFit boom. We have a lot of problems to solve, but they are problems I think we should be very grateful to have. We had other, simpler problems in the past, but we were never very far from the demise of the sport altogether. Now weightlifting is alive and well, and we all have to deal with problems they never, ever figured we would have to deal with. Let's enjoy these problems while we can.
Now get back to the gym. That barbell isn't going to lift itself.
The coaching gap will be largely filled by women:
An Equal Playing Field: Female Olympic Weightlifting Coaches