Photos provided by Danette "Dizzle" Rivera and The Bicycle Kitchen.
Have you seen the price of gas lately? I can't even say the number out loud it's so outrageous. That sort of skyrocketing makes you want to pull out your dust-covered bicycle from behind the holiday decorations in the garage, doesn't it? At least for the small commutes and nearby errands? I know, the tires are flat, the spokes are bent, and the gears are stuck from the rust and lack of use. There's a solution that will not break the bank.
Bicycle collectives have probably been around since the invention of the bicycle. Also known as a bicycle co-op or a bicycle kitchen, these are places where riders can fix their bikes with the help of volunteers using tools provided by the shop and used parts that have been donated. Some places sell new parts. And the volunteers won't fix your bike for you. They'll do even better – they'll teach you how to fix it yourself. There is usually a nominal hourly rate, but if you are unable to pay, you are not turned away.
The term bicycle kitchen, which is used by collectives all over the world, is a play on the term soup kitchen where there too the community is fed by volunteers and items that are donated. Bicycle kitchens just feed our need to ride or at least our right to have a well-running form of transportation especially when filling the gas tank costs so much. Knowing that a person won't get turned away for lack of funds ensures riders can fix a flat, oil a chain, and get a bike running. A well-running bike means a safer commute.
The most well-known collective in Los Angeles is the Bicycle Kitchen/La Bicicocina. They started in 2003 out of a studio apartment in the Eco-Village where they helped local riders fix their bikes literally out of the kitchen of the apartment. Just this last spring, after the non-profit Bicycle Kitchen scraped every saved penny, after lots of fundraisers, and with the help of a grant from the Metabolic Studio-Annenberg Foundation, they bought their own small building so they can continue to serve the community even more. They run solely on the help from volunteers, often called "cooks."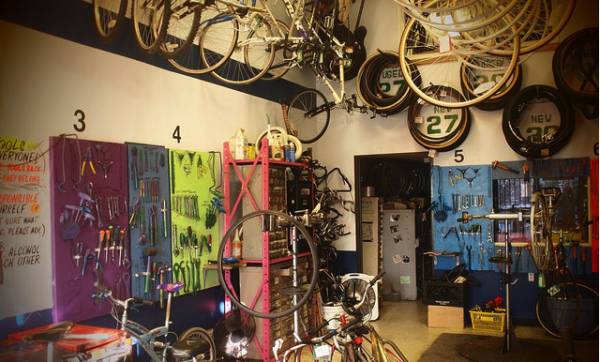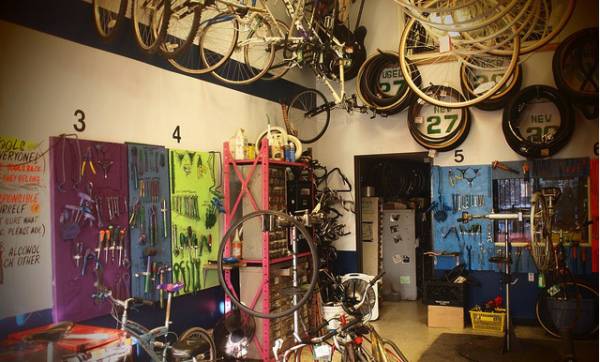 A quote from their website reads: "Each of us, (roughly 30 volunteers) offer our time for different reasons, but mostly we all love bikes and we all think that a city filled with bikes is a good thing for lots of reasons. Working on a bike at the Kitchen is always more fun than watching television…even if it's a stranger's bike."
Many collectives also host art shows and movie nights. They may offer more structured basic maintenance workshops, and weekly or monthly group rides are often organized through the city. Since collectives are so much about the community and bringing people together, it's no wonder a bike collective is not just about wrenching bikes. As Somerset Waters – one of the original Bicycle Kitchen cooks – says in this great video made by Streetfilm, "The Kitchen is something that keeps my humanity up."
There are quite a few bicycle collectives in Los Angeles inspired especially by the Bicycle Kitchen. One special one is BiciLibre near downtown. This co-op is a program of the LACBC (Los Angeles County Bicycle Coalition) Though BiciLibre is a typical collective in many ways in that it's a space where one can fix a bike or learn more about bikes, BiciLibre is also motivated by the needs of the community. BiciLibre means "free bike," which they take literally in two ways. The idea is to free bikes that are trapped in dusty garages, basements and impound lots, and get them back with people who want to ride them at no or low cost. The volunteers of BiciLibre fix up "freed" bikes and distribute them in the community as they are needed. They also hold workshops and even teach neighborhood kids how to fix their own bikes.
There are many collectives all over the country – the world, in fact. Here is a fantastic, comprehensive directory.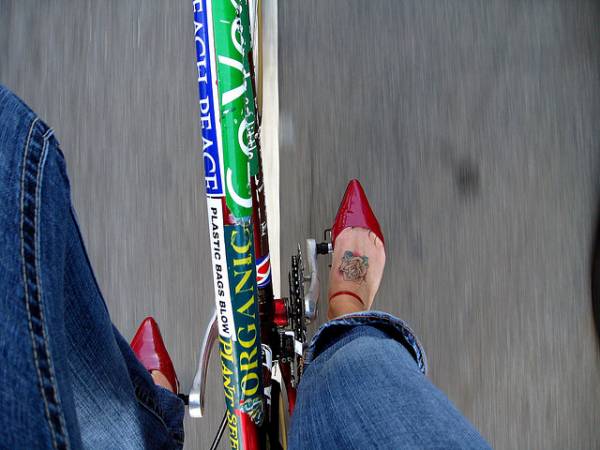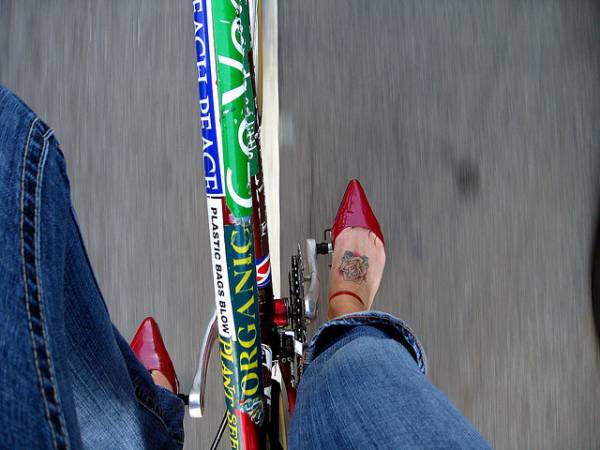 According to the Nationwide Personal Transportation Survey, twenty-five percent of all trips are made within a mile of the home, forty percent of all trips are within two miles of the home, and fifty percent of the working population commutes five miles or less to work. Yet more than eight-two percent of trips five miles or less are made by personal motor vehicle. I would think that the soaring cost of gas would cause even the most die-hard driver to consider pulling out the old ten-speed they've had since the late 1980s. Those bikes are considered very cool by kids nowadays. By taking advantage of a local bicycle collective, they can fix up that beauty in no time and probably feel proud that they fixed it themselves. They might even enjoy the fresh air, zero traffic, and rolling passed gas stations as they run nearby errands.