We receive free products and receive commissions through our links. See
disclosures page
.

Author Simone Miller is the founder of a gluten-free, mostly-paleo catering company for which the book is named – Zenbelly. Shortly after Miller launched her catering company, she discovered her own issues with gluten and instead of being frustrated at no longer being able to create gourmet food, she made it her mission to bring gourmet to the world of paleo. With over 100 recipes, this book expands Miller's mission beyond her catering company to kitchens all over the world.
Getting Started
The book begins with an outline of how it defines paleo, how to shop for quality ingredients (including some money-saving tips), and how to stock your pantry. This is followed with instructions on how to shop for good kitchen knives. If you don't know anything about knives or think the ones on QVC are the bomb, this will be a good section for you.
After this, the book includes photo tutorials of different knife techniques. It illustrates everything from how to properly hold a knife to how to julienne, dice, mince, or chiffonade a whole array of vegetables. There are also four pages on how to chop up a whole chicken, which is incredibly useful if you're trying to save money, as purchasing whole chickens is much less expensive than buying chicken as packs of breasts or thighs.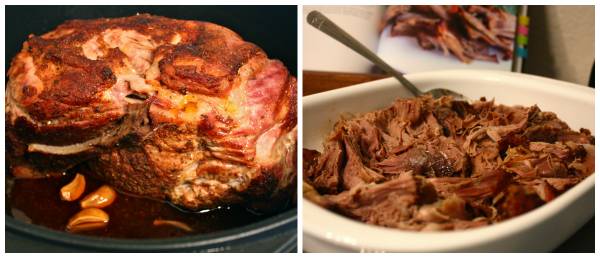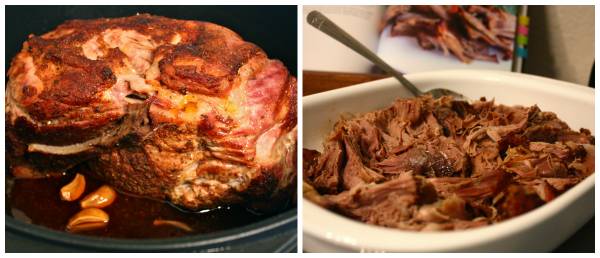 Precise Definitions
On page 44 of the book, the author addresses one of my biggest pet peeves with cookbooks. I find it incredibly annoying when a recipe says something like "1 onion" or "2 carrots." What size? How much? There is a huge variation in what "2 carrots" could mean as far as actual weight or volume.
So, on page 44, Miller demonstrates via photograph what she means by the words tiny, small, medium, large, and jumbo, and in each recipe when she says something like "2 or 3 potatoes" she also includes either how many pounds or how many cups that approximates to.
I think it only serves cookbook authors to include this sort of information. If you've spent a year of your life getting these recipes just right, then you want to do everything you can to empower the readers to get them right, as well.
Additional Perks
Every recipe in Zenbelly includes a photo that shows all the ingredients. I enjoyed these photos. Not only do they serve as inspiration and encouragement when it comes to getting your mise en place set before you start cooking, but they also give you an idea of what size of each piece of produce is appropriate and how complicated a recipe might be.
I also enjoyed that not all the recipes required exotic ingredients or fresh herbs. I love fresh herbs and I love learning about new ingredients, but I don't necessarily enjoy paying for them all the time. If you have a decently stocked spice and dry herb cupboard, you'll do well with a lot of the recipes in this book.
The recipes in this book are divided into the following categories:
Sauces, Condiments, and Basics
Eggs and Breakfast
Starters, Small Bites, and Party Fare
Soups and Salads
Fish and Seafood
Poultry and Rabbit
Meat
Veggies and Sides
Crackers, Wraps, and Breads
Desserts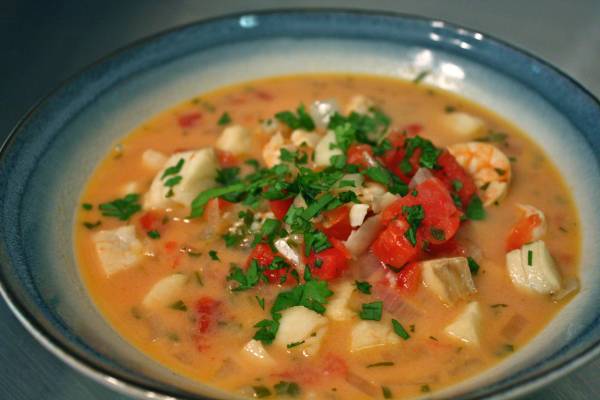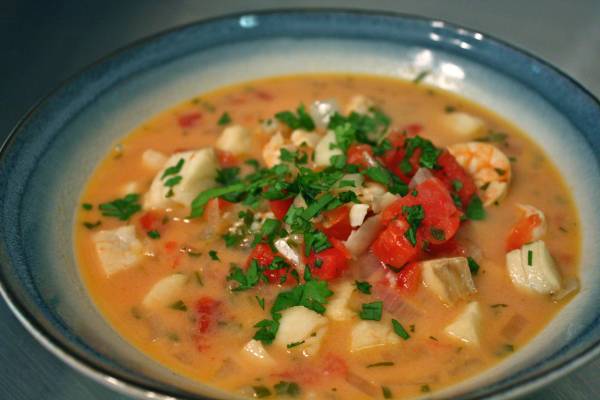 Recipes I tried included:
Brazilian Fish Stew
Puttanesca Fish en Papillote
Moroccan Shepherd's Pie
Pork Chops With Caramelized Apples
Cocoa-Chili Pork Shoulder
Ginger Scallion Pork Meatballs
Cumin-Orange Roasted Carrots
Best Brussels
Kale With Cranberries, Pecans, and Caramelized Onions
Roasted Green Beans With Kalamata Olive Vinaigrette
Unintimidating Techniques
I enjoyed learning new techniques through the recipes in this book. I had never made anything en papillote before, but the photographs and instructions made it very simple and unintimidating to try this method (which worked fantastically, by the way).
Some of the flavors in the recipes may be unexpected, but I encourage anyone exploring this cookbook to be adventurous. For example, the shepherd's pie recipe uses non-traditional spices to create a Moroccan version and it's one of the best shepherd's pies I've ever made. And the Brazilian Fish Stew was not only simple, but also extremely satisfying. There wasn't a single dud among the recipes I tried.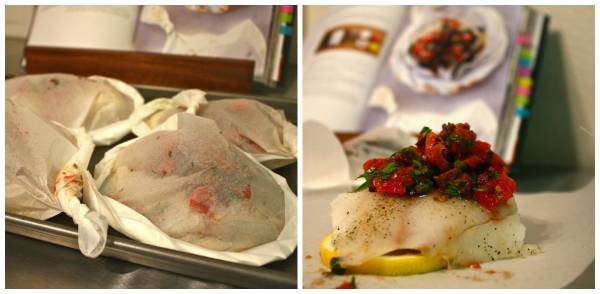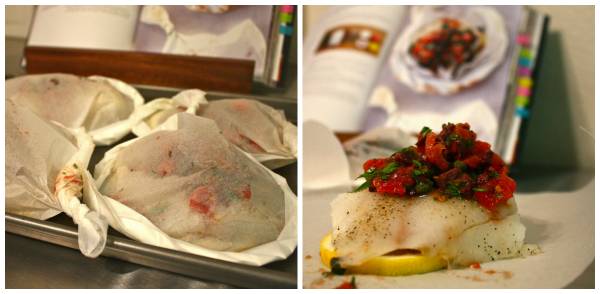 Meal Plans and Menus
After the last recipe section, the book includes a menus chapter. Here differently themed meals are outlined, including a romantic dinner, takeout feast, fajita party, and thanksgiving menu. Beyond this there is also a glossary, measurement conversion guide, and photo glossary (my favorite part, and what I consider to be an essential part, of a good cookbook).
Downside
The downside to this book would be that sometimes the instructions are a bit over-the-top. If I were a professional caterer, like the author is, then I might take the time to do some of the things that she recommends. Being that I don't actually care if my veggies are perfectly cubed or evenly shredded, there are aspects I skipped in favor of saving time and being less wasteful of my produce. If you are handy in your kitchen already, you'll be able to discern what's truly necessary for you and what's not. For a true kitchen beginner, this book might be overwhelming.
Who This Book Is For
I wouldn't recommend this book to someone new to paleo or new to the kitchen. But if you consider yourself a foodie, have been doing paleo for a while, or just love preparing gourmet-style meals of any sort, then this book is for you. With these recipes you could throw a brunch, dinner, or football party without once ever having anyone even suspect that they were eating gluten-free, paleo, whole foods-based cuisine. They'd just be like, "Yum, where's more?"
"The Zenbelly Cookbook" is available for $21.39 at Amazon.com.